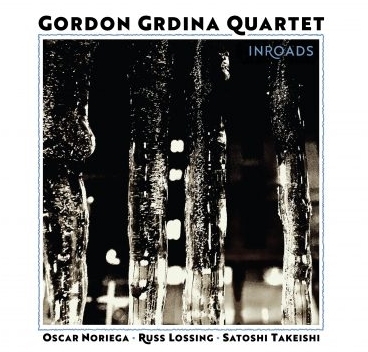 Moving away from the hushed nature of his earlier chamber music, Vancouver guitarist and oudist Gordon Grdina enlists a trio of New Yorkers to toughen his sound while maintaining its fluidity. The nine tracks on Inroads find keyboardist Russ Losing frequently elaborating themes in double counterpoint with Grdina's pointed strumming; clarinetist and alto saxophonist Oscar Noriega challenging the narratives with penetrating inflections, or spanning them with rumbling bass clarinet undercurrents; and drummer Satoshi Takeishi propelling the sometimes idiosyncratic rhythms. Although Losing's electric-piano splashes and Takeishi's focused rebounds are extensively showcased on "Apocalympics" in speedy unison with near-flamenco guitar picking, the two players' contributions otherwise mostly solidify the group sound.
"Not Sure" boomerangs from a staccato clarinet-and-guitar introduction to a midsection of moody reed lows and melancholy quivering guitar strings, and ends with kinetic rubs and squeaks from all four, even as alternating motifs propel low-key swing. Grdina's obvious oud-elaboration on "Fragments" ignores ersatz Middle Eastern inflections for string-ticking counterpoint with Losing's sinewy piano chording. Aided by tongue flutters from Noriega, the narrative slithers to a finale that's completely distinctive, because the tremolo modulations include a consistently rhythmic but untraditional role for the oud.
The session's tracks also take in techniques ranging from raucous guitar-string buzzes to reflective finger-picked balladry, plus coloratura peeps, tongue slaps, or comforting chalumeau slurs from Noriega's reed collection. With the sounds low-key enough to be relaxed, but never sedating, and energetic enough to be exciting without belabouring rhythm, timbre or melody, the inroads made here are to describe the contours of proficient memorable group sounds.