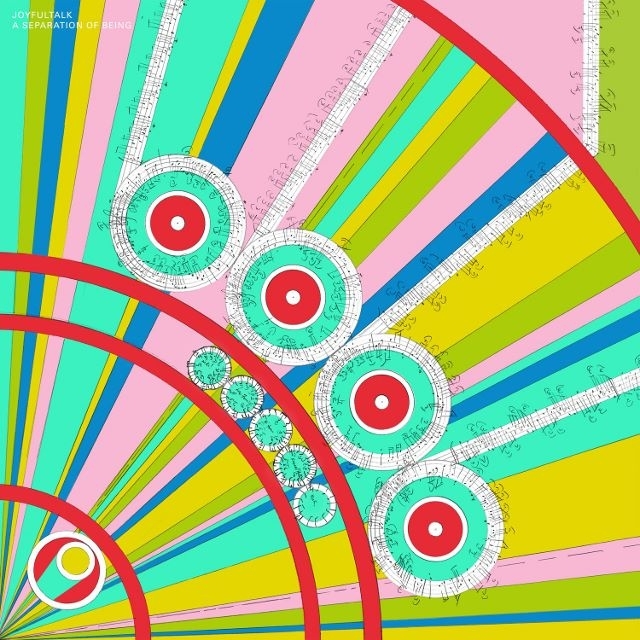 From the musical mind of Nova Scotia-based Jay Crocker (aka Joyfultalk), A Separation of Being
is a colourful, sophisticated, tripartite composition rooted in his unique brand of minimalism. The album's incredibly striking artwork is based on Crocker's own system for visualized composition, The Planetary Music System—a mesmerizing visual score of circular staves with handwritten melodies and vibrant greens, teals, lilacs, and yellows. Upon listening, those circular, insistent melodies come to life through the three distinct yet intertwined movements.
"Part I: I've got that trans-dimensional feeling again" sets the groove-based tone, with a labyrinth of interlocking patterns that play off one another. The signature melody that enters—a recurring motif throughout the work—is flirtatious, angular, and hard to pin down as it morphs its shape to its changing rhythmic contexts. "Part II: Pixelated skin," the most percussive of the set, joins overtone-rich, sawtooth-wave-sounding synths to homemade percussion and Jesse Zubot's bright string-playing. "Part III: Liquified then evaporated," the most expansive, develops the original melody by artfully incorporating a shuffled counterpoint to densify the patterns. There is a deeply satisfying moment when a descending string glissando bass line becomes the focus, giving the surrounding material an entirely new context.
The pacing of this album is pristinely executed; every note is essential and happens exactly when it should.