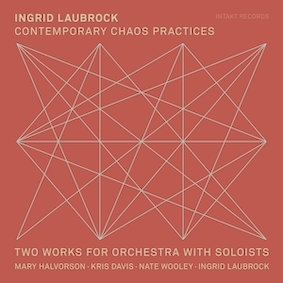 Born in Germany and based in Brooklyn since 2009, Ingrid Laubrock is widely known as an improvising saxophonist and a composer for and leader of small ensembles. On this CD she expands her creative palette by writing contemporary music for large orchestra.
The usual definition of chaos describes a state of great disorder or confusion, but it can also refer to chaos theory, a branch of mathematics in which it is assumed that underlying apparent randomness is repeating patterns which, under the right conditions, can produce stunning results: fractals are one example from the visual arts. Whether deliberately implied by the title or not, the scientific meaning is an apt starting point towards describing this music.
The forty-two-minute release of studio recordings made in late 2017 is divided into two works, the four-part title track and Vogelfrei (German for outlaw). Laubrock combines written scores with improvisation, building on such previous efforts as Anthony Braxton's Composition No. 165, which it resembles at times. There are close to fifty participants, including a vocal octet, four soloists, and an orchestra divided into two parts that is each led by its own conductor. Despite the large number of musicians, careful arrangements ensure that the sound field is uncluttered. The music is in constant flux, with shifting changes in texture, density, and even styles of music, going from a minimalist drone one moment to a full blown orchestral hit the next, or having a soloist come to the fore only to be soon absorbed into a wash of colours.
The soloists include Canadian pianist Kris Davis, who plays both inside the piano and on its keys throughout Vogelfrei, guitarist Mary Halvorson, who contributes her signature note-bending squiggles to the start of Contemporary Chaos Practices, plus brass blasts from trumpeter Nate Wooley and solo lines from Laubrock herself. This is an ambitious undertaking that is also a joy to listen to.