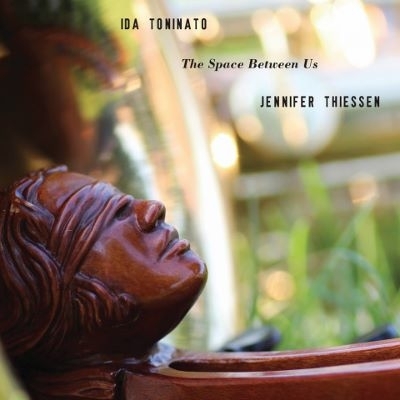 The debut duo album of rising improvising stars Ida Toninato and Jennifer Thiessen
,
The Space Between Us
, is an intimate, nuanced dialogue between baritone sax and viola d'amore. The players weave around each other in a sophisticated conversation, often overlapping, in agreement, disagreement, or adding ideas. The main drama of this album stems from the dissonance and timbral possibilities between two tones connected by an arc that begins in "Retractable Claws," continues in "Magma/Suspension," and finds its culmination in the expansive "La roue tourne." The viola d'amore (a rare bird in experimental music) shines in "L'aurore," taking centre stage with its warm, shimmery, aria-like, silver sound. The sonic intersection of baritone and viola d'amore is remarkably compatible, and the duo spends most of its time in a similar register so that the overlapping timbres become a sculptural focus. The long, drone-like tones that permeate the album are contrasted with more rhythmically dynamic sections in "Space [Outer] Space." The addition of vocals at the end of "La roue tourne" is a surprise after the duochromatic palette of the album, and feels almost like a bonus track hinting at a direction in which the Montreal-based duo might saunter next. At the intersection between jazz, baroque meets Rothko, and a kind of stretched-out folk, this music dares to wrap its arms around you.