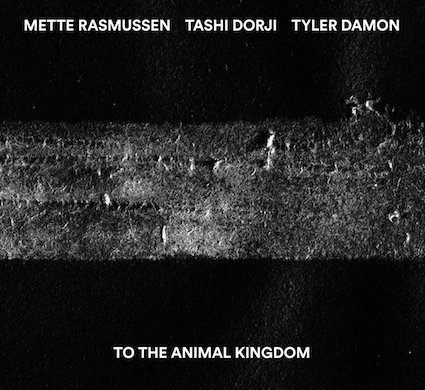 To these ears, the most exciting improvised music—regardless of its temperament—carefully balances surprise and stability. The strongest performances of this work tend to maximize the friction between compulsive change and the urge to establish a clear, communal sound world—from the vantage points of both the ensemble and the listener.
This deliciously raucous trio outing rides that friction with a keen sense of perspective. Norwegian saxophonist Mette Rasmussen, American guitarist Tashi Dorji, and American percussionist Tyler Damon unveil a well-defined landscape within the short first track of this recording. There's a pungent clangour to all the timbres—scrabbling, overdriven, prepared guitar and violent, viscous drum-splashes alongside Rasmussen's bright primal spirals. While theirs is an unquestionably unique take on splayed-out skronk, what's most intriguing here is their collective ability to carve this unwieldy block into different shapes, allowing listeners to experience their sculptural process from various angles and distances.
There's none of that conspicuously conversational interaction, and the few on-the-nose moments of convergence are devoid of slapstick cheekiness. Instead, one hears well-paced zooms and pans that reveal dynamic foreground-background relationships. Frequently, Damon and Dorji will tangle into a flailing knot of texture, serving as a bizarre quasi-rhythm section under Rasmussen's shawm-like melodic leadership. The expansive second piece, "To Life," sees the trio receding midway through, to build what sounds like a makeshift temple from scrap-metal—an intimate yet ragged space of reflection. The final piece escalates into gory trio sparring before suddenly evaporating, revealing a spare, prickly, desert-like soundscape.