Experiencing James Tenney's In a Large Open Space during Suoni per il Popolo conjured parallels between the performance (held as part of a retrospective of the composer's work, organized by Quatuor Bozzini) and the festival as a whole. The music reverberated through the high-ceilinged church, subverting the building's original purpose and creating a freer form of spirituality more closely aligned with the "call to action" music espoused in the Suoni program. The audience was encouraged to roam through the space to sample different sonic perspectives, analogous to the Suoni's mix of disparate genres, which encourages different views of modern music. The ensemble included musicians of various ages and backgrounds playing an array of instruments, their harmonious work mirroring Suoni's diverse community of musicians congregating towards a higher purpose. Harmony is indeed key to this work, in which musicians are instructed to select any of thirty-two pitches in the natural harmonic series from a low F up to the same pitch four octaves higher, the complex drone bathing the room in a dreamy vibe.
A consistent feature of Tenney's work is the clear process behind each composition, the music radiating beauty despite, in many cases, its scientific origins. A performance of Tenney's Postcards, took over several rooms of the Montreal Arts Council building. Each room had a different set of instruments, and musicians as well as audience members wandered from room to room playing and listening to pieces written on postcards: three "Swell Pieces," written for Pauline Oliveros, La Monte Young, and Alison Knowles; a vocal canon of the phrase "A Rose is a Rose . . . "; and "Koan," written for violinist Malcolm Goldstein, performed by Goldstein himself. All scores were on display, cluing the audience into the clever simplicity behind each composition. The final evening of the retrospective collected some of Tenney's best-known works, including atonal pieces for player piano, with the roll projected onto a large screen; the tape pieces For Ann (rising), based on Shepard-tones, and Viet Flakes, which accompanied a film by Carolee Schneemann; and string works based on long tones requiring great concentration and stamina, performed by Quatuor Bozzini.
Various streams of free jazz flowed through the festival. Guitarist Vicky Mettler experimented in a solo set with extended techniques and looping. The result was mixed noise with more melodic material, as percussive loops served as a mutant drum track supporting short single-note riffs, building to a crescendo of twisted guitar twangs and crashes. Catch Pandora updated the Cecil Taylor trios of the early '60s, with Geneviève Gautier's sax honks and blasts matching the intensity of Karoline Leblanc's force-of-nature piano runs, all masterfully propelled by Paulo J. Ferreira Lopes' subtle drive on drums.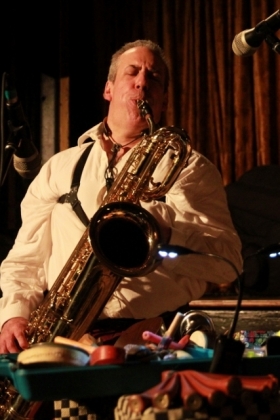 After a year of touring his own written compositions in honour of his sixtieth birthday, Jean Derome played an evening featuring four different takes on improvised music. Opening with his aptly named Nous Perçons les Oreilles duo with spouse Joane Hétu, he continued the evening with a free-flowing jazz set with rhythm section Nicolas Caloia and Isaiah Ceccarelli, following that with another more open trio with Goldstein on violin and Rainer Wiens on guitar and (sometimes bowed) kalimba. Derome joined noise trio Klaxon Gueule to end the celebration on an intense note.
It is impossible to even approach covering everything the festival offers, with its more than 100 events spread over almost three weeks. Other notable events included a live soundtrack played by L'Ensemble Eta Kooram Nah Smech, a thirteen-piece ensemble led by Will Eizlini, which accompanied Alejandro Jodorowsky's cult film The Holy Mountain. Spike Taylor organized a series of player piano recitals, explaining the instrument's inner mechanism and playing a ragtime version of "White Christmas" that had everyone singing along. Playing in the park took on a double meaning in a work conceived by Scott Thomson and John Oswald. Cold and rainy weather limited the audience for their outdoor concert in Parc La Fontaine, yet the tentet of four trumpets, four trombones, tuba, and French horn was the perfect antidote to the inclement weather. The piece required players to traverse the large park, starting with a playful Wild West-style brawl which, in an oh-so-Canadian way, replaced gun shots with blasts from the instruments, the musicians ducking for cover when fired at. At one point the musicians broke into smaller units, some playing a work by Bach while others continued to improvise.
---
Photo of Jean Derome by: Pierre Langlois.