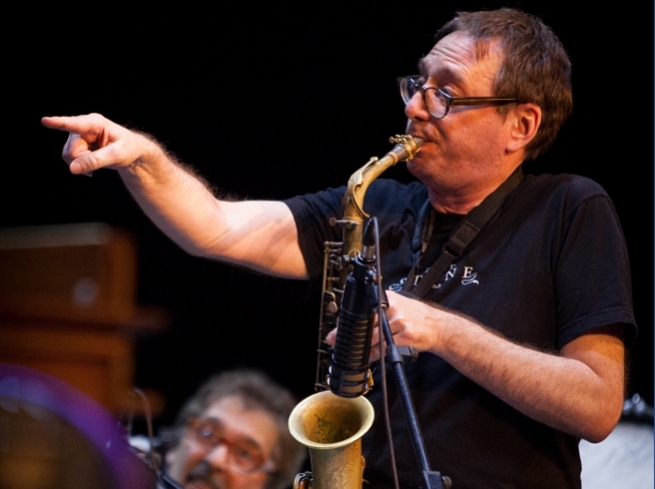 A coup for Victo this year, the all-day Zorn@60 birthday celebration prompted the return of fans who had been absent for a decade or more. Long lineups winding from the downtown Cinema Laurier had local Sunday strollers stopping to inquire as to what event was drawing such a crowd. It's true; the Sunday concert series did bring in hundreds of the prolific avant-garde artist's fans. Nonetheless, significant numbers decided to take in the entire festival. It all added up to a very palpable buzz!
Musique actuelle in Victoriaville is nothing new . . . or is it? Almost three decades of existence have established FIMAV solidly in the minds and hearts of an international avant-jazz hipster community; yet it seems, for the past few years, more and more local residents are embracing its mind-expanding eccentricities.
Credit may go to the art installations, which, through their visual and interactive displays, have begun acting as ambassadors of sound. Curated by the charismatic Quebec City artist Érick D'Orion, this year's exhibit attracted 10,000 visitors, ranging from school groups to Quebec Minister of Culture and Communications Maka Kotto. Political and community recognition augurs well for the festival. This support will likely become increasingly vital as the experimental-music scene continues to grow in Montreal—Suoni per il Popolo, Mutek, and Elektra all occur shortly after FIMAV, and plug into similar experimental musical genres.
That said, FIMAV's reputation as a powerhouse presenter for experimental music is firmly grounded. In its condensed four-day format over the Victoria Day long weekend (or as it is referred to in Québec, Journée nationale des Patriotes), the festival efficiently educates and wows. It's like attending a conference where knowledge is mobilized through sound and performance.
On opening night, the sheer force of the twenty-five-member Montreal VivaVoce choir, combined with the exquisite precision of a ten-member instrumental ensemble, hit like a torrent of grace. Tim Brady's Atacama: Symphony No. 3 is a setting of poems by Elías Letelier, a Chilean activist who was imprisoned and tortured under Pinochet and now resides in Montreal: its dramatic structures, polyphonic overlays, and hints of jazz, as Brady's electric guitar subtlety enters late in the performance, was monumentally expansive and effectively transmitted the poignant mix of tenderness and brutality expressed in the verses.
Throughout the festival, voice and electric guitar stood out as conductors of innovation. Avant-blues guitarist Loren Connors and vocalist-lyricist Suzanne Langille conjured ethereal otherworldliness steeped heavily in melancholy. Thurston Moore marked his entry into a post-Sonic Youth era with his new band Chelsea Light Rising and its salute to his favourite poets. And the ever-astonishing guitar work of Marc Ribot, in the Zorn-led "Dreamers" ⁄ "Electric Masada," and Mike Patton's intense vocal drive in "Moonchild: Templars," shone as festival highlights.
Palo Alto-based quartet Oxbow delivered a rhapsodic yet unsettling dose of anger and anguish, mercurial frontman Eugene Robinson's dark lyrics propelled by apocalyptic guitar riffs and a pounding groove. Surprisingly, the band opened their midnight show with a soulful acoustic piece. Chairs were quickly shuffled to accommodate the musicians, who congregated in the middle of the crowded auditorium, joined by guest Sylvia Hallett on violin. After this genteel mise en bouche, the band (minus Hallett) plugged into the stage amps and waded into the deep waters of transgression, pain, and desire.
The following day, Hallett and Anna Homler joined forces to perform whimsical improvisations on collected objects and toys. In the same vein, but on revved-up rhythms, Japan underground cult-band Hikashu (featuring the exuberant Koichi Makigami on vocals with magician-like slight of hand on the Theremin) performed invented poetic texts combined with seriously impressive skill and joyful interjections of conversation. Earlier that day, infectious energy and playful irony ran through "Futurosis," presented by Russian quartet ZGA: dedicated to the centenary of Russian Futurism, the foursome chanted lyrics based on Futurist poetry from the beginning of the last century, each contributing percussion accompaniment from amplified handmade instruments constructed out of scrap metal.
In a testament to the innovative flair and dedication of FIMAV artistic director Michel Levasseur, John Zorn sought out the festival for a day-long presentation of his eclectic projects. This edition culminated in a midnight organ performance by Zorn at the Église Sainte Victoire: a fitting conclusion to a highly successful edition of a festival that continues to build strong bonds between organizers, volunteers, and the local and international community. With this remarkable vitality, next year's thirtieth-anniversary edition will be a must for aficionados of frontier-busting sound exploration.
---
Image: John Zorn at FIMAV 2013. Image by: Martin Morissette.