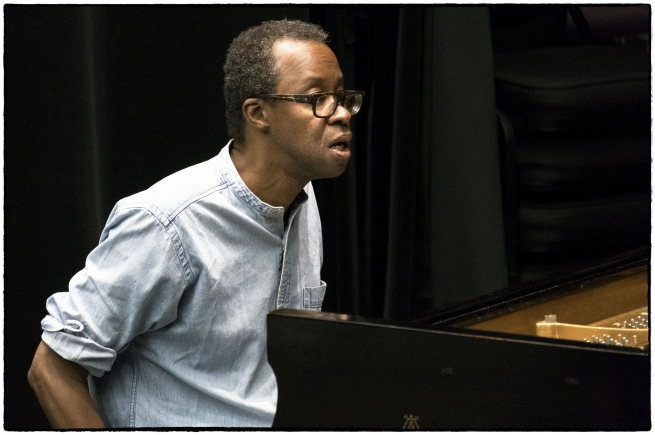 Striding confidently towards its 2018 silver anniversary,
the Guelph Jazz Festival was invigorated this year with choice concerts from U.S. and European artists—but nonetheless, two of the most notable performances were from Canadian bands. 

 Montreal trio Jane and the Magic Banana found that sweet spot where punk attitude, tremolo oscillations, and free experimentation lock together. Guitarist Sam Shalabi, electric bassist Alexandre St-Onge, and drummer Michel F. Côté all used electronic processing, their set characterized by quick manipulation of a continuous drone that never sacrificed narrative for effects. Two nights later, Josh Zubot's Montreal quartet MendHam offered a bracing set that nearly overwhelmed with its ingenuity, at the same time adhering closely to jazz conventions. Tunes were given body by bassist Nicolas Caloia's steady slaps and buzzing arco and drummer Isaiah Ceccarelli's patterning grooves. Rippling blasts from Jason Sharp's growling baritone saxophone provided both the backing and the challenge to violinist Zubot's slick, staccato sweeps. Zubot dazzled, as he swept and plucked his strings, replying in kind to any sonic provocation from the other players.
In his solo set, American pianist Matthew Shipp encompassed processional rhythms, kinetic flying chords that included rapturous patterning, and fortissimo digs into the instrument's lowest-pitched regions. While some of the more outré movements blended elements of stride and free music, a recurring balladic melody finally revealed itself as Jerome Kern's "Yesterdays." Shipp examined its structure from every angle, tore it apart, reassembled it, and following high-pitched note tickles, completed his thoughts by banging out a crescendo of low-pitched textures that marked the end.
The previous evening, Shipp's collaboration with German synthesizer player Thomas Lehn and British tenor/soprano saxophonist John Butcher was more closely attuned to free improvisation. Lehn's heightened but not overpowering chugging ostinato brushed up against the pianist's offhanded treble lines and dark chording, as Butcher used key percussion, unaccented air blowing, and quacks and bites to make his points. Lehn's multiphonic blasts and burrs and sprays of oscillated tones predominated, with the piano providing ballad-like asides.
Butcher also played a set with Vancouver bassist Torsten Müller and drummer Dylan van der Schyff, whose small motions on bells and cymbals were the perfect backing for Müller, whose moderato string squeezes were sometimes indistinguishable from Butcher's reed tone.
American double bassist Mark Helia, drummer Gerry Hemingway, and trombonist Ray Anderson were celebrating the fortieth anniversary of their trio BassDrumBone. Hemingway's relaxed mood encompassed sliced and popped beat patterns, with Helias' spooky arco or ringing pizzicato holding things together. Favouring plunger tones and mutes, Anderson's playing was conversational and emotional, referencing both bluesy rhythms and folkloric melodies.
In his solo set, German tenor saxophonist Peter Brötzmann, who also played tárogató and clarinet, roamed the stage, expressing himself in a mixture of agitation and accord. A master of sax "glossolalia" and violent effects, he can also reduce his output to ferocious yips. Despite his so-called avant-garde status, passionate allusions also permeated his set. 
---
Top photo of Matthew Shipp: Thomas King.