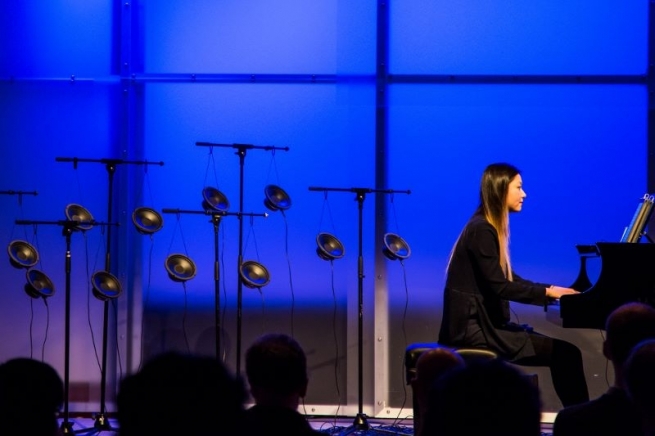 Against a deep blue, backlit stage, Vicky Chow sat at the baby grand in the Scheuer Auditorium at the Jewish Museum on Manhattan's Upper East Side in April 2017, flanked by forty speakers hanging from stands. For an uninterrupted hour, she played dizzying sequences of interlocking melodies against a latticework of pulse tones. The piece was Surface Image by composer Tristan Perich, a staggering electroacoustic composition that she recorded for New Amsterdam Records in 2014. It's a high-speed workout but remains delicate—rather different from the pounding intensity of his Dimensional Bloom, which X88, Chow's duo with Dutch pianist Saskia Lankhoorn, premiered the previous month in New York at The Kitchen.
Playing Perich's precise musical architecture, Chow was focused but appeared relaxed. Her eyes fixed on the tablet propped up on the piano's music stand, she gently rocked on the bench as she played. Occasionally a shift in the electronic accompaniment brought a soft smile to her face, as if she was recognizing a familiar stretch of highway.
Just three days after the Jewish Museum concert, Chow was on the opposite side of Central Park, kicking off an eight-hour musical marathon at Symphony Space. The concert marked the eightieth birthday of a composer who is arguably Perich's spiritual forebear, the master of minimalism, Steve Reich. Piano Counterpoint is another piece of demanding precision, and Chow played it to perfection, measuring the repeated lines against multiple recordings of her playing the other parts of the piece. 
It's a lot of notes to keep at the ready in one's brain, but Chow is used to a demanding schedule. The Bang on a Can All-Stars, of which she's been a member since 2009, finished a run of ten dates the day before the Jewish Museum concert, and the week after the Reich marathon she was back with Bang on a Can for its annual marathon, an eight-hour program of multiple artists that the All-Stars kicked off with Julia Wolfe's wonderful extended suite Steel Hammer. 
"Constantly having several programs (with different ensembles) plus doing solo works is definitely a juggle," Chow acknowledged via email about her rigorous schedule. "I've performed the Perich many times the past several years, so it is just all in my head (and fingers) at this point. The Reich is slightly less performed, but like working on any piece of music, how well it sticks in your head or fingers kind of depends on how much time and work you put into preparing it.
"Of course the physicality of these works in particular play a big role. There are times when I am in shape and sometimes I am not, or just plainly tired from playing all the time (like I am now during the end of the season). In some senses, performing artists are athletes. It's really tiring and requires a lot of energy—actively listening, actively reacting, actively expressing, actively participating, and actively responding. Sometimes I look at a score and feel as though I cannot connect my brain to my fingers. So I just rest."
Her email response went on from there. One gets the impression that she types with the same rapid-fire dexterity with which she plays piano. 
In November, Chow released her second solo album, A O R T A, on New Amsterdam Records. The title comes from a work by composer Daniel Wohl, two movements of which are included on the CD. But it also represents, she said, the fact that the record comprises "pieces that are close to my heart."
Speaking at a café near her home in the Greenpoint section of Brooklyn, she discussed how the album came together. While it might seem that the focus is on bringing together pieces for piano and electronics, that's more coincidence than concept—although perhaps it's also indicative of the zeitgeist of a new generation of composers in New York. 
"The idea of the album is just an accumulation of all my friends and colleagues, music that really resonated with me," she explained. "They were very personal pieces for me. It's almost like pages from my diary."
Still, as with the Perich and Reich pieces, the presence of processing and prerecorded tracks is a major component of the works she selected. "I really enjoy doing things with technology, exploring what's possible," Chow said. "This album explores a lot of different ways piano can interact with computer. 
"The fascination started in school," she continued, her speech matching the velocity that her piano playing and emailing revealed. "You hear the Cage Sonatas and Interludes—that's amazing; but that's like, sixty years ago. The piano is one of the most recognizable instruments. How can you manipulate it to get different sounds?
"That's why I gravitated toward those pieces. The material is written from a classical perspective but using technology that isn't so classical. It doesn't sound like it's from IRCAM thirty years ago. I wanted it to be more organic, more heartfelt, an outpouring of emotions versus something like Surface Image, where you hear the difference between the two."
Chow grew up in Vancouver and started piano lessons at age five as a part of what she called a "super classical upbringing" with no contemporary music in the house. She played in local competitions and then the Canadian National Competition, where she placed highest in her age rank at age ten and got to play the first movement of Prokofiev's Piano Concert No. 3 with an orchestra. 
She moved to New York for her college studies, earning her bachelor's and master's degrees of music at The Juilliard School. Still, she said, the focus was largely on the established repertoire. "I wasn't very happy with playing classical music," she said. "They never push for anything contemporary. Everything is pre-1940. It's like, 'Oh my God! You're playing Bartok?'"
While at Juilliard, however, she did get her first taste of contemporary music when a friend asked her to fill in for her in a concert of works by the Chinese composer Zhou Tian. That encouraged her to explore new-music programs, which led her to the Manhattan School of Music. "I was surrounded by all these interesting people who were just willing to experiment," she said. Some of her Manhattan School classmates are now helping to define the next generation of new music in New York, including members of the Mivos Quartet and Andy Akiho, who wrote the prepared-piano piece Vick(i/y) for her in 2008. It's the oldest work on A O R T A and the only one that doesn't make use of electronics. 
While at the Manhattan School, she also heard about the Bang on a Can Summer Festival at the Massachusetts Museum of Contemporary Art, which includes a residency program for composers and performers. She applied, but by the time she was accepted had concerts booked and couldn't attend. 
Nevertheless, her name was now in the hands of one of New York's most prestigious new-music institutions, and when pianist Lisa Moore left the All-Stars, the organization's house band, Chow got the call to audition. "I actually got to sit in and play with them," she said. "I thought, hey, this is how auditions should always be."
In February of 2009, she played with the All-Stars in their annual People's Commissioning Fund concert, an unusual initiative by Bang on a Can wherein the public is invited to contribute to the fund (the minimum donation is $1) and then attend the concert and hear the commissioned works premiered. In April of that year, she joined the group for a tour of China. In November she was permanently offered the Bang on a Can piano bench.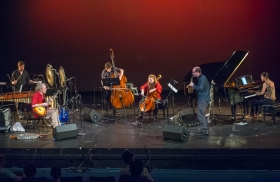 "Vicky was just out of school and very young and on the verge of being an outstanding musician," Michael Gordon—who, with Julia Wolfe and David Lang founded Bang on a Can thirty years ago—explained via email. "She was perhaps the least experienced pianist with the greatest potential and everyone was excited by the visceral energy she channeled into the music. Vicky 'got it.'"
Along with being a valued part of the band, Chow has become a valuable asset in the organization's educational programming, he said.
"Hearing Vicky talk about her experience at Juilliard was an insight into her personality," he said. "I always like to invite her to speak to young musicians, because she talks about being in the practice rooms at music school, working on the same Beethoven piano sonata that fifty other students are also working on. I guess the other forty-nine are still working on it, but Vicky decided to play music by living composers, which brought her into the exciting world of dealing with a multiplicity of composers, all of whom have different creative visions about what the piano is and isn't."
Gordon himself, of course, is one of those composers, and Chow has been labouring over his Sonatra (that being, a sonata for Frank Sinatra) for the last five years. She has recorded two versions of the piece, both slated for release later this year. Originally commissioned by Lisa Moore, Sonatra is, by Chow's estimation, "probably the hardest work I've ever done." The piece consists of different iterations of major and minor arpeggios at a tempo marked "as fast as possible."
"There was a piano explosion waiting to happen that had been sitting on the shelf since I wrote it in 2004," Gordon said of the work. "Twenty-five minutes was the length of the piece the few times it had been played. I believe Vicky's recording is under fifteen! Several years ago, I asked Vicky to take a look at the piece and she scheduled a performance and spent about two months working on it, and then canceled the performance and said it was going to take a lot of practice and time to learn the piece. And it did. Vicky rolled it out in small chuncks—I couldn't believe it when she performed the first six minutes in public. Now, as Vicky is playing it more and more, I get the same response from audience members. I can't tell you how many times people have come up to me with gleeful exuberance and said, 'How can you torture Vicky like that?'
"The important thing about Vicky as a pianist is that her skills and performance practices are still expanding faster than the universe is expanding," he added. "She's already an intense, visceral, technical monster of a pianist and a creative designer of programs, but the best is yet to come."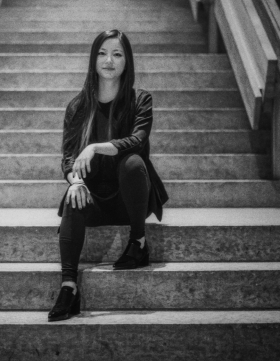 There's plenty already to come for Chow, even in the immediate future. She's performing music by composer and fellow Vancouverite Remy Siu—the next in a series of works based on the spate of suicides among workers at the Foxconn City industrial park in Shenzhen, China. And this summer, she's on the faculty at the Banff Centre as a part of the Pianist-Composer Collaborative program.
And of course, the Bang on a Can All-Stars will continue to keep her busy, including appearances in London (BBC Proms), The Bang on a Can Summer Music Festival at MASS MoCA, and touring in Europe in the fall. With Bang on a Can, it seems, she's found a home away from the entrenched classical tradition and an opportunity to grow with new composers and new ideas. 
"I always thought that I was going to be playing with an orchestra," she said, laughing. "I was never a great soloist. I got really nervous. Boy was I wrong."
---
FYI: Vicky Chow will perform new works by Remy Siu and by Icelandic composer David Brynjar Franzson at the ISCM World Music Days, held in Vancouver in early November. Chow is also the artist in residence at Vancouver's Music on Main in January 2018; this residency will culminate with a performance of John Luther Adams 'Ten Thousand Birds, featuring many local musicians
Top photo of Vicky Chow performing at the Scheuer Auditorium at the Jewish Museum in New York by: Sara Wass.  
Photo of Chow with Bang on a Can All-Stars by: Stephanie Berger.
Bottom black-and-white photo of Chow at Cluster festival in Winnpeg by: Pablo Riquilme
Audio track: Vicky(i/y), excerpt, by Andy Akiho.