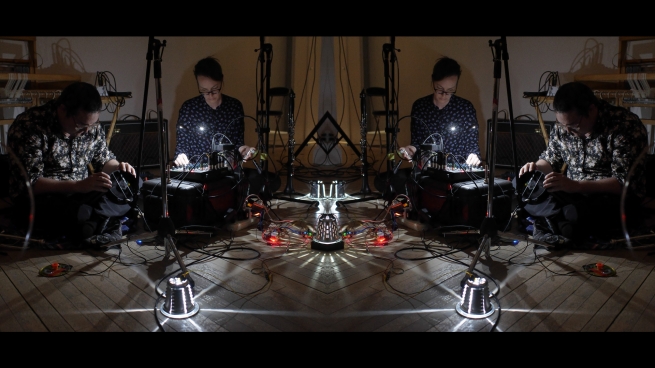 A striking musical and visual aesthetic distinguishes Mystery & Wonder Records from other artist-curated labels. The recordings are concise yet complete musical statements. High-definition sound with a lively, in-your-face feel results from microphones placed very close to the instruments. Releases are downloadable from the label's Website but are more fully appreciated on vinyl or CD, where considerable effort goes into the handmade packaging.
Montreal-based clarinetist Elizabeth Millar and trumpeter Craig Pedersen, who have been performing together as the duo Sound of the Mountain since 2015, cofounded Mystery & Wonder in 2017: they had a duo album ready, other recording projects in the works, and a year-long tour on the horizon; forming the label was their way of aligning these activities. Both Pedersen and Millar have backgrounds in classical music, but have gravitated towards improvisation. Pedersen, who hails from Victoria, B.C., made the leap towards freer playing while at school in Ottawa. His 2014 book Trumpet Sound Effects, cowritten with Ueli Dörig, remains one of the few treatises on extended techniques for the trumpet. Millar started playing clarinet in primary school in Australia. She moved to Montreal about ten years ago and, although she did not expect to stay long in the city, immediately found like-minded souls at jam sessions. She met Pedersen at a klezmer camp where they started improvising together.
Designing and fabricating the CD packaging as miniature works of art is an important component of the label's practice, catering to those who prefer physical products over storing music in the cloud. "The physical objects are a continuation of the work itself," Millar explains. "The most recent releases have hand-copied sleeves made with special paper and a die-cutting machine, a handmade feel, but of professional quality."
"We are not interested in streaming," Pedersen adds. "Most avant-garde listeners we know listen on CD or vinyl because they are also audiophiles."
The brief length of some of the releases is also a deliberate choice. "We do not argue over the size of a canvas in painting," Pedersen says. "I have an affinity for short-form works. Just because CDs can be seventy-four minutes does not mean they should be; and historically LPs were thirty-six minutes long."
"We are more focused on content than duration," Millar adds. "The reason my solo record is so short [about twenty-three minutes] is that I wanted the pieces to be a very concentrated distillation of the process I was working on."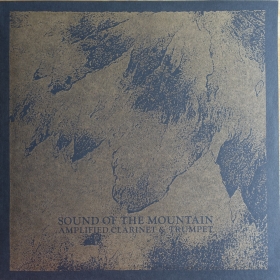 The label has released eight titles to date and also spearheads a concert series in Montreal, as well as tours across Canada, Japan, and elsewhere. The first five releases featured Pedersen and Millar, either together, as solo acts, or in other bands. Sound of the Mountain's Amplified Clarinet and Trumpet (MW001) features the two instruments as tone generators, with electronic-sounding music created acoustically. By blowing air into their instruments while avoiding the usual sonorities associated with woodwinds and brass, Millar and Pedersen produce a meticulous soundscape of otherworldly hisses, thunderous scrapes, and white-noise atmospherics.  
Pedersen's Solo Trumpet (2016) (MW002), on seven-inch vinyl involved a gestation period during which ideas were generated and field-tested, with the best ones then being recorded. In part inspired by the music of Loren MazzaCane Connors, the contemplative A Side features carefully selected long tones joined by silences, while more continuous, fleet, sinuous lines fill the flip side.
While tension arises from restraint on the first two releases, the Craig Pedersen Quintet's
Approaching the Absence of Doing
(MW003) explodes in a high-energy, free-jazz frenzy. The band includes saxophonist Lindsey Wellman, Joel Kerr on double bass, and the twin drum attack of Bennett Bedoukian and Eric Thibodeau. When composing the seven tracks, Pedersen reverse-engineered techniques developed by Cecil Taylor, David Ware, John Coltrane, and Joane Hétu to brilliant effect, further enhanced by the hallmark Mystery & Wonder up-close recording technique.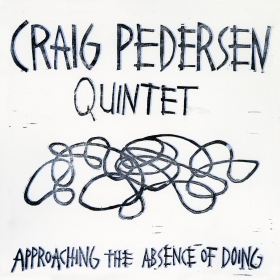 Pedersen wrote an eighteen-minute piece for a concert with his PCP Trio, which includes Eric Craven on drums and Alex Pelchat on electric guitar. To the studio recording of the piece was added a second, shorter track, resulting in internal / external / focused / broad (MW004). It is hard-driving music whose packaging contains text-based scores to both pieces, allowing listeners to follow along.
Millar's solo No Instrument Machine Air (MW005) was recorded at home with DIY instruments and clarinet. Amplified fans and propellers were modified with pieces of metal or wood to create percussive elements, with mikes capturing effects of the air around the fans, as well as pitches whose frequencies depend on rotation speed. These difficult-to-precisely-control instruments were then combined with more controlled breath noises from the clarinet, creating an enigmatic whirring delight.
When Sails Fold (MW006) is a solo album by Halifax modular-synthesizer whiz Brandon Auger. The album's ten miniature works were recorded in construction zones late at night. Each site was selected to provide a rich environment into which synth sounds were injected. Some works evoke ongoing construction, even though all sites were unoccupied during the recordings, while others feature highly reverberated synth drones or echoing rhythmic pulses.
           
Mystery and Wonder's next two titles will be released in 2019. Touri Michi by Rippleganger (MW007), the duo of Maya Kuroki (voice) and Rainer Wiens (guitar and kalimba), is a live recording from the Mystery & Wonder concert series. "We loved their set so we asked if we could put it out," Millar says. A quartet featuring Millar and Pedersen with legendary Japanese improvisers Tetuzi Akiyama (guitar) and Toshimaru Nakamura (no-input mixing board) will be touring following the release of their album (MW008).
Millar and Pederson emphasize that the label is not just about recordings, but concerts and promotion as well. "Touring gives fans access to the recordings, reaching our audience directly," Millar says; to which Pedersen adds, "We were inspired by soul music labels like Stax, which were more than just a vehicle for releasing music. Mystery & Wonder is like a support system to help ourselves and those we are affiliated with."
---
Top photo of Sound of the Mountain at Videopool, Winnipeg, by Robert Szkolnicki.
Audio: Mechanical Forest Sound 2, composed and performed by Elizabeth Millar.