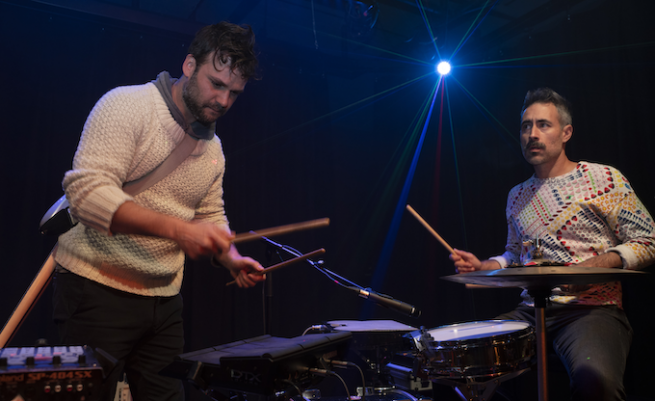 Around twenty years ago, a post-punk revival was supposedly upon us. Reissue compilations proliferated alongside a crop of new artists who audibly drew from the genre's heyday. Where punk-rock wedded a rock ethos with rebellious politics (or sometimes just rebellious posturing), post-punk let exploratory radicalism infiltrate the music itself. Looking at that much-touted resurgence with 2020 hindsight reveals that this crucial element was often missing from the more recent acts. Their approach glossed over the homespun abstraction and cobbled-together innovation at the fringes of song-form in favour of rehashing the few almost-catchy moments of originators like the Pop Group, This Heat, and 23 Skidoo.
The music of Gatineau's FET.NAT may hint at post-punk's anything-goes sound palette, but the true resemblance is in its free-spirited exploratory ethos. The group is about the furthest thing from a revisionist homage as can be. Instead, they offer a philosophical continuation—gaze oriented firmly forward and propelled by personal exploration. While the aforementioned wave of post-punk nostalgia was sweeping rock underground, percussionist and electronics player Olivier Fairfield and guitarist and bassist Pierre-Luc Clément were forging the creative partnership that remains the band's core.
Clément recalls gravitating toward his instrument's out-of-the-way possibilities long before he could put a name to what he was doing or connect it to the vocabularies of other musicians. For Clément, Fairfield's reputation preceded him. Before they had met, Clément recalls murmurings among his cousins about a relative of theirs with a keen interest in music. The pair's first encounter was at a music festival, after which Clément immediately invited Fairfield to join J'envoie, his instrumental rock outfit that infused the sound of groups like Do Make Say Think and Tortoise with a brasher, youthful edge.
The son of producer and engineer Charles Fairfield, Olivier Fairfield by this time had also amassed a personal archive of elaborate home recordings in an array of different styles. Some were assembled through tape editing, where others reflected a dub-wise sensibility in their use of electronic treatments. FET.NAT was always more of an extension of that impulse than the product of jam sessions. "In some ways, I could say that we never intended to have this band," quips Fairfield. While the pair can trace the group's birth directly to a specific evening in August 2010 at J'envoie's practice space (a former firehall near downtown Hull), their intention was basically pragmatic: setting up some mikes and capturing some stray ideas "before it had a name or vocals or any real plans to make anything more of it than a possible one-off tape release," Fairfield recalls. "With hindsight, that night recording on rue Leduc was the beginning."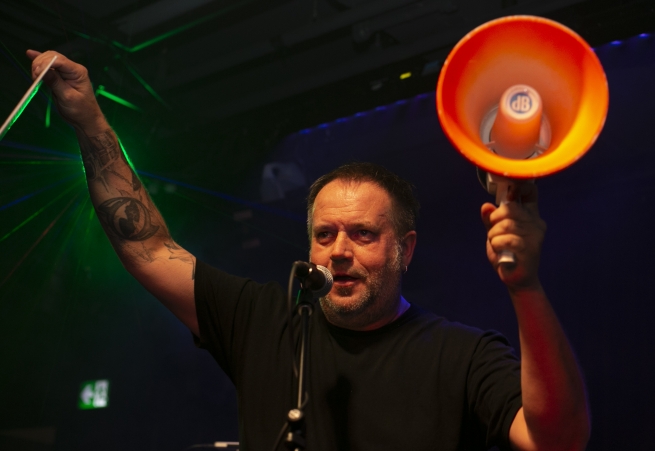 Vocalist Jean-François Nault (aka JFNO) had just moved back from Quebec City, and started popping up repeatedly on Clément and Fairfield's radar. Clément recalls meeting him at an improvised-music night at Le Petit Chicago, a now-shuttered downtown bar that had claimed Hull's debauchery-inspired sobriquet as its own. Both were drawn to Nault's performative charisma. "The more we'd talk with him, the more we started seeing a spark," remembers Fairfield. "A few months later, we decided to try to add his voice and lyrics to what we had recorded." The result was their debut release Brunch (2010), whose sturdy rock base is subverted by spasmodic rhythm. Launched on E-Tron, the imprint Fairfield operates with Philippe Charbonneau, it laid the foundation for their early sound—flailing punkish fluidity.
The arrival of bassist Daniel Boivin anchored them in something heavier and more straightforward. Unsurprisingly, the ensuing record Oh! and fuck allure (2012) remains their most conventional offering. This dissolved with their next effort, which revealed some of the hallmarks of their present sound: dry, hiccupping electronics; buoyant, skittering funk; and gestural splatters, courtesy of their new member, saxophonist Linsey Wellman—a regular presence in neighbouring Ottawa's improvised-music community. Wellman had collaborated with all of the band's members, and even had a regular group, Trio Virgule, with Fairfield. "They called me up to ask if I wanted to play a gig at Ottawa Explosion with them," recalls Wellman. "We had a quick rehearsal, where we figured out some things for me to do on the tunes, and played the gig. We all decided we liked the results. At the time, Poule Mange Poule (2014) was approaching completion, so they had me come in and do a couple of sessions."
"I'm not sure if any of us saw Linsey as a guest rather then a permanent member, but by the time we had played our first show—the four of us—it was obvious that it would be the new FN," recalls Fairfield, who remains quite active outside of his involvement in FET.NAT. "Amongst many, one major influence on my approach to creation is the range in types of projects I find myself in and what these bring to me." In addition to working on his own as a composer, he's also one half of the elusive H. de Heutz with J'envoie alumnus Nathan Medema, and he recorded with Simon Trottier as Last Ex for Constellation Records. Both he and Trottier also play in the spooked-out rock combo Timber Timbre. He's confident that these various scenarios have taught him to "handle challenges in things you've not tried or don't know how to achieve. Fake it until you make it."
Even with its sardonic wink, that last sentence could almost serve as the group's unofficial slogan—particularly after last year's Polaris-shortlisted head-scratcher, Le Mal. In spite of the numerous moments that radiate the energy of a bona fide band thrashing away together in a room, amps cranked, the fact of the matter is that FET.NAT's music is conceived as fiction first. Rather than transposing their organic ensemble interplay to the studio, they work in the opposite direction, reverse-engineering their recordings for the stage. The music's gestation is almost alchemical. "There's not really a proper rehearsal prior to a recording," Clément explains. "We book a session and hope for the best. If we need to do more, we do more in the studio. It's always made in puzzle-pieces in a way. Some people are more responsible for the foundation, but it doesn't really matter, in the end. All we need is someone with an idea."
Following Poule Mange Poule, the dialogue they had established between the performative and virtual domains had grown more complex and idiosyncratic. Please Stop Saying It's So Beautiful (2016) took cues from a shared love of hip-hop, and retreated even further into the realm of studio assemblage, dropping in samples, and wrestling multiple sessions into multifarious composites. It had originally been intended as a full album, but the band packed all the material into two condensed cuts. This all paled, however, compared to the process that birthed Le Mal, which reached new heights of convoluted absurdity.
It all started in March 2017 with a two-week residency at the Gatineau media-arts centre Daïmon, where they swapped their usual gear for vintage electronic equivalents—MIDI guitar, EWI, electronic drums. JFNO was relegated to text-to-speech to craft his lyrics. "The challenge was to figure out how to sound like ourselves while playing these strange instruments that we didn't particularly like," relays Wellman. "We were also prepared to potentially fail. It was a pretty big learning curve."
Though it made things cumbersome, their outlandish decision yielded intriguing results. They promptly hauled their battery of alternate instruments into Fairfield's father's studio and committed the work to tape. In the end, they were left wary and restless. This feeling had become somewhat typical for the band. Earlier that year, the single "Gaoler" had repeated the story of its predecessor—they had recorded enough for a full-length album, but it was whittled down to a mere two songs, leaving copious leftovers. As Clément grappled persistently with compositions from the Daïmon residency, he began mining these cast-off sessions for raw material.
In the arts, the term palimpsest is bandied about rather liberally. It originally signified ancient documents with a later text inscribed over an earlier one that had traces remaining. It's mostly employed as a ham-fisted metaphor, but in FET.NAT's case the relationship is far more than figurative.
Snatching an isolated drum track from "Gaoler," Clément would lay down a new bassline, stitching together manipulated sax sputters and vocals over top as a sort of a mock-up. He'd pass this collage over to Olivier, who would reply, stripping away the up-cycled drums and replacing them with new ultrasyncopated parts. Wellman would in turn parrot the piecemeal script Clément and Fairfield had grafted together for him, adding his own idiosyncratic flourishes. Elements were repeatedly erased, truncated, assembled, reconstituted, and reimagined until the ultimate product bore little resemblance to the original.
The process was roughly the same for each of Le Mal's two LP sides, each of which shares the same program of compositions, but casts them in drastically different arrangements. The music on the second side, done mostly with synthetic instruments, shadowed the original impetus more closely, whereas side A—though equally spliced-together—was rendered with the outfit's standard tools.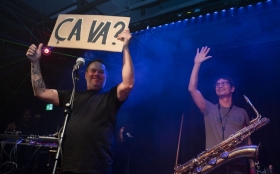 It's a singular record that resists classification, despite residing loosely in the song format—simultaneously infectious and alienating, organic yet painstakingly artificial. Murky bilingue vocals slither through hearty-but-unstable grooves—the music full of undeniably danceable momentum, yet stubbornly confusing to the limbs. It sounds both improvised and neurotically mapped-out, its course as unpredictably determinate as a hacked self-driving car.
For now, the group's next steps remain suitably uncertain, a fact that is remarkably congruent with both their sound and ethos. Freshness and immediacy are tantamount, but there's never been any desire to push the project anywhere it doesn't naturally want to go. "The evolution is really organic," affirms Clément, speaking of their approach. "We'll have some aesthetic ideas but also a really large amount of letting go."
---
Audio: Patio Monday written and performed by FET.NAT.
All FET.NAT photos taken by Ming Wu at Club Saw in Ottawa, November 2019.