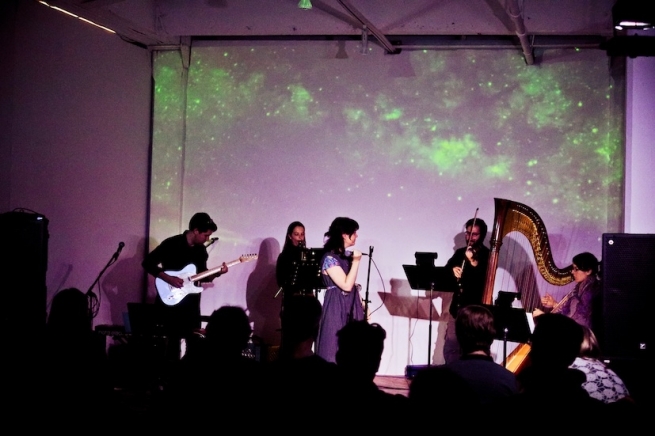 Many Visions: Plumes Deconstructs the Music of Grimes is a genre-spanning music collaboration that seeks to explore and ultimately blur the lines between classical and pop. Thirteen contemporary classical composers have been asked to reimagine and rework the thirteen tracks on Grimes' 2012 album Visions in, as it were, their own vision. The new works—by Carmen Vanderveken, Veronica Charnley, Isaiah Ceccarelli, Giorgio Magnanensi, Nicole Lizée, Marielle Groven, Jennifer Bachynsky, Emilie LeBel, Fjóla Evans, Tawnie Olson, Stephanie Moore, Eliot Britton, and Monica Pearce—will be performed by Montreal's Plumes Ensemble at various venues across Canada in March 2017. An Indiegogo fundraiser was launched in Fall 2016 to support the project, and there are plans to record the show for streaming.
"In March 2015 Plumes came to Cluster and dazzled us with a pop-classical crossover concert, and it was impossible not to talk about future projects," explains Luke Nickel, codirector (with Heidi Ouellette and Eliot Britton) of Winnipeg's Cluster New Music and Integrated Arts Festival. "We wanted to see how we could bridge the gap between popular and classical music—we have a suspicion it's smaller than people think. We want to think about interpretation and rearrangement, not only in terms of musical material but also in terms of the spirit of an artist. That led us to Grimes, whose DIY attitude seems to resonate across genres."
Plumes was a logical choice for the task, since it operates as both an indie-pop band and, as Plumes Ensemble, a chamber group. Musicworks asked Plumes' Geof Holbrook, a composer and multi-instrumentalist, to explain the thinking behind this work in progress. This interview has been edited and condensed.
MUSICWORKS: How did Many Visions come about?
GEOF HOLBROOK: Luke proposed it to us the day after we played the [2015] Cluster Festival. I guess we seemed like the right fit. He was actually thinking of using somebody with a classical bent, but we suggested doing it with an original source that was completely pop, to increase that juxtaposition.
MW: How did you choose the composers?
GH: We did it quickly, at the festival. We tossed names around—we had people in mind, Luke had people in mind. Nicole Lizée was the first name I thought of, because what she does involves integrating different genres and playing with cultural crossover, which is really what the project is about.
MW: How did you see it working—each composer chooses a song and runs with it? What direction did you give?
GH: They had a bunch of options. The theme of the festival is dismantling, taking something apart and reconstructing it. So maybe that means reinterpreting or magnifying or exploding—we gave them pretty wide scope. They're very different composers with different backgrounds and styles. But it's not just a new arrangement or remix. Maybe it's a mashup.
MW: So it could be taking the chords from a song and making something different with them?
GH: They could do that. I've had questions from composers about technical stuff— can I do this? or can I do that?—because technology will be involved. One thing that interests me is whether they treat the song in a linear way, or take bits of it and shuffle them around. They've got to keep something, so they could keep the structure, the melodic material, the arrangements, or they might use samples of the original track in some way.
MW: Were composers assigned a song?
GH: We had a selection process where they gave us their first, second, and third choices, and then we had to figure out that little puzzle. I think it speaks to the diversity of these composers that, mostly, they got their first choices because different songs spoke to them.
MW: Did they have instrumental guidelines?
GH: We gave them our Plumes Ensemble instrumentation, which is harp, viola, clarinet, bass clarinet, and vocal, and I offered to play keyboard or electric guitar and also to run electronics if they want to introduce samples. There have been some special requests—we'll have a megaphone for Jennifer Bachynsky's piece, and some electronic gizmos to trigger samples—but we're going to tour this thing, so we've got to fit everything into the van!
MW: Is there an intersection between classical and pop music that you're riding? Or is it easier to separate them, as you've done in the past?
GH: We created Plumes Ensemble to differentiate it from Plumes, because we realized people didn't know what to expect at our shows. Sometimes we played with drums and electric and bass guitars like a band, and sometimes we played as a chamber group, acoustic with no drums. Plumes is the band and Plumes Ensemble is the chamber version, but they both have elements of classical and pop. Plumes Ensemble essentially plays songs arranged as chamber music.
MW: Does Grimes know about and approve of the project?
GH: As far as I know, nobody's heard. It would be great if we could get some kind of blessing. I don't know why she wouldn't be at least curious to know what we're doing. She is a big star now, though—so who knows? I hope she'll come to interact with us in some way.
MW: In interviews about Visions, Grimes said she blacked out her windows and retreated into her bedroom to write because she wanted to be in complete isolation, not sleep, and even invite hallucinations. It'd be interesting to know if anyone is interpreting that aspect.
GH: I don't know, it's possible that some of them are going through that experience right now because of the deadline! I'm a composer, I know how that is. I'm so curious to talk to them. We're all in the dark; that's what's so interesting. This is the first time we've done commissions, so it's a whole other experience. 
---
Photo of Plumes Ensemble by: Leif Norman.   Audio: "Oh Orwell" (2014). Composed by Veronica Charnley. Performed by Plumes Ensemble: Veronica Charnley (voice), Eveline Grégoire-Rousseau (harp), Saam Hashemi (synths, acoustic and electric guitar, percussion), Geof Holbrook (trumpet, French horn, trombone, electric guitar, bass, synth), and Karl Jannuska (drums). From an upcoming album.