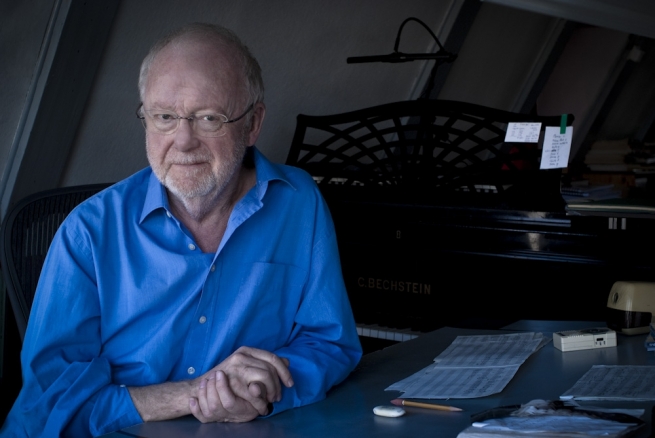 Louis Andriessen arrived on the international scene with a bang. In 1976 he unleashed De Staat (The Republic) on unsuspecting audiences. The political charge of the composition came from texts of Plato sung by four soprano voices hovering like ethereal apparitions over pounding, iron-fisted piano rhythms. The breathlessly whirling repetition was reminiscent of Steve Reich's music, but kept the listener searching for the primary beat. Electric guitars and bass guitar were used in an ensemble abounding with brash discordant winds. It was a musical statement of unprecedented power, and earned Andriessen a reputation that endures to this day.
Louis Andriessen was born in Utrecht in 1939 as the youngest child in a musical family. His father was a renowned composer of church music. His sister Caecilia and his brother Jurriaan were composers. The experience of playing music at home; his father's preference for French music over German Romanticism, and his father's work as an organist in a Catholic church; and jazz records that Jurriaan (fourteen years his senior) brought home from visits to the U.S. in the 1950s—these influences have stayed with him until the present day. After studies at the Royal Conservatory in The Hague and with Luciano Berio in Milan and Berlin, he achieved notoriety in the late 1960s for his involvement in the collectively written opera Reconstructie and in actions taken by the so-called Notenkrakers group, which was highly critical of the conservative programming in Dutch concert halls, and which interrupted a performance by the Royal Concertgebouw Orchestra (KCO) by sounding clickers. This soured the relationship between Andriessen and the orchestra to such an extent that it was more than forty years before the composer wrote a piece for the KCO, Mysteriën (Mysteries), which premiered in November 2013.
In the 1970s Andriessen established a name for himself in the Netherlands writing politically charged pieces, often for ad hoc ensembles, as was the case with Reconstructie. In doing so, he served as one of the founding fathers of the ensemble culture that created such fertile soil for contemporary music in the Netherlands. His ensembles De Volharding and Hoketus were both named after the compositions for which they had been established, and both remained active for years afterwards. Andriessen's growing fame culminated in his international breakthrough with De Staat. Since then, he has written a large number of works, ranging from solo pieces to large-scale operas. Most of these he created specifically for ensembles and soloists whom he has consistently worked with over long periods of time.
There are several recurring characteristics in Andriessen's work: his preference for winds over strings, his use of bass guitar, electric guitar, and electric keyboard (as early as Reconstructie), and use of literary texts as inspiration for his music. Rather than reminisce about older compositions, he prefers to discuss recent works, such as Anaïs Nin—written for Italian singer Cristina Zavalloni and the ensemble Nieuw Amsterdams Peil—Mysteriën, and the opera he is currently writing. "In each piece I try to do something I haven't done before," he says. "As far as I am concerned, there's only the present. Growing older, I do have more past behind me than future ahead of me. With everything I write, I extend that present just a bit more. Writing music is my reason for being."
[
FULL ARTICLE AVAILABLE IN PRINT EDITION ONLY.
SUBSCRIBE
NOW
TO RECEIVE #119, FEATURING Q&A WITH LOUIS ANDRIESSEN, and #119 companion CD.]
---
Image of Louis Andriessen by: Francesca Patella.