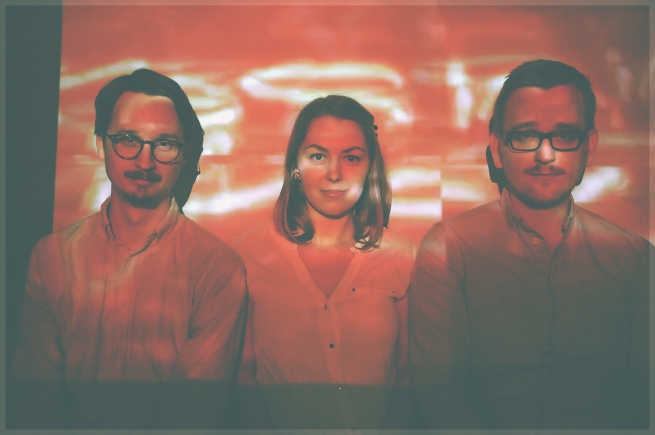 Water, the second-place winner of Musicworks' 2018 Electronic Music Composition Contest, is a multimedia performance piece structured around changing states of water. It was composed collaboratively by three members of Chroma Mixed Media for a performance with the Co.Crea.Tive collective that took place at the Golden Saucer in Vancouver, British Columbia, on Earth Day (April 22) in 2017.
In Water, three performers produce live sounds with their voices and with small instruments. These sounds are processed and manipulated in real-time while a visual projection shows the transformation of water in its many natural states. The visuals of the piece progress from images of solid ice to still ponds, and the music transforms accordingly from a dense stagnant mass to interweaving ethereal textures. The goal of this work is to immerse the audience in transformative musical textures and visuals to show the vastness and profound beauty of water in all its forms.
A 10-minute version of Water was submitted to the 2018 EMC Contest; enjoy the full version of the work below.
Chroma Mixed Media is a dynamic new-music and mixed-media collective based in Vancouver, British Columbia. Founded in 2015 by multi SOCAN award-winning composers Katerina Gimon, David Storen, and Brian Topp, Chroma blends experimental vocals, guitar, electronics, and visuals to create immersive audiovisual experiences. Chroma has performed at the Vancouver Art Gallery, Red Gate, the Golden Saucer, the Western Front, the Orpheum, Vancouver Public Library, and others, and collaborated with groups such as the Co.Crea.Tive Collective, Vancouver New Music, and Redshift Music Society.
Chroma endeavours to explore the relationship between music, visual art, performance, composition, and new technologies. Most recently, they have begun venturing into the new and exciting world of virtual reality with the development of an immersive and interactive VR-experience album called Naona, made possible with support from the Canada Council for the Arts. This new work places the listener inside a fictional, virtual landscape populated by ancient ruins. As the listener progresses through a series of environments they can explore and interact with them in various ways to create changes in the musical backdrop, resulting in a unique musical journey each time Naona is experienced. This new work will be premiered to the public as an installation in partnership with Redshift Music Society in fall 2019. Subsequently, it will be released as a Virtual Reality experience on the Oculus Store as well as Steam, and the audio portion will be released as an album with Redshift Records.
---
Top photo of Chroma Mixed Media (left to right): David Storen,  Katerina Gimon, and Brian Topp.
Photo by Brian Topp.
---
GET IN THE MIX!
MUSICWORKS' NINTH ANNUAL ELECTRONIC MUSIC COMPOSITION CONTEST CLOSES OCTOBER 25TH, 2019.
VISIT OUR SHOP FOR FOR MORE INFORMATION AND ENTRY PORTAL .