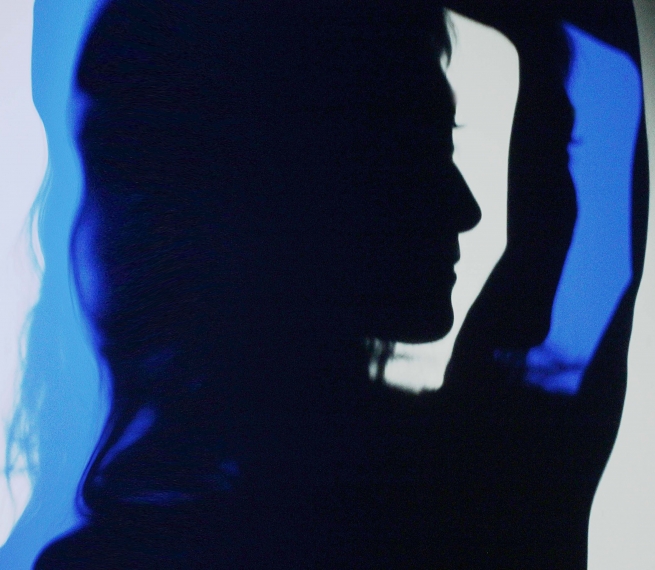 As I sit here listening to Metal Aether, the most recent full-length release from New York composer and performer Lea Bertucci, the difficulty of locating this music's boundaries becomes increasingly clear. Bertucci's compositions balance minimalist saxophone patterns with field recordings collected in places as disparate as New York City and ancient regions of Mexico. The shifting of these sonic environments, which Bertucci manipulates and layers in response to her haunting instrumental arrangements, not only blurs the borders between the geographical locales, it recontextualizes the physical space around the listener's ears as well.
Where does the music end?
Couple this phenomenon with the instrumental patterns themselves—the microtonal harmonies, interference patterns, tonal dissonances—and the overall effect is one of psychic disassociation, a sensation that place and time are straying from their usual parameters.
During her concert in Halifax at The Khyber Centre for the Arts in March of this year, most of the audience closed their eyes during the hour-long set. Although not an uncommon occurrence at concerts of exploratory music, this gesture did seem especially apt, considering the material with which we were engaged. Without the anchor of vision, Bertucci's compositions were given further licence to do what they are meant to do: expand beyond their constituent parts. After the performance, Bertucci sat down with me to talk about her work.
Bertucci grew up in Hudson Valley, New York, where, at the age of nine, she started playing alto saxophone and bass clarinet, focusing on standard jazz and classical music. She studied film and photography in college, and now works a day job in those fields at an architectural school in New York City. Seven years ago, music composition took on a different role in her life, becoming, Bertucci says, her "exclusive creative practice."
Although Bertucci delineates her training in film and photography separately from her pursuit of music composition, she does acknowledge the connection between these disciplines. "I think a work of cinema is very similar to a composition insofar as it's a disturbance in time," she says. "It's structure that exists over a fixed period of time. There are things like repetition, and there are things like movement that are very similar from cinema to music." Indeed, Bertucci's pieces sound like scores for films that are yet to be made. Each work moves through an abstract narrative arc, explores a theme, builds tension, and comes to some kind of conceptual resolution by its end. And the collage of field recording that forms the background for so much of her work (especially during the pieces played in Halifax) evokes images and storylines that only accentuate the filmic qualities of the compositions.
Bertucci's collection of recordings, mostly captured on microcassette tape, are the fruits of her international travels. Since releasing Resonance Shapes in 2013, she has toured regularly, with stops in Europe, throughout the United States, and, most recently, Mexico City, where she performed in November 2017. Many of the field recordings employed at her concert in Halifax were from that trip. "For some reason, whenever I'm in Mexico I make the best recordings. There's something about Mexico—there's such a rich, sonic field." Metal Aether uses recordings from an earlier trip to the region, when she collected audio at the Mayan Pyramids at Chichen Itza in the Yucatan. In contrast, the album also features recordings made in the New York City subway system.
The various field recordings at play in Bertucci compositions are not static elements. From the way she interjects a randomly cued tape into a performance to the very nature of the microcassette medium itself, the recordings are in constant flux and, as a result, so are the compositions themselves. "The thing about the tape recorders that I use, is that it's a pretty magical process of transformation of sound because it's so lo-fi," she says. "You have this inherent, built-in filter." There's also a natural degradation in fidelity that happens with this cheap format, so that the source sounds become further removed from their original state as the tapes are worked.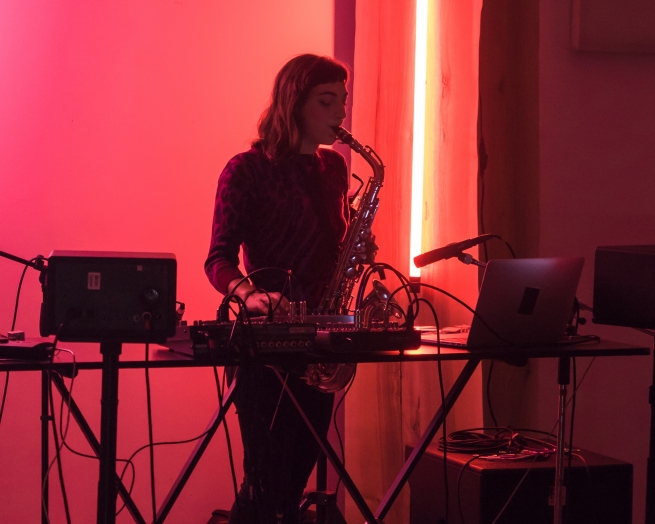 On her albums and during live performances, Bertucci actively manipulates these recordings, often juxtaposing industrial and natural sounds, lo-fi and hi-fi recording, and texturing the material with effects in order to achieve the aims of a given piece. Though it's tempting, at times, to tease a conceptual or even political meaning from such manoeuvres, Bertucci's compositional approach is focused primarily on what sounds right, not on thematic abstractions. A piece of music may be born from the pure aesthetic of a field-recording snippet or just as often, as is partly the case on her new album, from a specific instrument.
The alto saxophone featured on the cover of Metal Aether is a 1924 silver Conn, which Bertucci notes is a "coveted and fetishistic horn" by saxophone-aficionado standards. This rare horn had sat derelict in a basement for thirty years before being gifted to Bertucci by her friend's mother. Those years of neglect had altered the functionality of the instrument in ways that forced Bertucci to approach the saxophone with an open mind. When she got the Conn, the pads wouldn't seal. The saxophone wouldn't allow her to play a major scale; she couldn't get normal intervals. But for Bertucci, these limitations meant there was something to be discovered. "Because I couldn't play those Charlie-Parker riffs that I had learned in high school, I had to re-approach the instrument and think of different extended techniques that I could use to make sound with this object." Though she fixed the Conn before recording Metal Aether, her process of adapting to the instrument evolved into the saxophone mediations found on the album.
Bertucci's saxophone playing is refined; at times it evokes Evan Parker's more fluttery and airy tones, but the layering, effects treatments, repetition, and droning passages create a unique celestial vibe. There is also a calculated and detached character to Bertucci's playing. In her Halifax performance, Bertucci mostly played the horn with it resting on the table in front of her, while she kept her eyes—and often a hand—on the mixing board, her attention divided between the horn and the broader, multifaceted tapestry of sound she was crafting. It's refreshing to hear a saxophonist prioritize, with such aptitude and control, the instrument's subtle compositional attributes over the aggressive characteristics so often exploited by fiery, virtuosic players. Instead of journeying inward, Bertucci focuses on the listener and the external environment, creating sounds to conjure psychoacoustic phenomena.
Tones exist of course within the compositions, arrived at from both the instrument and the noises on the field recordings, but music can also exist in more "subtle, perceptual aspects," Bertucci says. For each venue she plays, be it the small gallery box of The Khyber Centre or the abandoned military bases in Le Havre, France, where she recorded part of Metal Aether, her approach to conjuring these phenomena is different; and the phenomena themselves vary no less. These elements of Bertucci's compositions allow for a very subtle form of improvisation within the confines of her written structures, and ever-unique audience experiences.
For the future, Bertucci hopes to amplify the special effects of her music by exploring more multichannel work and collaborating with other free-thinking artists. She is now in the early stages of a project with Brooklyn experimental vocalist Amirtha Kidambi in which she is processing Kidambi's remarkable vocal acrobatics through hands-on manipulation of reel-to-reel tape. A composition for New York percussion trio Tigue is also in development; military drum-corps gestures will play heavily in the piece—a fitting exploration, Bertucci suggests, given the dark political climate currently gripping her country.
Expanding the borders of sound may be a purely aesthetic goal for this ambitious composer, but the effects of such radical work can have far-reaching implications: hearing in new ways helps us perceive our world anew—and that's a good way to grow.
---
AUDIO: Voladores Process, excerpt composed and performed by Lea Bertucci (tape and organ). 
TOP PHOTO by Lea Bertucci. BOTTOM PHOTO by Ceclia Dovizio.