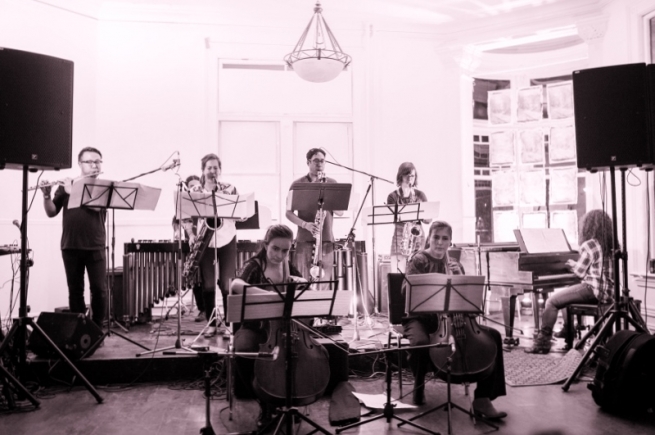 Intense purple LED light washes over the Thin Edge New Music Collective (ABOVE PHOTO) as they scramble to soundcheck, seeming to heighten the chaotic mood at Long Winter, Toronto's monthly interarts festival series during the coldest season. Two different sources of electric guitar bleed into the room from other performance spaces inside the historic, rambling Great Hall. The musicians in this harshly lit room hurriedly iron things out with the soundman: how to amplify a flute, a bass clarinet, and a cello in such circumstances, and more importantly, how to monitor what's going on. Once the sound mix is deemed satisfactory, the ensemble launches into Workers Union—Dutch composer Louis Andriessen's energetic "symphonic movement for any loud-sounding group of instruments," first heard in 1975. A few parts waver as the group finds its bearings. An all-ages crowd filters in—buzzed out high-school kids, art-scene veterans and, eventually, an intervention of dancers wearing bulgy and misshapen bodysuits. Andriessen's riff-centric approach animates both young and old alike, whose heads bob along as best as the piece's angular grooves will permit. There's a bass response in the room that Andriessen may not have intended but that people respond to. Afterwards, a few curious onlookers move in to inspect the musicians and instruments responsible for such unconventionally energetic music. The audience may have come for the headliners, or the circus-like atmosphere, or the social experience, but they'll remember this. So will Thin Edge and their classically trained friends in the audience.
For performers of new music, the stage is expanding. And the future feels pleasingly weird.
In North America, large multi-day pop-music festivals now drive the music industry during the summer, and have become increasingly important year round. They draw together audiences, artists, money, and media coverage in a pop-culture juggernaut; at the height of the season, this constitutes the mainstream. That says nothing, however, about what you actually hear or experience at such a music festival. All of them seek to validate popular musical choices but, at the same time, strive to distinguish themselves from one another and also cater to local or regional tastes.
We, the authors of this article, both run festivals that showcase exploratory forms of music—a front-row view of how new music, improvisation, and out-and-out weirdness fit both aesthetically and economically into festival culture. Changes in the music industry forced upon it by contemporary technology have had two major effects: the music industry has reoriented itself towards live performance and genre hierarchy and divisions have broken down. Genre-based value judgements are now passé. Crossovers are taking place because there's so much interesting shit out there and people want to experience it all within a single event. What was once termed art music and was mostly performed in concert halls, academic settings, and tiny art spaces has spread to lofts, clubs, pop-up venues, museums, and smaller specialty festivals, intersecting with nontraditional audiences along the way. Larger festivals are now entering the equation, too. They are harnessing the energy and ingenuity of smaller spaces for campus-style undertakings and are using clubs as venues in order to increase their community connections and public impact. We may well be witnessing the dismantling of decades-old notions of aesthetic hierarchy.
#AvantGuards
Twentieth-century culture offers many examples of academically trained, avant-garde musicians who have subverted more popular genres: John Cale's drones with the Velvet Underground drew from his work with composer La Monte Young; producer and arranger Charles Stepney brought the Schillinger System of Musical Composition (named after composer and music theorist Joseph Schillinger) to Chicago's Chess Records' psychedelic soul; composer Rogerio Duprat studied with Stockhausen and imprinted his ideas onto Brazilian Tropicália. And now we're seeing even more of this kind of thing, as old categories give way to new realities.
The new-music scene that emerged in the '60s and '70s was supported by government and foundation grants, fuelled by modernist opposition to popular culture, and presented either in academic or in specialized venues. New-music events have traditionally been expensive to present, and now their core audiences are aging. New-music concert production is struggling to engage contemporary-music producers and listeners. Many conservatory-trained musicians are opting out of this model, frustrated at the intense politics of the scene and its conservatism, bureaucracy, hierarchy, lack of openness to new musical ideas, and prejudice against other genres.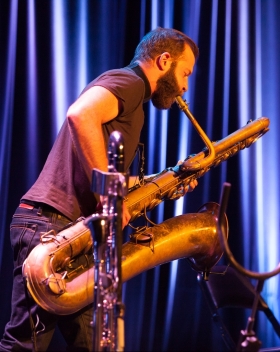 "I went to the University of Michigan for saxophone performance, and my track was more or less to study there for bachelor's, master's, and Ph.D., and eventually take the job of my professor," recalls saxophonist Colin Stetson (LEFT PHOTO), whose most recent album Sorrow reimagines Henryk Gorecki's Symphony no. 3 as a black-metal meditation. "Through the middle of my bachelor's degree I realized that I didn't want a life of academia, nor did I want to present music in concert halls only. My priorities changed. What I wanted to do was original music and I was becoming less enamoured with the repertoire. I'd been writing my own solo music with a group and many other bands. That world was much more exciting. I was nineteen, twenty years old. It was a lot more exciting to be out [performing] every night of the week, rather than the more staid schedule of a university where you present shows once every six months or a year. The two were very different worlds."
"I think it's hugely important to put [exploratory music] into a context where it wouldn't be traditionally presented," notes Chicago-based saxophonist Dave Rempis (Ballister, Vandermark 5), who has lived at the intersection of exploratory music and the mainstream for many years as a presenter working with both small and large organizations, including the biggest festival in Chicago, Pitchfork. "It's not really a huge leap for audiences to check out something else. It's just a matter of making it accessible."
"It's less weird being weird right now," says Toronto journalist and former CBC Radio 3 host Vish Khanna. "It's become rather cool to embrace all music, and so musical orthodoxy or genre preference is now considered old-fashioned. People in all genres approach their music very seriously and are maintaining a level of execution that is near flawless in popular venues."
Festivals are paying attention. Maud Salvi, executive director of Calgary's multi-genre Sled Island Festival, which welcomed electronic musician and performance artist Peaches as guest curator in 2016, says, "This year we had more experimental submissions than in the past, which makes me pretty happy. The cultural divide is changing."
#BringingItAllBackHome
Earlier this year The New York Times said it would focus its coverage on smaller, more individualistic festivals with a focus on creativity ("Why We're Not Making Plans for Coachella and Bonnaroo" by Jon Pareles, Ben Ratliff and Jon Caramanica, March 18, 2016, The New York Times). The inaugural WayHome Music and Arts Festival, held in Oro-Medonte, Ontario, in the summer of 2015, aspired to be just that kind of festival. WayHome balanced big names, an eclectic second tier of acts, grassroots art installations, and a gorgeous rural setting designed to encourage semi-spontaneous meetings between artists and audiences. Reviews and social-media afterglow spoke of WayHome's winning combination of art and commerce transformed into meaningful personal experiences. That's no easy feat for a first-time festival in Canada.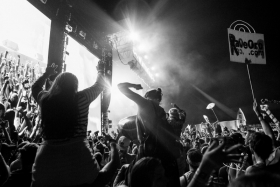 "In Canada, you have to pay close attention to what's going on in your community," says booker and artist manager Eli Klein, part of the team behind WayHome. "We're in a privileged place in Canada, that such a diverse audience is going to come to festivals. Originality has to be about an eclectic bill, but reflective of where it is [geographically]." The first WayHome boasted a veteran team with extensive connections to booking agents and the judgment to create compelling lineups from myriad possibilities. "You have to do weird math," Klein continues, describing the process. "There are interesting calculations a buyer has to do to decide on bands. That's what I like about WayHome: the bottom tier is thick with bands who have very small fan bases. It'll be interesting to see what gets programmed in 2016 because the people involved have a deeper appreciation of the net that can be cast for the audience."
Khanna believes that the booking process is also influenced by the abundance of festivals now occupying the landscape. Smaller-market festivals can no longer afford the safe tier of artists they're used to. "Those who can survive know they can't compete with their artistic budgets and will have no choice but to book the coolest shit they can first, and then worry about booking whatever headliners they can.
"Most progressive festival programming is designed to reach almost every stylistic audience, and is rather eclectic," he continues. "So many Canadian festivals are grant-based and thus have preordained boxes to check off regarding the scope and inclusiveness of their programming. While it's easy to be cynical about the inherent tokenism of such rules, maybe it's not a terrible thing that some artistic director does some detective work to discover the next great Inuit artist or transgendered folk artist."
The highlight of the 2015 edition of Luminato, one of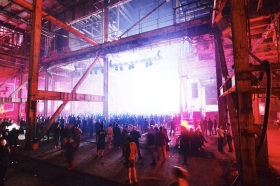 Canada's largest multi-arts festivals, was their audacious installation of the electronic, experimental Polish festival Unsound in a remote, dilapidated former generating station. It worked out so well that the Hearn is now the festival's home. "Unsound was such a huge risk for Luminato to take on last year," Klein marvels. "I think there was [financial] value in some of the stuff they had there, like Stars of the Lid, but look at what they had on Saturday—Morton Subotnick and Helena Hauff played and that was crazy! I couldn't believe that so much effort was put forth by the concert goer to schlep all the way out there and deal with ankle-deep mud just to revel in the space. It was a turning point for festivals in Toronto, because it . . . showed that the audience was there. People talk about the audience not coming to shows but you've got a really receptive audience for experimental music on a young scale. I think it can only increase its presence on the festival market."
Perhaps the paragon of large-scale festival economics crossed with exploratory sounds is Knoxville's Big Ears Festival. Founded by Ashley Capps' AC Entertainment, the company behind Bonnaroo, Big Ears is the current standard-bearer for such festivals. "[Big Ears presents] incredibly adventurous programming in a place where you would not expect it," Rempis says. "Knoxville is not generally known for this, but is incredibly successful. People from all over Southern U.S. who are music fans are going to that festival. It has become a destination." Capps himself, an industry legend and key architect of the rise of the modern music festival, acknowledges that Big Ears delivers high-end, big-money validation of the shifts in taste and consumption at the grassroots. In 2014, he told Atlanta's Creative Loafing magazine that "bringing together some of the greatest composers and musicians of our time—who, on the surface, may seem to be operating in different musical worlds but who in reality are fuelled and inspired by one another's ideas—makes the world seem alive with possibilities."
At the heart of the new eclecticism are those slayers of cultural demarcations and conventions, millennials. Their tastes drive pop culture, which in turn drives music festivals. "The Internet has everything to do with that," Klein emphasizes. "The willingness to open yourself up to newer experiences is higher now. The Internet has a weird way of nurturing that willingness by allowing you to reach deeper into your own ears to figure out what's appealing to you. There is a sense (among millennials) that discovering something is actually quite addicting, a much greater sense to acknowledge that in yourself than there's ever been. I think that's a huge boon to what you might do over the next five years, and what you might do to market to them." Whether music students or the harshest of noise musicians, millennials do not seem to wall off their listening tastes in the way previous generations have. Alternative (as the '80s term for music that was not mainstream) or indie (a more recent term for a similar idea), as absolutist perspectives, no longer exist. The stigma associated with enjoying or performing challenging music in a pop culture context (and vice versa) has faded. The new challenge is to create favourable conditions for the acceptance of exploratory musical impulses within a tightly curated, formatted, and corporately mediated atmosphere.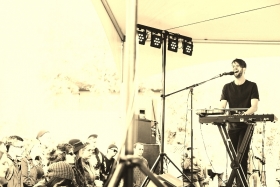 #DynamicChallenges
These favourable conditions can only come about if music communities and programmers from the larger festivals work together to find ways to overcome the inevitable challenges they both face. Entrenched outlooks need to be overcome. There are well-known prejudices against pop in the new-music world; there is a similar perception of new music being elitist and wilfully obscure. While these perceptions are changing, the more substantial problem is the economic difference between band-based and new-music projects: one thousand dollars might make a lot of bands happy, but won't do much for a classical ensemble. Given that reality, new-music practitioners may opt for more portable projects and reconcile their feelings and political stances to being surrounded by an overwhelming corporate presence throughout a festival. There are numerous practical considerations as well. "There are challenges for outdoor festivals: dynamics would be lost outside," Rempis says. "Improvised music would have issues where small gestures that are incredible in a club setting or a small room are completely lost on a large stage."
"A lot of [exploratory] artists have a pretty important visual component and that's not something we can always accommodate at our traditional rock bars," notes Sled Island's Salvi. "We just lost a venue that was perfect—the type where people could sit on the floor. This year we really struggled to find venues that were appropriate for this kind of performance.
"We're a once-a-year thing," Salvi says. "It's harder to get people to adapt behaviour without the frequency. I would love to have more music from very diverse places, even more so than we do now. Certain styles of music are not highly represented in the festival for various reasons—I'm in no way an expert on this style of music." Musicians must learn how to play to their strengths and understand the environments they want to break into. At Long Winter, Thin Edge succeeded with a punchy composition that was loud enough to cut through all the other noise. To enter the world of festival economics, artists need to engage mainstream bookers with a pitch they can sell—and if it works, they'll land on stages they'd never have expected to be on.
"When I think of memorable sets by Colin Stetson, Sarah Neufeld, or Tanya Tagaq, the really exciting thing about seeing these people perform is that they did so on their own terms without any reference to what may have initially piqued a patron's interest—such as membership in a famous band or winning a major award," Khanna says. "Hard core fans and festival bookers study the names of collaborators who appear on their favourite records and love any kind of (cheaper) brush with greatness."
Despite complicated economics and logistical challenges, programming new music can and should be done, Rempis says. "There is definitely room for this in many festivals. Pitchfork has forty to forty-five bands playing on a weekend. Not everyone has to sell 10,000 tickets. There is plenty of room. It's a matter of what the curators decide to put on. With an audience that size, there is going to be a percentage of people who are interested even if they've never heard of it before. It's taking a gamble—but not really."
And that's because millennials seem to appreciate strong ideas wherever they find them. "As long as the content is strong the audience will chase it," Klein says. "Content is king. As long as the art has a strong enough presence in what pop culture is defining as aesthetically strong . . . it goes back to the idea of tribes carrying it forward: I think you can build an audience that way, and I think they're loyal by nature. Millennials are pulling that forward. Meet the audience where they already are. You'd be shocked how much hashtags matter. #experimental #noise. It's less about putting it out there and more about chasing people. 'Hey, I see you like black shoes. Here's this music made by people wearing black shoes.'
"You have to jump in front of them—but that method changes daily, unfortunately," he adds.
A very major pendulum shift is underway, as musical taste and habits go. The traditional, somewhat boring staging of new music is giving way to presentations as exciting and vital as the music itself—and relevant to more people than ever. Festival settings will never replace the incubation and community provided by grassroots venues. Nor can they support process-oriented musical practices that need to happen all year round. But when concert-hall and gallery seasons wind down, the Thin Edge (if you will) of the wedge to secure year-round employment is to engage with festivals. The bigger prizes for new-music artists as a whole are larger and younger audiences, increased interest in the present and history of exploratory sonics, and ultimately the confluence of what were once termed high and low art.
"It's a great time to be an eccentric unknown" says Khanna. "Some artistic directors know their best bets are to program the most unique festivals they can right now, and hope for the best. And everyone knows, the next big thing is always fucking unusual at first." 
---
Homepage photo of WayHome 2015, top photo of Thin Edge New Music Collective at Long Winter (March 2016), and middle photo of WayHome 2015 by: Shane Parent. Photo of Colin Stetson at FIMAV 2015 by: Martin Morissette.  Colour photo of Unsound Toronto 2015 by: David Leyes (courtesy of Luminato). Bottom photo of Owen Pallett at Sled Island Festival 2015 by: Michael Tan (courtesy of Sled Island).