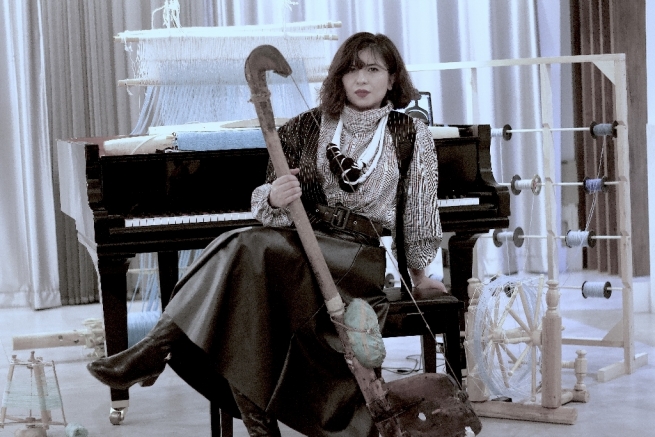 In Anoush Moazzeni's The drops of the rain become one with me, small mechanisms move inside and above an open grand piano. Wooden structures glide across the piano strings of their own accord, hammering and pressing the instrument with mallets, while microphones pick up sounds that are then processed digitally on a computer. Moazzeni, seated at the piano bench, sometimes presses the keys, or scrapes an object along the strings—but the piano isn't so much an instrument as it is a kind of metallic terrain, around which an ecosystem of sound slowly takes shape. Moazzeni's music is like that: her piano practice sits at the intersection of composition, improvisation, and instrument building, a kind of scaffolding that she fills in with objects and gestures. She brings what one might call an anti-piano pianism to her work—a paradox that comes from a creative life stretched across disciplines, media, and musics.
---
Anoush Moazzeni was born in Iran, where she started learning classical piano at the age of five. After studying piano performance and musicology at the University of Tehran, she moved to France, pursuing contemporary classical music studies in Lyon and Paris. It was there that Moazzeni, who has a high school diploma in mathematics, began looking outside of music, developing skills in coding, electroacoustic composition, and media arts.
"When I was in France, I started to have a few identities as an artist," she explains over video call from Iran in October 2020. "I continued my career as a contemporary concert pianist, but I also started making installation works and working with other media, other materials."
Moazzeni moved to Quebec in 2012 to pursue a master's degree at Laval University, and is studying in the individualized doctoral program at Concordia University in Montreal, where her work focuses on intersections between creative music practices, philosophy, and new technologies.
It took her a long time, she says, to finally settle upon her identity as a performer-composer, and to find settings that were compatible with her work. "The identity of a conventional pianist is described within the academy," she explains. "You have formalized forms of art practice called composition, called performance. And if you're in between these identities, you can't fit.
"There is no epistemic space for people who actually have an interdisciplinary approach to art-making. But as soon as they actually find that space, things work for them. At some point, when I identified myself and I dedicated my research to these subjects, it became organic."
At the core of Moazzeni's practice is a solo setup where she augments the acoustic concert piano with objects, digital processing, and invented robotic devices; she calls it piano +. In a 2017 residency at the Banff Centre, she developed and refined the design of her robots, which sit on wooden frameworks above the piano and are controlled via Bluetooth. The machines hammer and press the piano strings like tiny workers—a kind of motorized extension of the prepared piano tactics of composers like John Cage, who placed assemblages of objects inside the piano to create variations in timbre.
The Cage allusion is intentional. "I use robotic devices not only to bring autonomy to my performance practice and to expand the piano's body and vocabulary, but also as a way to criticize the classical music tradition in its sociocultural aspect," Moazzeni says. "It's a kind of historical approach to the physical and acoustic elements of the piano, and it's also a reference to practices that have been done in the past. And it's an approach to listening—a way to develop a new mode of hearing and perceiving sound."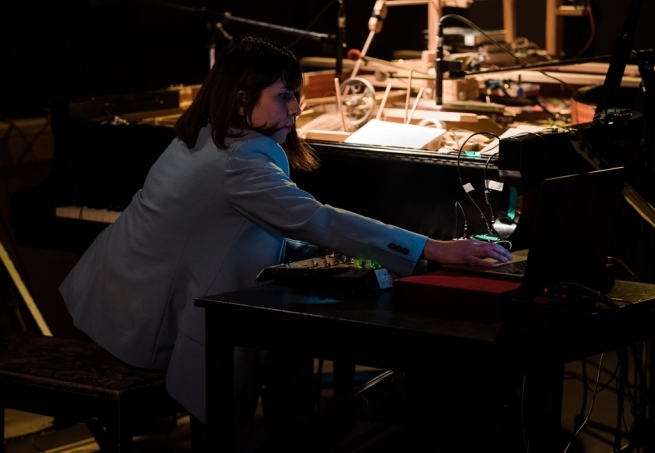 The drops of rain become one with me, which Moazzeni performed for the first time in 2019 at the Music Gallery in Toronto (photo above), is an extension of her Banff Centre research. In recordings from the concert, the sound is unmistakably that of a piano—but its trills and winding figurations are knitted together with unidentifiable percussive patterns and digital glitch. At times, the result feels industrial and relentless; at others, the preparations and electronics make the piano shimmer with a drawn-out, gossamer quality.
The robotics in setups like this one are tied to Moazzeni's ongoing research on the ethics of interface and hardware design. In a 2020 research paper with Montreal-based researcher Emma Bremshey, Moazzeni wrote about the work of women of colour in musical hardware design, a field that she says sees huge gender- and race-based disparities that affect how electronic systems are built.
"I came to question myself about where to ground my critical approach," she says. "I looked at gender in design, and how gender norms have been ingrained in the engineering and design processes that create most of our software and everyday tools. Those are the things that I am engaged with while thinking about technology, and my approach to design interface."
In a new project, Moazzeni has been using her piano+ system to bring this research into practice. Commissioned by the Aga Khan Museum in Toronto, the project will culminate in a video performance alongside an upcoming exhibition of works by Faig Ahmed, a visual artist best known for his work integrating visual distortions into traditional Azerbaijani carpets. Drawing inspiration from Ahmed's use of traditional decorative-craft techniques, Moazzeni is building a new piano+ setup that adopts tools and stories from the history of Iranian textile crafts.
"The history of textiles in Iran is one of the oldest in the world," she says. "Textile production from this area is suggested to date from around 7,000 BCE. In ancient times, people knew Iran from its history of carpets, rugs, and textiles. So, I did a huge amount of research on mechanisms, machinery, and traditional technologies for weaving and making carpets—even from the beginning, from the agriculture where the cotton comes from. All the processes, all the actions. [I'm] experimenting with materials and sounds that have partly formed my individuality and cosmology since my childhood."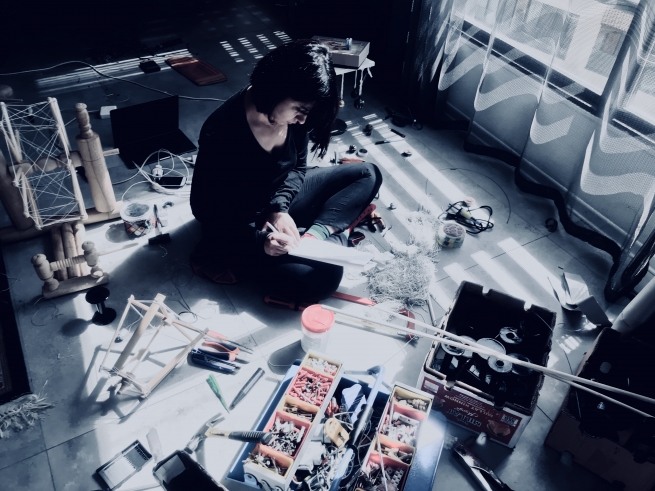 Moazzeni is currently in the process of building motorized structures rooted in the design, sounds, and actions of Iranian weaving tools. As in her previous work, she has rebuilt these technologies so that they encase and interlock with the mechanism of the piano. "The whole idea is the concept of transversality in this work," she explains. "Transversality, in the sense of 'cutting through.' [The design] actually cuts across both text and matter; it cuts disciplinary boundaries in art-marking." On our video call, she makes a horizontal sweeping gesture, showing how the action will both produce inside-the-piano sounds and weave literal fabric on the piano-loom. "I had to change the whole mechanism to actually be able to integrate it on a grand piano, so I individualized it, customized it, changed the whole system. But the basic mechanism for weaving is respected. I'm discovering how I can go further within its sonic potentialities."
Metamorphosis II, another piano+ work from 2018, opens with what feels like a similar gesture—the friction of hands or objects sliding across piano strings—but then slowly unravels into a frantic, delicate murmuring, an expanse of sound stretching out around it. The work is what Moazzeni calls a "comprovisation," something that exists midway between composing and improvising. Listening to it, it's hard to believe that the original source of these sounds is a single acoustic instrument. It reads instead like a singular ensemble music, the substance of each gesture washing into the next like silt.
Like the practice that she has developed between the spaces of research, technology, composition, and performance, works like this seem to continuously assert themselves as you listen—slowly peeling back common narratives around music-making to uncover a different, more malleable world underneath.
Her most recent project ties all these threads together—a call for scores called Deterritorializing, where Moazzeni is collecting one-minute solo works by West Asian composers. Organized in collaboration with the Canadian Music Centre (CMC) and the Iranian Female Composers Association (IFCA) in the U.S., the works—for piano, objects, electronics and/or spoken word poems and voice—will be performed by Moazzeni in a live-streamed concert at the CMC in Toronto in spring 2021.
"I believe that contemporary music aims to liberate formalities and standards in music-making," she says. "My goal is to produce a program that contributes to that—that raises awareness of West Asian cultures in music, and by extension, explores the issues and ideas shaping the identities and experiences of people from the region.
"At its core, I see it as a political project. I am calling on composers to deterritorialize from the dominant narratives in new music. To play with the phenomenology of sounds, and to open up new possibilities for music-making."
The piano, then, is only ever a starting point. Moazzeni's is a practice that seems ever-expanding—one that she casts further away, and draws closer to her, at once.
---
Top photo of Anoush Moazzeni by the artist.  Photo of Anoush Moazzeni performing "the drops of rain become one with me" at the Music Gallery in Toronto (2019) by Kevin Jones.  Photo of Anoush Moazzeni on the floor of her studio (2020) by the artist.