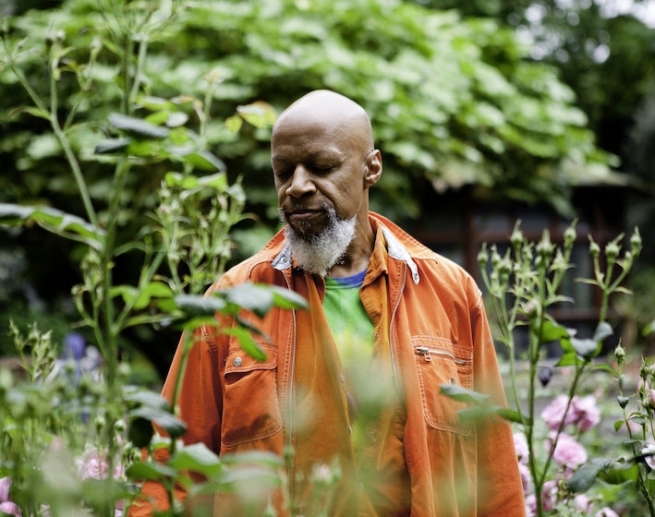 New Age legend Laraaji has soared through a five-decade artistic voyage, propelled by the fiery spirit of positivity that's represented by his trademark orange clothes. The seventy-six-year-old African-American visionary, who continues to joyfully record, perform, and present laughter-meditation workshops around the world, kicked off 2019 with a pair of releases from Canadian labels. The first is a reissue of his 1986 cassette Celestial Realms, recorded with guitarist Jonathan Goldman (aka Lyghte) and released on vinyl for the first time by Morning Trip Records, an affiliate label of Toronto's Telephone Explosion. The second is the vast triple LP set, The Onrush of Eternity, the result of a ten-year collaboration with Ontario's acclaimed ambient techno duo Legion of Green Men.
Born Edward Larry Gordon, Laraaji began his creative career studying composition, singing, and various instruments at Howard University, the historic Black school in Washington, DC. After moving to New York, he pursued a parallel path as a stand-up comedian (with a self-deprecating demeanour inspired by Rodney Dangerfield), landed acting roles in commercials for All Detergent, and had a brief cameo in Robert Downey Senior's Putney Swope.
In the early 1970s, Laraaji became interested in Eastern Mysticism. A watershed moment occurred when he took his guitar to a pawnshop and impulsively decided to trade it for a zither instead of selling it. While he has received acclaim for his use of the stringed instrument's dreamlike washes of sound and hypnotically cyclical rhythmic patterns, learning how to master it required an initial period of intense investigation.
"I started right away by bringing my favourite open-guitar tunings onto the zither," recalls Laraaji during a phone interview. "It might have taken a month or two of extended improvisation before I figured out how to amplify the instrument, begin making experimental recordings, and find my vocabulary. It wasn't difficult because I had a rudimentary approach before I started using hammers, bows, snare brushes, and then treatment effects with guitar pedals. It was pretty flowy experimentation because I didn't know what I was looking for, but there were sounds that I found interesting very quickly."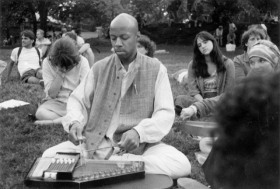 By the end of the decade, he developed enough confidence to begin busking around the Big Apple and to release his debut album, Celestial Vibration, credited as "Through Edward Larry Gordon." Tapping into the guiding forces of ancient spirits while performing in Washington Square Park, Laraaji was discovered by Brian Eno, who was strolling through the city. The producer welcomed the unknown street artist into his studio to record his 1980 breakthrough Ambient 3: Day of Radiance, introducing Laraaji's trance-inducing textures to a global audience.
Continuing his studies with gurus such as Swami Satchidananda (the spiritual guide of fellow musicians Alice Coltrane, John Fahey, and Rivers Cuomo), Laraaji also began a prolific stream of releases typical of the then-burgeoning New Age genre. These included versions of his compositions expanded to fill the entire sides of C90 cassettes supplied to meditation groups, alongside charmingly lo-fi vocal pop songs recorded on a Casio keyboard, self-released as the collection Vision Songs Vol. 1.
In 1986, Laraaji linked up with fellow New Age artist Lyghte to perform in a series of fundraising concerts for the New England Sound Healers (NESH). While visiting Goldman at his home in Cambridge, Massachusetts, Laraaji joined the guitarist one morning in his recording studio for the sessions that would become Celestial Realms. Set against a mesmerizing backdrop of swelling synth drones, Laraaji's zither and bells find a fitting counterpart in Lyghte's glistening electric guitar. It is this instrumentation that first captured the attention of Morning Trip's Dave Nardi, who decided to make their collaborative album the flagship release for his newly launched label.
"As a guitarist myself," says Nardi, "I'm very tactile. So the idea of ambient music that's performed with acoustic instruments really appeals to me. Knowing that a guy drumming on strings is making something so cosmic and otherworldly is attractive. I can picture it, and that makes it so real. As much as I love albums like Brian Eno's On Land or Music For Airports, I listen to them and have no idea how they're made. They sound like alien music. There's something special about Laraaji that allows him to conjure a celestial soundworld rooted in physical performance, especially on a traditional old-world instrument. That always drew me in."
Nardi may be better known as a member of heavier bands such as Daniel Romano's Ancient Shapes, yet his musical interests extend far beyond these boundaries. Morning Trip began life as an Instagram account showing off the jewels of Nardi's genre-agnostic record collection before Telephone Explosion founder Jon Schouten approached him about expanding it into a reissue label. Musically, New Age may be the polar opposite of punk, yet Nardi finds countless connections in the DIY spirit of both subcultures emerging in the late 1970s.
"Like punk, hardcore, and noise music, New Age began as this crazy, insular world that was completely untouched by commercialism," he says with a laugh. "The music industry didn't want to have anything to do with it. The major labels wouldn't sign artists, pay for recordings, or put out releases. So [the artists] just created this insane independent world where everyone owned their own labels, recorded in their home studios, and owned everything themselves. It was super underground, from the flyers and the catalogues to the ordering and distribution. New Age was a weird parallel universe to punk, so much of which was happening at the same time."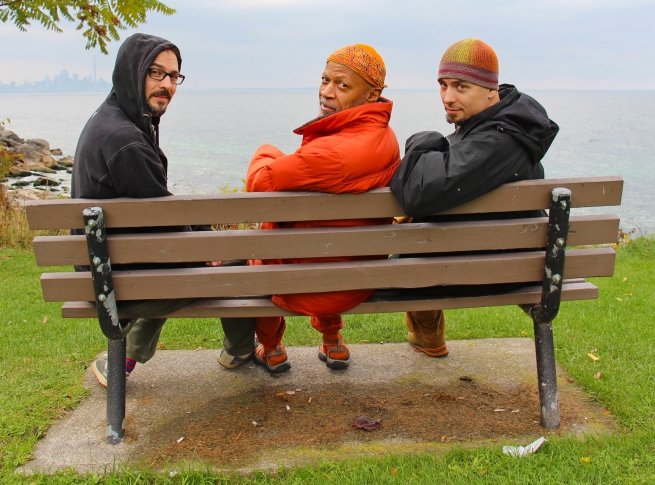 Laraaji first met Legion of Green Men duo Lex and Rew MacCrimmon in summer 2006 via mutual friends. In March 2007 he arrived at their studio with an orange backpack to begin recording, and returned a year later for a second session, during which unconventional approaches were employed, such as using multiple e-bows, preparing strings with paperclips, and setting Laraaji's zither on top of an electronic sruthi box at full volume so its strings would sympathetically vibrate. The collaboration continued online for a decade, concluding with the mesmerizing electroacoustic array of sounds on the 2019 triple-LP set The Onrush of Eternity.
"Laraaji's electric zither pieces have an ultra-otherworldly feel to them," explain Legion of Green Men in an email. "There is a luminance to his sound that elicits inner tranquility. It takes you into a space. We grew up with autoharps and a harpsichord in the family, and stringed instrumentation has been in our audio palette even before we started LOGM. Integrating Laraaji's glowing and flowing textures into our percolating synths and geometric dub rhythms was a joy and a challenge."
Laraaji's openness to collaboration has proved to be incredibly fruitful. Like a sonic precursor to his work with Legion of Green Men, 1995's The Way Out Is The Way In finds him rapping over the electronic dub of Japanese producers Audio Active. His 2011 album with avant-rock group Blues Control is an inspired entry in New York label RVNG Intl.'s FRKWYS series of collaborative releases, while 2016's Professional Sunflow sees him in a lysergic volley with psychedelic jammers Sun Araw.
"Working with different artists or producers who have unique ideas draws me out of my expanding fear," says Laraaji. "They help me expand faster into experimental directions that I hadn't considered. Some ideas I've had were putting artist tape on my zither to mute it, working the bass area of the guitar like a flat guitar, or using wooden hammers. Collaboration allows me to move out into a different sense of harmony and sound-for-the-sake-of-sound at times. I find that if I put myself in any musical context I can find myself like a fish swimming inside it."
Following a series of Canadian performances in early 2019 to celebrate the reissue of Celestial Realms, Laraaji suffered a health scare and was forced to cancel several dates during his recovery. He has thankfully now resumed activity with an upcoming solo piano album, plus appearances bringing him to spiritual centres in Europe, Australia, and across the U.S. Laraaji most recently has embarked on multiday residencies that include laughter workshops, deep listening, dance meditation, yoga, massage, hands-on improvisation, and other guided practices. While our current time can feel like an era of polarizing political unrest, he still believes in the power of healing with a simple two-word philosophy: "bliss happens."
"Music soothes the savage beast and can harmonize deep subconscious stressed patterns in the listener," Laraaji concludes. "It's a crucial service to offer a listening experience to people who may not have access to the right music to drop them into that zone. It may feel chaotic right now because the communication highway is wide open, or [it may] have been just as chaotic before, while we didn't have this spontaneous communication about it. It seems like we have an expanded awareness of the planet, but I'm sure that there's just as much peace and serenity out there as well. We're in a self-balancing universe."
---
Top and middle photos of Laraaji, courtesy of the artist; bottom photo with Legion of Green Men, courtesy of logm.
Audio: Celestial Realms, excerpt (1986) Composed and performed by Laraaji and Jonathan Goldman (Lyghte).