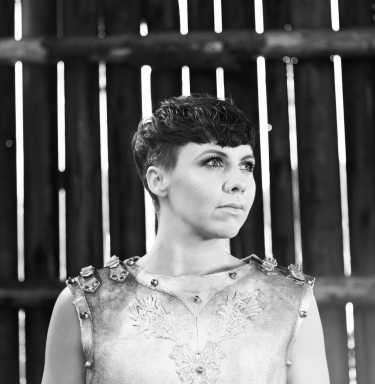 "I COULDN'T EVEN PLAY A NOTE. If you even breathe, your breath becomes this crazy, feathery freight train of echo."
Sarah Neufeld recalls her first visit to Devil's Mountain with a mixture of fear and delight. The site of an abandoned array of geodesic domes that served as a U.S. listening-station during the Cold War, Teufelsberg (Devil's Mountain, in German) sits in West Berlin, a man-made pile of rubble from buildings destroyed in World War II, heaped upon an unfinished Nazi training academy designed by Albert Speer. Eeriness and paranoia effectively piled on top of evil. It's not the kind of a place you would expect to find a neoclassical art–pop violinist making her first solo recording. But there she is, violin in hand, accompanied by producer Nils Frahm and his mobile recording rig. Some people infiltrate Devil's Mountain to party, write graffiti, or film abandonment porn; others come for the eighteen seconds of reverb.
The large geodesic dome at Teufelsberg was one of four site-specific recording locations used in the creation of Hero Brother (Constellation Records), Sarah Neufeld's first solo recording—and one of 2013's most outstanding releases. On first inspection, Hero Brother is gorgeous and approachable by "new music" standards, drawing on elements of repetitive minimalism and folk melody to create eleven instrumental song-length pieces that are both meditative and mesmerizing. Yet for all its beauty, Hero Brother has a rugged strength, and embraces Cage-inspired moments of chance.
A native of Comox Valley, B.C., and graduate of Concordia University's music program, Neufeld is, for now, best known as a core member of Arcade Fire, the massively popular Montreal indie-rock band that has beaten down every imaginable barrier to indie artists—from topping Billboard charts and winning a Grammy to working with David Byrne, David Bowie, and Bruce Springsteen. She is also cofounder of the instrumental chamber–pop group Bell Orchestre. Yet the solo music of Hero Brother reveals an artist who has transcended these affiliations. Neufeld has found her voice by pushing herself beyond her physical limits, an approach reflective of her second career as a Moksha yoga instructor. And she feels the link between her music and yoga practices. "I am pretty focused on breath and physicality, both in life and as practices in themselves," she says. "That focus is so basic and central to functioning and being alive. I think my music shares [with breathing that kind of circular nature], and that kind of inspiration drawn from movement."
Indeed, her music has a life force of its own, a ch'i, if you will. During live performances, Neufeld pummels strings with bow, while seemingly locked in trance. Her solitary stance at the front of the stage recalls Czech violin heroine Iva Bittová, one of her avowed influences, yet is infused with the hypnotic relentlessness of American minimalist composers like Steve Reich, and the yearning grace of his New York counterpoint, the late Arthur Russell. At times, she begins to stomp her feet in time, an impulse that seems both a joyous expression of folk tradition and a dark surrender to the music's power.
The music on Hero Brother was created extraordinarily fast. Neufeld only began focusing on solo work in 2011, after a long year touring with Arcade Fire in support of its most successful album to date, The Suburbs. (The group's fourth album is due in late October 2013.) At the same time, she relocated to New York to open Moksha Yoga NYC, a 4,000-square-foot studio in Greenwich Village, with a trio of partners including Rebecca Foon, another Montreal string player from the Constellation Records family. After tinkering with solo pieces during downtime on the road, Neufeld decided to go for it in New York.
"Being in a new environment with a lot of learning curves turns your brain on in a different way," Neufeld explains. "I had more time alone in an unfamiliar room, and I guess it became a gestation container."
It can be intimidating to step out from the chorus when you're just one part of a large, popular band, but Neufeld has fearlessly embraced the solitary approach. "Working on your own can be surprisingly efficient," she continues. "You just get right into it and everything else kind of disappears. But then you're left with all these questions of, 'What the hell am I doing? What is this?' You have to trust your basic gut feeling, which is an excellent exercise to do as a person."
Neufeld's experimentation with solo violin led her to create pieces through a hybrid mode of composition and improvisation that put her in deep focus. "If I have the seed of an idea, I'll just explore it until I find different layers of nuance and the possibilities that lie ahead. It requires dissecting tiny ideas in order to expand them. Sometimes a piece emerges completely through improvisation, without much thinking about it. It's a break from that super-introverted focus. It's as if you just open your mouth and start to sing."
Other pieces, like the title track, took longer to gestate: "I had the main melodic idea—there's this passage that's kind of catchy and fast, and I surrounded it with intense rhythmic ostinato stuff that really made sense, going between this repetitive minimalism and this exciting motif, but then it was like, 'this song is eight bars long, what the hell do I do with this?' I don't often start with conceptual ideas, so with 'Hero Brother' I had to sit and play with that main motif for a few months before I found its relatives."
Neufeld began the recording process for what would become Hero Brother in winter 2012–13, after spending the previous spring road testing new pieces on tours opening for her partner, bass sax colossus Colin Stetson. At a concert in New York's West Park Presbyterian Church that fall, she shared the bill with German pianist and composer Nils Frahm. They had met before in passing, but this gig solidified their friendship. Neufeld was taken with Frahm's elegant 2012 solo piano record Screws, but was unaware that he also produced and engineered it. "I was excited by the way he captures the acoustic capabilities of an instrument. He gets the whole body of the piano and all the weird, creaking, human, chairs and breath and hammers. It brings a whole other depth to this otherwise more placid instrumental music, and it spoke to what I wanted to do with the violin."
But she never suspected what she was getting into when she took Frahm up on his offer to record her pieces "guerrilla-style" in Berlin. In addition to Devil's Mountain, locations included an underground parking-garage, a metro station, and a former GDR radio-broadcast compound turned orchestral recording studio.
"I didn't really realize how extreme these places would be. I was just caught up in the moment of trying to get ready, and Nils was saying stuff like, 'So there's this geodesic dome and it'll be totally insane. Are you up for it?' And I was like, 'Yeah, yeah. It'll be fine. I just can't be cold or anything.' And we literally put our stuff in the car, drove across the city, hiked up the side of a mountain and climbed through a hole in a fence. It was getting dark and we were climbing up broken stairs using dying phones as flashlights, yet somehow we eked out these moments of actual recording time in pitch black."
The dome's eighteen-second reverb and wind-tunnel effect—thanks to a literal hole in the wall—ended up grounding the record with natural ambient sound. "This wind is constantly shifting and creating these giant noise floors. So we sat there recording the silence, which was amazing. It created this big noise floor to weave in and out of the record. And the other spaces were no less extreme—we had to pay off the skateboarders in the train station. We were also there because of the natural, cavernous reverb, and we have footsteps echoing of people on their commutes. The parking garage had a beautiful sound as well, but of course any time we started recording, a car drove through or a door slammed. So there's a lot of amazing 'chance music' moments, which I think also served the energy of the record—it's super live. Often I'm recording in an almost . . . not quite panicky moment, but in a moment full of uncertainty.
"When you're in a space where you don't have control, that taps into the part of you that is the creative maker, the part of you that composes the music in the first place. Chaos can spark the more innovative side of the brain, so you have a more raw, kinetic energy in the performance."
The result is a record that is an equal counterpart to her stirring live performances. Since the Berlin sessions, Neufeld has played more shows, and the identities of the pieces have evolved. "Once you get something so in your body that it becomes second nature, you can then find more ways of communicating them, not just physically. More stories in the music are coming out, because I'm actually forgetting about how I'm playing [the pieces]. It becomes more second nature. I can let go a little bit more."
One might expect the next step in the pieces' evolution would be to expand the sonic palette and arrange them for a larger ensemble. While Neufeld admits she is only now "gently testing the waters," Canadian composer, violinist and Arcade Fire string-arranger Owen Pallett managed to coax her to Prague to tackle an orchestral arrangement of Devil's Mountain-birthed track, "Breathing Black Ground."
"I used the strings to mimic the decay that the silo created, fragmenting her lines outward and onward," Pallett explains. "I wanted to see if a string orchestra could create a space. Of course, Sarah made my theoretical bullshit irrelevant when she stepped up and played her part with such tenacity and freedom that the entire orchestra was transfixed. It was a magical fucking experience and an awesome privilege."
Focused as she is on the present, comfortable in her skin and in the moment, Sarah Neufeld can't say much more about where her music might take her in the future, other than a hesitant "We'll see." For now, we'll have to make do with Hero Brother and her live performances—and that's more than enough; with or without a geodesic reverb chamber, her violin wields as much power as any orchestra.
---
Audio: Breathing Black Ground (2013) from Hero Brother (Constellation Records, CST095). Composed and performed by Sarah Neufeld. Image: Sarah Neufeld. Image by: Nick Bostick.