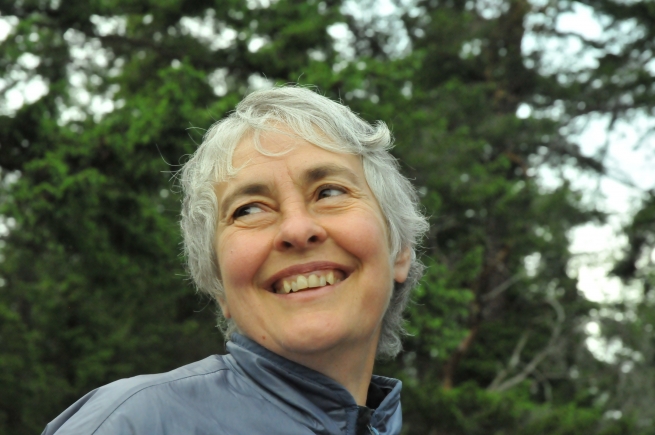 In early October 2021 Gayle Young and
I meet in Toronto before heading to her home in Ontario's Niagara region. The drive is less than two hours, yet somehow, our destination is so much further away. The spaces between buildings grow wider as do those between the little squares of light in the darkness. I feel like I'm travelling through a portal to a different time. And time is different at Gayle's. We arrive between 11 p.m. and midnight. I get out of the car with my suitcase. It's so quiet. I look up and see stars for what feels like the first time in years.
My room is upstairs, a prism-shaped space with exposed beams and slanted ceilings. I sleep in a little nook near the window, directly under the steel roofing. I put my new notebook on the windowsill. Black walnuts and acorns are falling and hitting the roof in the warm autumn wind; it sounds as if someone is pounding on the roof, trying to get in.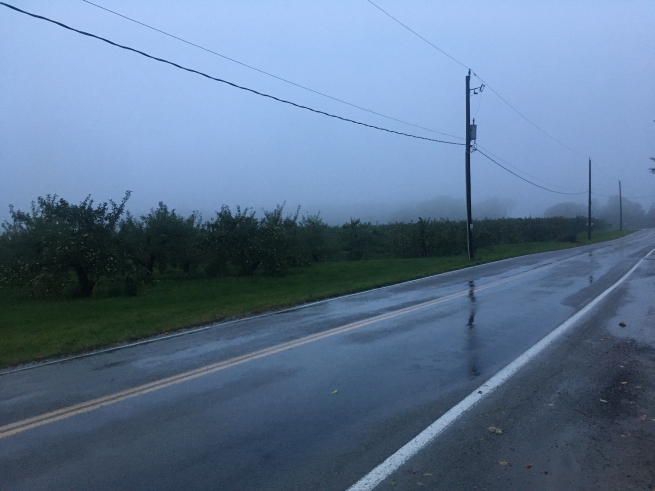 The name Gayle Young is familiar to many long-time readers of Musicworks. She was involved at its founding and served as its editor from 1987 to 2006. Throughout her entire career she has supported creative music and the artists working in the field and has worked on numerous boards and councils for various publications, platforms, and arts organizations. She extensively researched the life and work of physicist and instrument-inventor Hugh Le Caine, authored his biography—The Sackbut Blues: Hugh Le Caine, Pioneer in Electronic Music (1989)—and is a specialist in his instruments. She has been heavily involved in the Deep Listening community and was a close friend of the late Pauline Oliveros. As a writer, she has celebrated and investigated the work of countless artists working creatively in sound.
From self-designed and self-built microtonal instruments to site-specific installation, gallery, film, and concert settings, each of Gayle Young's works is a unique world unto itself. She studied composition at York University with David Rosenboom, Richard Teitelbaum, and James Tenney. She has collaborated extensively with visual artist Reinhard Reitzenstein, creating sound sculptures and sonic environments for his installations.
The idea of recording Young's complete vocal works arose not only from my fascination with her work and her practice, but also from a desire to immerse myself in her unique way of hearing the world. There are many common threads in Gayle's work, and much diversity within each piece. She often explores an idea from a kaleidoscopic point of view, expanding all angles and celebrating life on the cellular level. Her music acts as a filter, bringing sounds and concepts into focus—harsh and gritty, bizarre and comedic, sensual and textural, curious and strange, simple and beautiful, still and expressive—with a few gently insistent interventions, similar to the soft clearing of a layer of dust with one's breath, to reveal patterns that were there all along. So how do I, as an interpreter of her vocal music, approach an archive of almost forty years of her practice? I asked each individual work what it needed.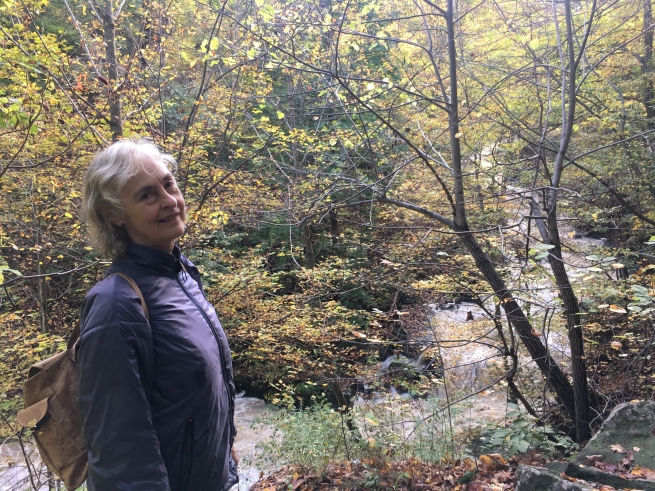 In the morning we have coffee together, then walk to a small pond at the edge of the property and feed little multicoloured puffs to the fish and giant tadpoles. I watch their mouths open and close amid the lily pads. We decide to walk through a wooded area near her home to Forty Mile Creek. The last time we performed together was pre-pandemic times, and the piece was based on a text about this place, so Gayle is eager to show me the valley—finally! I put on my hiking boots, and we head down the road. A series of upside-down, brightly painted trees with their root systems sticking up in the air greets us coming off the road, up the gravel driveway amidst the cedars. It's unusually warm for October. We stop to watch some wandering chickens peck at fallen apples on the lawn of a neighbour.
As we descend the Bruce Trail, Gayle tells me about geological time, about the minerals found in this area, and how the Niagara Escarpment was formed over millions of years. We stop to stare at the many layers in the rock face.
The works we will be recording have both obvious and subtle connections to the Balkan and Eastern European vocal music that I research and perform as part of my own practice. Aside from the organic microtonality inherent in the singing practice, close attention is paid to the sounds of the natural world. There are texts relating to food, plants, and agriculture—the stuff of everyday life is present here. Her inquisitive approach to composition leaves ample space for the performer to relate personally, emotionally, and sonically to the text and musical material, and to play with texture and pitch as expressive qualities. Two main themes emerge: using text as a starting point for exploring sound; and making subtle changes in repeated patterns to shift the listener's perception of pitch, timbre, and texture.
The most recent piece we record is Ancient Ocean Floor, which uses our daily walks as a score. It's a duo between my voice and Gayle's Amaranth, a microtonal string instrument she invented. She scrapes, bows, and strikes the instrument, evoking the rocky fossil-encrusted ledges and mossy, twisted root structures we encountered in the forest. The piece is overlaid with her field recordings of the rushing water in the creek played through different lengths of large, tuned resonators to naturally amplify certain frequencies. We wrote the text collaboratively and Gayle assembled it into a score. Sometimes the text is intelligible and other times it serves as a springboard for wordless vocal sound.
The trail leads north. We walk through the forest toward a distant hum of flowing water, past aspen, cedar, sumac, dogwood, witch hazel, hop hornbeam. As we approach a series of waterfalls the roaring gradually grows louder. A branching trail leads into the valley. We walk downhill, beside a stream descending over rocky ledges, a ladder of shelf-steps in the layered stone. The water disappears over a shelf of limestone . . .
. . . These rocks fell from above as the valley was widened, carved by rushing water as glaciers melted. Wild ginger grows along the ground, among the stones, its rust-red flowers hidden under lush green leaves. The forest has its own sound, its own odour, its own wordless calm, each tree a unique shape of leaf and texture of bark.
Gayle's work deals intimately with language and the sounds of words. Composing from text accesses a naturally complex world of rhythm, timbre, and intonation, inviting both performer and listener to pay closer attention to that which is already present.
Reinhard Reitzenstein joins Gayle and me on the recording of a trio version of TreeCantations, an improvisatory piece that is usually performed with invited participation from the audience. Gayle has a folder filled with typewritten lists of tree names in multiple languages. These are usually handed out to audience members, who are instructed to choose lists of words, organized in different ways according to different sonic properties. For our version, we decide to use the languages we can speak, or that were spoken by our ancestors. I cheat and add one incredibly special tree in a language I love but don't speak. Every time I say the word, I relive a memory of a midsummer full moon, an owl sighting, and a friend.
The process of collecting the tree names feels like it could be a piece. I send messages to friends and my mother, asking for tree names in Romanian, Hungarian, Croatian, Finnish, and Italian. In the morning, I wake up to enthusiastic voice messages from my European friends, explaining which trees they have chosen and why, and clearly pronouncing them for me to repeat. English, French, and German are used too. Sea buckthorn, catalpa, javor, amélanchier. We sing a forest through invocations of individual trees. Gayle reflects, "It's almost as if the ecology we create with our voices by echoing each other echoes the forest ecology."
Every piece we record takes me on a hundred tangents to a hundred pockets of memory. As I map Gayle's vocal oeuvre onto my body, I realize I'm also mapping out my own lifetime. About a week into this process, I compulsively start making my own random word lists before I go to sleep. Delicious words. Sensuous words. Words I want to taste the curves of.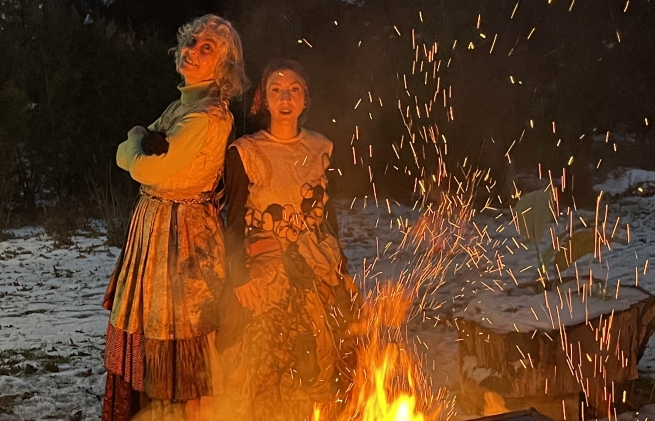 The night of the October full moon, two owls hoot in stereo just after midnight. It sounds like they might be inside the room. Other nights we hear coyotes. And always crickets. Every morning at breakfast, we describe our dreams and the sounds we heard in the night. I collect black walnuts and their husks from the ground and brew a black walnut dye in an old pot on the barbecue. I have brought my drop spindle with me, along with some unspun wool.
During the three-day wait for the dye to seep slowly into the yarn I spun, I consider states of absorption. Being in Gayle's home—eating meals with her, walking with her, listening to the forest together—has allowed me to sink into the state necessary to perform her music. One needs to become a sponge to perform this music in its intended state. I feel this fully while rehearsing According to the Moon, a twenty-minute piece with no rests, a duo between soprano and alto voices that I will multitrack and sing as a duo with myself. (A few months later, we decided to use this title for the album as well.) Practising this piece is practising a state of awareness, a state of being. To learn it is to learn how to drop into that layer of perception and concentration. A constant negotiation of tension and release. Tidal pulls and lunar cycles. It's more of a feeling than a sound, more a sensitivity than a set of instructions. "I feel like I'm inhaling the moon," I write in my journal, and make a singing-related note about "knowing when to use my reptile brain."
As Gayle's music is intimately influenced by natural surroundings and found materials, it follows that our attention to our close physical surroundings should be equally heightened. The dresses that textile artist Bruno Vinhas created are heavy, grounding, have a lot of shape. They are larger than life; they are bodies in themselves. They are a part of the album, in dialogue with subtle shifts in colour and texture, created in response to a set of prompts. As a textile artist, I always think about how garments affect ones physical state, and therefore performative state. I asked Bruno to respond to earlier recordings of Gayle's music to create outfits for us to wear for performances of the music. Rather than erasing our bodies in concert black I wanted to bring attention to the sources of the sound, while creating a unique visual identity for the project.
The recording takes place in three distinct chunks: one in Montreal in the summer of 2021 at Hotel2Tango and two in Hamilton in October of the same year at Grant Avenue Studio. It feels both luxurious and essential to have this time to dive so deeply into each of the compositions, to spend as much time listening as making sound.
The pieces that make up According to the Moon are an odd bunch. Several belong to Gayle's collection of text-based compositions, which often relate to food or recipes. In these works, every transition— every micro-variation within every word—becomes a palette for exploring properties of the sound. The text pieces work by asking the performer to internalize a written text and then to play their instrument as if they were speaking through it, allowing the rhythm of their breath and their body to inform the rhythm, pitch, timbre, and envelope of their playing. How should a singer, for whom delivering text is familiar territory, approach these works?
When Gayle wrote Tea Story for my 2013 solo-voice commissioning project (songs released on trickpony, 2013), she based the text on an interview with me about my process of home-brewing kombucha and on her own research into kombucha. For that version, I took a literal approach and sang all the text, highlighting certain sounds in a straightforward and comedic way. This time around, I decide to try something different—an instrumental approach to vocalizing, prioritizing texture of the sound over intelligibility of the text. I use the text as a way of guiding soundsinging, giving myself permission to not make any sense with it, to float in and out of intelligibility. I allow the effervescence of my own words, dictated to Gayle nine years earlier, to dissolve and change within me. The piece is far from the first version. One major difference is the addition of electronics, with Dean Batute playing the Synthi A, an instrument that once belonged to Hugh Le Caine. Other guest artists also participate in the recording. Vocalists Gabriel Dharmoo and Elizabeth Lima join me in a trio version of The State of Corn, a short and comedic tribute to the mighty kernel. And violinist Geneviève Liboiron plays on Vio-Voi, the oldest composition on the album, written in 1978, which evokes the wind whistling through the trees on Banff's Tunnel Mountain with creaking and swooping and scraping.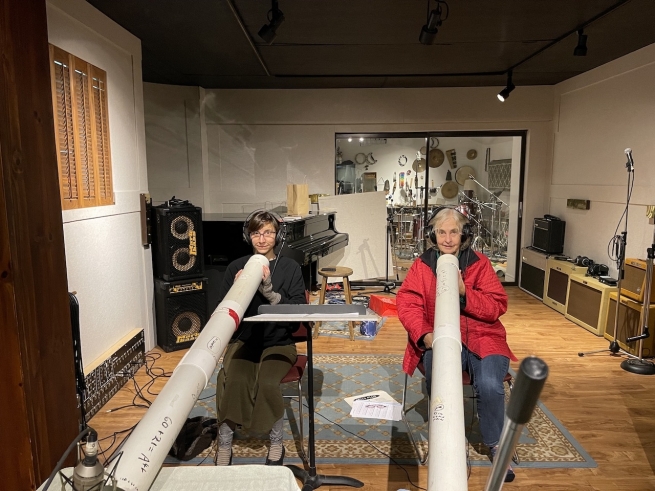 When I return to Gayle Young's home in late December, I jot down things that whip through my mind during our mixing sessions. I'm trying to create an honest picture of my experience: the strange combination of deep listening and engagement with sound combined with moments of truly light-hearted irreverence and silliness; endless drip coffee; recording engineer Bob Doidge cracking jokes about the impressive vintage equipment at Grant Avenue Studio being "the delay unit on the Millennium Falcon"; driving to Hamilton in a big black pickup, picking herbs in the garden and cooking, discussing wild mushrooms and tree rings, watching sunsets in the orchard across the street to the sound of a chorus of crickets, lighting a big bonfire for the solstice, and stomping around in the mud while the flames consume the pieces of a wooden ladder that's no longer fit for climbing. There's no perfectly tidy way to wrap it all up, but that's life—it's all life – and it's fascinating being on this journey, making life-music with my friend Gayle.
---
Top photo of Gayle Young and "fire" photo of Gayle Young and Sarah Albu by Reinhard Reitzenstein. Photos of road and of Gayle Young in the forest by Sarah Albu.  Photo of Gayle Young and Sarah Albu with tuned resonators in Grant Avenue Studio (Hamilton) by Bob Doidge.
FYI: Sarah Albu and Gayle Young will perform Ancient Ocean Floor—and other works from According to the Moon, the upcoming album of Young's vocal works—at a concert copresented with No Hay Banda at Montreal's Suoni Per Il Popolo festival (June 3–29, 2022) on June 20 at Sala Rossa. A second launch event will be in Toronto's Freesound series in late autumn 2022.