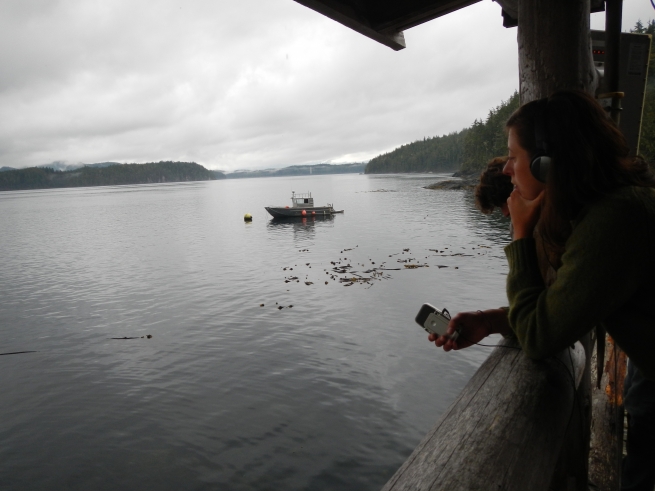 What can sound tell us about a place? Listen to British Columbia, and it might sound something like Music from the New Wilderness, a multimedia performance work that conjures B.C.'s past and evolving present by incorporating historical and current field recordings into new compositions. One piece relies on the fast-changing sounds of a remote coastal village. Another takes the music of a First Nations folk band, recorded in 1918, as the basis of a new piece for string quartet. So the six collaborators—four composers, a researcher, and a visual artist—are creating music not just with instruments, but also with elements reflecting B.C.'s environmental transformation and the realities of its indigenous peoples.
Audiences will be immersed in a multispeaker, multiprojection installation, as they experience audio explorations by Jesse Zubot, Alicia Hansen, Jennifer Schine, Christian Calon, and Adam Basanta, enhanced with visuals by Krista Belle Stewart. Sound artist Schine, whose research explores the aural heritage of B.C.'s disappearing fishing and logging communities, collaborated with Basanta to transform recent field recordings into music. Musicworks recently spoke with Schine and the creator of Music from the New Wilderness, composer, experimental vocalist, and Western Front music curator DB Boyko. This is an edited version of the conversation.
MW: Can you describe one scene from your collaborative experience?
JENNIFER SCHINE: I took Adam Basanta to the Broughton Archipelago, in northern B.C., where communities are confronting the decline of salmon stocks and impacts of logging. I've been an ethnographer there, so I knew what sounds were emblematic of the place. We did field recordings and then I went to Adam's studio in Montreal, to learn composition—ways to take these sounds and turn them into music. We manipulated the sounds so that they took on emotional aspects of the place.
MW: How did sound convey the history and culture of a place?
JS: I spent a lot of time interviewing an old logger and fisherman named Billy Proctor. He has collected all these objects from his life. So, rather than simply asking him at the kitchen table about his first job, we would go into his "museum," grab an object, like an old logger's whistle, walk into the woods, and he would blow it. "Oh, my god!" he'd say. "I haven't heard this sound in fifty years!" And then he'd recount all these memories associated with the sound. It offered a rich memory. He could really relive it and tell the story in a way that was quite present.
MW: You've written that you became connected to the place by listening to it.
JS: Outside of the city you listen differently. When I'm in the wilderness, I allow my senses to be more open. After being in the Broughton for a while, I realized I felt closer to it than I did to the city; I started questioning where my home was. That came from a listening perspective. What I hope this piece will do is somehow connect people to the wilderness of the Broughton, but also inspire them to listen to the sounds of their own environment and to connect with a sense of belonging there.
MW: I understand that the idea of using sound and music to explore B.C. has percolated for a number of years.
DB BOYKO: A key inspiration was a 2011 sound-mapping project of Vancouver, involving students from University of British Columbia's geography department and Simon Fraser University's School of Communications. I give quite a bit of credence to geography evolving to consider the world in new ways. It's usually very visually dominant, but now geographers examine sound as part of the environment. That gave me an interest in sound exploration and field recordings and finding ways to blend it with contemporary music. Over the years, I've been talking to musicians and composers, trying to figure out a way to pull together a really good combination of research and studio composition work.
MW: So do you imagine the work will be a deep listening experience and a journey of sorts, if not quite to the wilderness?
DBB: We've been deep listening this kind of way for years with more traditional sounds, starting with classical music, Indian ragas, jazz, ambient, noise—they're all different vibrational experiences. And at concerts, I often wander off somewhere in my mind. Something triggers, and away I go. That's what I hope happens, that the piece offers another way to unlock the mind experience.
Music from the New Wilderness
won B.C.'s prestigious Rio Tinto Alcan Performing Arts Award (CAN$60,000). Its première performance run, presented by Western Front's New Music, takes place Feb. 11–15, 2014, at The Cultch, in Vancouver.
---
Image: Sound artist Jennifer Schine in the Broughton Archipelago, in northern B.C., where she made field recordings with composer Adam Basanta as part of Music from the New Wilderness. Image by: Andrew Czink.