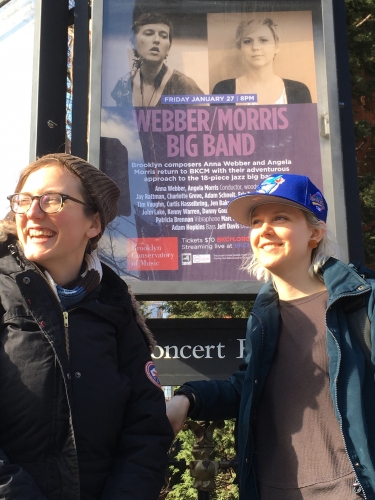 On a cold January evening in 2019, Angela Morris approaches the bandstand of Manhattan's Jazz Gallery and announces that she will be able to conduct her piece that night. A few days ago it was still uncertain. Weeks earlier, on Christmas Eve, she broke her shoulder, making the arm movements required to lead the band all but impossible during rehearsals. But, she tells the audience in a soft voice, she's been given the all-clear by her doctor. Her piece, "Coral," opens in sustained tones across the entire Jazz Composers' Showcase big band. Pulsations and vibrations appear then fade, leaving a rippling, shimmering guitar. Morris's cues aren't to keep time so much as they are to signal sections; there is no discernible count at play. The trumpet blows a slow solo, the piano and drums suggest a rhythm but cut it off again. The music doesn't change much, or at least not quickly, but her cues do. She holds up two, then four, six, seven fingers, signalling new sections through changes that feel fluid. The music slowly gathers momentum (ten fingers, then closed fists). If the music could be said to be in a tradition, it's more Mingus than Ellington.
The pieces by the other two composers on the program in the venue's ongoing Composers' Showcase series are also strongly realized works: one an off-kilter waltz with orchestrations worthy of Henry Mancini, the other an arrangement of a tUnE-yArDs song and a piece inspired by a popular graphic novel. These two pieces seem to underscore the unfortunate reality that the big-band market isn't the place for experimentation—at least not from the perspective of fiscal responsibility.
Morris is the outlier—and she has an ally within the Composers' Showcase big band: sitting in the front row, playing flute and tenor saxophone, is Anna Webber. Together, she and Morris have created a place for their own approach to composing and arranging, their large ensemble known succinctly as the Webber/Morris Big Band.
Eleven days later, Anna Webber is back at the Jazz Gallery—a fifth-floor space in a small, otherwise nondescript midtown office building—celebrating the release of Clockwise, her new septet CD on Pi Recordings. The band played there the previous January, just before going into the studio, so it's a bit of a return home for them. Revisiting the material a year later, the band is on point, the compositions layered and complex, with close and dissonant harmonies sounding like feedback even though the band is acoustic. An occasional cymbal crash threatens to pull them together into a groove, but the music resolutely remains about as smooth as glass hitting gravel. They are in tight formation, though, and Webber knows it. She cradles her horn, closes her eyes tightly and listens, smiling as second saxophonist Jeremy Viner takes a solo, nodding her head like a jazzbo in the audience.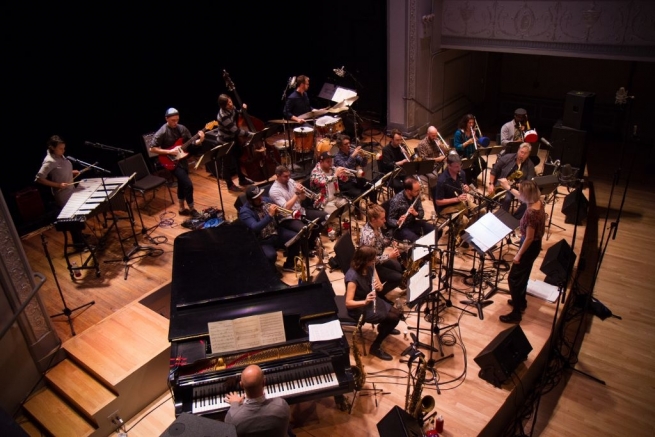 Before the two January 2019 Jazz Gallery shows, Webber tells me about Clockwise as we wait for Morris to join us at a Manhattan café. The music on this release finds its origins in twentieth-century percussion music, although the lineup of three horns, cello, piano, bass, and drums might not suggest as much. Webber, who composed the album's nine pieces during a 2017 residency at the MacDowell Colony, an artists' colony in New Hampshire, says she was inspired by the percussion musics of Milton Babbit, John Cage, Morton Feldman, Karlheinz Stockhausen, Edgard Varèse, and Iannis Xenakis, and by her recent studies of gamelan and Haitian drumming. The opening track, "Korē II," which rotates themes around the instruments, is fashioned after Xenakis's Persephassa. "I took an idea I found interesting from each of those composers, but it almost never was a musical idea," she says.
Originally from Kelowna, British Columbia, Webber graduated from McGill University in 2008, then moved to New York to attend the Manhattan School of Music. After graduating from there in 2010, she spent a year in Berlin, where she organized the octet Percussive Mechanics, which released two albums on Pirouet Records. Upon her return to New York, and facing the economic realities of keeping a transatlantic band active, she organized the new septet to replace her German group.
Her new compositions also gravitate toward the bass register, drawing on an earlier influence, her cello lessons as a youth. "It's not something I'm good at," she says of her estranged relationship with the cello, "but I do feel a connection."
Just then, Morris arrives, apologetic and arm in a sling. "You should see the bear," she says dryly. The city has not yet robbed her of her Canadian humour. Morris made her way from Toronto, where she studied at Humber College, to New York by way of a 2010 residency at the Banff Centre in Alberta, where she made two career-shaping connections: meeting the Vancouver-born, Brooklyn-based composer and bandleader Darcy James Argue and studying with trumpeter Dave Douglas. She relocated to New York to study under Argue at the Queens College Aaron Copland School of Music, and soon began hearing about another Canadian expat big-band enthusiast.
"For a year after I moved here, everyone was like, 'You know Anna Webber, right?' she recalls.
After eventually meeting through mutual friends, Morris and Webber discovered they'd both attended the BMI Jazz Composers Workshop, a three-year program founded in 1988 by composer and arranger Manny Albam (who worked with Leonard Bernstein on West Side Story), trombonist Bob Brookmeyer (who played in bands led by Jimmy Giuffre and Gerry Mulligan) and jazz journalist Burt Korall to foster new voices in big band jazz—or, as Webber describes it, to "try to make it sound the least like big-band music as possible."
Morris jumps in, adding, "It's an interesting challenge to take a form that has a legacy and try to do something new with it."
A few years later, and they were past the trying stage. They launched the Webber/Morris Big Band in 2015 and are currently working on their first recording, slated for release in 2020 on Dave Douglas's Greenleaf Music.
The big band played at Brooklyn's Roulette in November 2018, its fifth gig in four years. "It feels good to have the music not only played so well but sound so good," Morris said of playing the long-established home for innovative music. "People who come feel like they're at a real concert in a real theatre. The chairs are cushy. There's a bathroom."
They began their Roulette set with Morris's "Habitual," staccato lines skittering across the ensemble until a distorted electric guitar mirrored a solid drumbeat with vibes striking a balance. Later, her "And It Rolled Right Down" achieved moments of genuine swing with lyrical clarinet lines. Every tune or two, the pair of leaders swapped positions between the conductor's stand and a seat in the front of the band, leading their pieces and playing each other's. They're clearly both aware of the power that is there for them to harness. They don't much mess around with ensembles-within-ensembles. They write to take full advantage of the ensemble, working in dynamics that only a big band could manage. The Roulette set ended with a new piece by Webber, "Climbing on Mirrors," during which Morris got up from her chair and directed one part of the band while Webber led the other in contrasting rhythms. Eventually, Morris took over the band and turned it into a wordless chorus.
While it was Webber's piece, its culmination seemed to stem from Morris's interest in vocal music. Outside the big band, Morris often employs text and voice in smaller ensembles. Even her instrumental compositions are sometimes built around what she calls "secret lyrics." Her work with voice isn't necessarily easy; it's hardly in the usual singer-songwriter vein. Rather, it follows her passion for challenging music, but just as much comes from her love of poetry.
"I like to listen to music that requires my participation to listen to it," she explains. "It's not a passive activity, it's a transformational activity. Something is happening in the relationship between you as the listener and the music that's being performed. It depends on your quality of attention what kind of experience you're going to have."
Her trio Motel—with her partner, saxophonist Nathaniel Morgan, and guitarist Owen Stewart-Robinson—put out a surprising disc of hummed melodies, heavy blowing, and pop-standard references in 2017, with all three contributing vocals. (The digital release on Prom Night Records can be found on Bandcamp.) Her quintet Rallidae leans more toward original song and melancholia, with four of the members singing and speaking, sometimes over one another. That band put out a CD on Gold Bolus in 2016 (which can also be sampled and purchased on Bandcamp) and Morris is currently working on new material for a third record by the group. Both Motel and Rallidae are enjoyable to listen to, neither of them particularly easy.
For her part, Webber tends to stay more in a jazzy mode, although her projects come with plenty of happy surprises as well. Her Simple Trio (two releases on Skirl) features Matt Mitchell on piano and John Hollenbeck on drums, playing music that is direct and straightforward but never simplistic. Under the auspices of a Guggenheim fellowship, she's developing new music for a band of three woodwinds, three brass players, three string players, and three rhythm instruments. "I think it's going to be really weird," she says, more as contemplation than confession.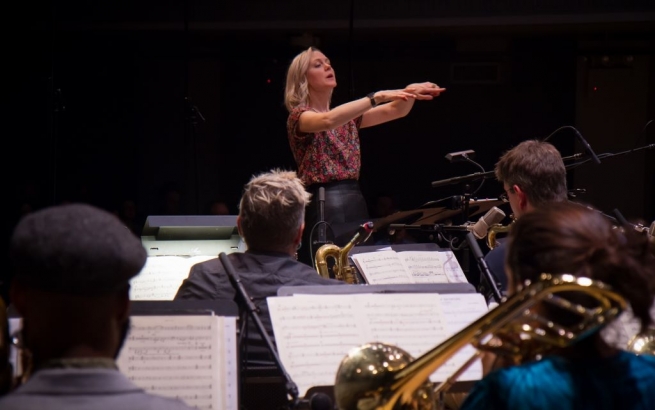 As bandleaders within and outside of their shared band, the two Canadians have not only found community in New York but have also helped to build it. Both artists run ongoing concert series dedicated to improvised music, but each expands the scope of what they present. Webber coproduces the monthly Convergences series at Areté Gallery in a studio building in Williamsburg with her fiancée, pianist and composer Eric Wubbels, a member of the new-music ensemble Wet Ink. The couple launched the series last year with the aim of putting improvisation, new music, and noise together on a single bill. "We want to feel like we're engaging in the community in a positive way," she says. "We're trying to promote diversity in a way that's not just 'this person is on the program because they fit the profile; this [same] person is also on the program because they're badass.'"
Morris runs the Brackish series out of her church, St. Lydia's, a modest storefront on a residential seat in the Gowanus neighborhood. A former pastor there suggested to Morris that she use the room to present music, poetry, and video work. "The space is an inspiration in itself," she says. "It's easy to feel like the scene is really small. I find other disciplines of art very inspiring for my compositional practice, and I found it weird how few artists of other disciplines I actually knew in New York."
In a sense, the Webber/Morris Big Band is a distillation of the community they discovered and have helped develop. Webber recalls finding kindred spirits upon moving to New York ("They were the right age, it was the right time, the right group of people"); when she met Morris, they quickly discovered they knew many of the same people. Morris recalls suggesting that if they each started a big band, they would likely be calling the same people. Now, she cites those same players for making the band possible. "The musicians who've been a part of it have been so generous," she said. That support was evident from the big band's first gig, which was held at Brooklyn's Threes Brewing in August 2015. After a four-hour rehearsal, the musicians were promised twenty dollars apiece for the gig—a pay rate sadly concomitant with the conditions of launching a big band in the twenty-first century. But once the door money was counted that night, the pair realized they'd be able to give the players each forty dollars.
"Oh my God," Webber recalls thinking, with a laugh, "We're going to double what we pay everyone! We were just so happy that all the sounds we wanted were played so well."
---
AUDIO
:
Rebonds, composed by Anna Webber, performed by the Webber/Morris Big Band. Recorded November 27, 2018, at Roulette Intermedium, Brooklyn. Included on the Musicworks 134 CD.
Webber/Morris Big Band performance photos by Wolf Daniel, Courtesy of Roulette.