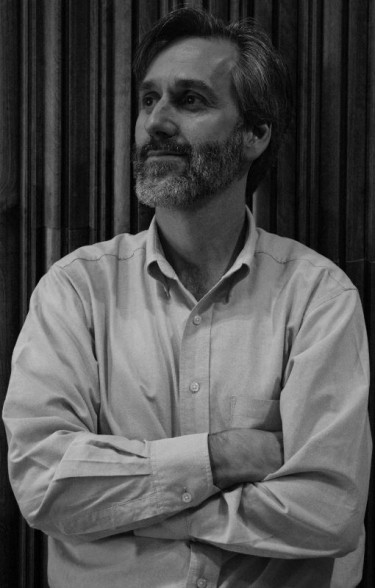 Michael Pounds began his career as a mechanical engineer, receiving a B.S. from Ohio University. After working at the NASA Lewis Research Center, he returned to the academic world to study music composition with a focus on computer music and music technology. After undergraduate music studies at Bowling Green State University he earned graduate degrees in music composition from Ball State University, the University of Birmingham in England, and the University of Illinois, where he completed his doctorate.
His creative work includes compositions for fixed audio media, live interactive computer music, and collaborative intermedia projects. His awards include the ASCAP/SEAMUS Student Commission Award, a Residence Prize at the Bourges International Electroacoustic Music Competition, a Rotary Foundation Ambassadorial Scholarship for studies in England, and residencies at the MacDowell Colony and I-Park. His work has been presented throughout North America and around the world. He was a co-host of the 2005 National Conference of the Society for Electro-Acoustic Music in the U.S. He also co-hosted the 2014 National Conference of the Society of Composers, Inc.
Michael is the Assistant Director of the Music Media Production program at Ball State University, where he teaches composition, acoustics, music perception, recording and computer music.
Breathing 2: Re/Inspiration, third-place winner in Musicworks' 2016 Electronic Music Composition Contest, has its origins in a piece Pound composed roughly twenty years ago entitled "Breathing."
"That was a very early work for me, and I have wanted to revisit the idea for a long time," he writes. "This new work uses some of the original source recordings of toys and whistles (which I have been using for teaching demonstrations for years), combined with breath sounds made by my wife that I recorded nearly ten years ago, and just a few small portions of the original piece. The composition is inspired by various aspects of breath: breath as necessary for the functioning of the body, breath as related to life force / energy, breath as meditation, breath as rhythm, and breath as self-expression."