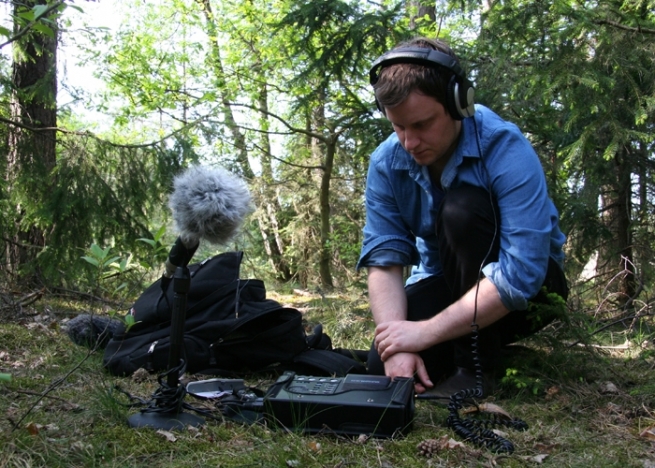 "I grew up in a tiny village in the North Yorkshire Moors," explains British sound artist Mark Peter Wright. "I was always outdoors, and I collected anything and everything: stones, feathers, empty shotgun cartridges." Now in his early thirties and based in London, Wright is still actively involved with landscape, but his childhood enthusiasm for collecting has developed into a refined and wide-ranging art practice that reflects his openly attentive, thoughtful, and inquiring nature.
In 2006, revisiting the windswept north-eastern coast of England, Wright became aware of countless environmental sound events, often unobtrusive and ephemeral, that he must have heard while growing up but that had never consciously registered with him. That revelation initiated Inanimate Life, his ongoing audio catalogue of sounds generated by the action of air and wind upon objects in the landscape. "I see sound recording itself as a dialogue," Wright elucidates. "It's not the mere removal of artifacts from a given area. Place is dynamic, so I feel I need to wrestle with it."
Wright likes to work with a mix of media, although his emphasis remains firmly upon the experience of listening. His film Invisible Bodies (2011), uncovers hidden sonic terrain through moving images that show creaking trees, rattling railings, and railway cables that sizzle. Photographs, physical objects, and text may also feature in his talks, performances, installations, and publications, their use designed to expand the phenomenological resonance of particular sounds and enrich our sense of what it may mean to listen.
A Quiet Reverie, an eerily beautiful encounter between Wright's acoustic imagination and the ruins of four English abbeys, was premiered in 2008 at London's IMT Gallery, in a show for MA Sound Arts graduates from the London College of Communication. Since then A Quiet Reverie has also been broadcast on radio, given a six-channel performance in a church, and issued on CD with an accompanying illustrated book. In 2009, in acknowledgement of the piece's haunting engagement with time and place, Wright received the Composer Award (Sonic Art) from the British Academy of Songwriters, Composers and Authors.
"I'm interested in listening to situations, events, histories," says Wright. "Things that speak of the place itself, its past and possible future. I don't feel I compose from sounds per se. I'll always go to notes I've written, conversations I've had, objects I've collected, sometimes the historical symbols of a certain place. It's a process of recalling and uncovering all the things around the actual recording, and that includes my own mental and physical relationship to the material. It's really then a case of complementing those narratives with the recorded sounds."
That interest in the narrative—even fictive—dimension of sound illuminates the inclusion of two of Wright's sound works in the British Library's recent exhibition Writing Britain: Wastelands to Wonderlands, an exploration of changing spaces and places, which also featured literary artifacts ranging from a notebook carried by William Blake to an unpublished lyric by John Lennon and a J. K. Rowling manuscript.
In recent years Wright has accumulated a mass of recorded material from South Gare, a breakwater built in the late nineteenth century, in part using waste from Victorian foundries, to protect a harbour at the mouth of the river Tees from the turbulent North Sea. It has become a valuable habitat for plants and birds, and is also the site of a steelworks that houses a huge blast furnace. The socio-political and ecological encryption of this location is explored in Wright's upcoming exhibition 30 Minutes of Listening, a kaleidoscopic mixed-media work. "The area contains some genuinely sublime and contradictory meetings of industry and nature," Wright suggests. "The work I'm undertaking is effectively an attempt to listen to this complex relationship. None of the nature would be there without the industry. I want to listen to how they coexist."
Sounds from South Gare also surface in the juxtaposed alarm sirens and birdsong of his piece Peripheral Conversations. Wright suggests that photographers such as Bernd and Hilla Becher or Edward Burtynsky have taken the initiative in working with altered landscapes of this kind. "I'm interested in the sound of those kind of images, and what information we can glean from listening to that place."
The South Gare archive was mined for a recent audio-topographic piece A Line Made by Listening, which alludes in its title to land artist Richard Long's A Line Made By Walking (1967). "Long's gesture away from form, towards process and alternative markers of time and space is a liberating act," Wright affirms. "I'm searching for a similar sense of expansiveness in listening. I don't think there's any coincidence that the land-art boom coincided with a rise in sound-art practices during the '60s. Both were part of a movement away from the gallery, into the outdoors and away from a modernist idea of object-hood."
"It has got to the point where now I'm thinking about listening as a territory in its own right," he continues. "You know, the classic scientific field study would be to throw a quadrant on the ground and analyze that particular area in detail. How do you throw a square around sound and listening? You can't really, and that's the beauty of it—sound is always escaping its situation."
---
Audio: Peripheral Conversations (Excerpt, 2012). Composed by Mark Peter Wright. Image: Mark Peter Wright recording "Where Once We Walked". Image by: Chris Atkins.