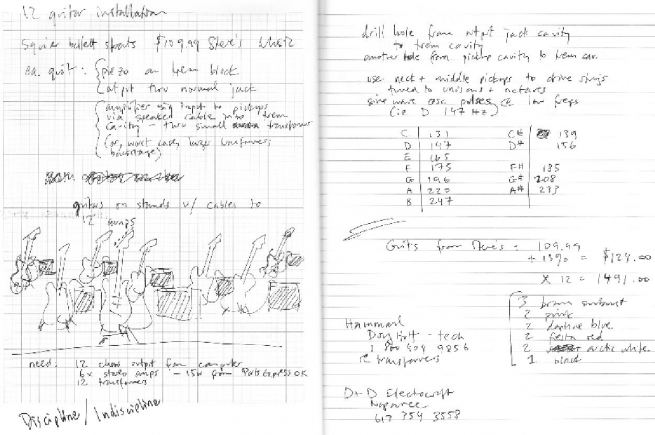 It's supposed to be beautiful, but I can't shake the feeling of there being something ominous about this. Imagine you're approaching an installation by Matt Rogalsky, and down the hall you hear whispers of . . . what? something you recognize—or do you?—only to turn the corner and be greeted by the choir, like Children of the Corn, or Greek sirens, except that it's a dozen candy-coloured electric guitars on stands. They aren't waiting for the musicians to arrive. They're humming at you. But what are they humming?
Rogalsky's installation, premiering at the Open Ears Festival in Kitchener, Ontario in April 2011, turns these axes into singers. With the help of some computer processing, a radio tuned to the local classic rock station, sent through the guitars' backward-wired pickups, will coax the strings to hum their ghostly echoes of the music. It might be the sweetest classic rock you'll ever hear.
I had the opportunity to speak with Rogalsky from his home in Kingston, Ontario, where he is patiently performing surgery on the guitars.
DAVID McCALLUM: Does it have a name yet?
MATT ROGALSKY: To be honest, I haven't settled on one. When I thought of the twelve guitars, my wife suggested something to do with disciples, and I thought Discipline was a good title. And there's this kind of boy-hobbyist fascination with the electric guitar—maybe not boy hobbyist, but boy amateur-musician.
Some of my past work has been ruminations on my own connection with that teenage-boy thing of wanting to play guitar or build something with electronics. It's certainly not a celebration of that, but it's more of a rethinking of that, or an exploration of that.
[British composer] Jem Finer had a piece—I don't know if he ever realized it, but he wanted to do a piece with a large number of accomplices with cell phones just going into guitar stores and calling in the live feed from the guitar stores—the wailing solos of thirteen-year-old heavy-metal fans. There's something about that piece that's a little bit in that direction.
It's also just about the guitar as an icon, the classic rock connection, and the exaltation of this instrument.
One reason why I've been a bit guitar-centric for the past few years is that I've been much more involved with the world of rock and pop music, both playing and recording. Maybe that's been my form of mid-life crisis.
DM: Are the songs recognizable through the guitars?
MR: I'm still building, putting the guitars together. In a way it's a thought experiment at this point. When I use one or two guitars, as I've done in testing so far, the effect is really gorgeous and ethereal, and I think it depends on the song. I'm sure there will be songs that are quite familiar to many people, so there's a strong possibility that they'll be able to hear what the tune is. Whether it's like, "Ah-hah! I recognize the tune," or just, "Hey, that sounds familiar somehow"—I'm not sure how that will pan out.
DM: At the very least it sounds like it will be very beautiful.
MR: I think that's a given. It will definitely sound very beautiful.
DM: There's a lot of strong imagery in here: guitars, guitar stores, classic rock, gear, working with gear. Is this a piece that is for people who've once been teenage boys, or do you have something that you would like people who've never been teenage boys to get out of this?
MR: I don't want it to be a piece for teenage boys, but I think that that kind of background to this piece is my own sort of internal thinking about it. But I think the actual piece itself is strong enough, both visually and as a sonic work, that it's easily approached and apprehended by lots of different people.
DM: What are your visions for the future of the installation?
MR: I'm making this piece with the notion that it ought to be a touring piece. So I'm having a crate made to pack everything that's needed. I just want it to get out in the world. It's meant to go on tour.
DM: You'll need to make tour T-shirts for it.
MR: I may have to.
---
Audio: Diatonic Guitars (Audio study for sound installation, 2011). Composed by Matt Rogalsky. Image: Courtesy of Matt Rogalsky.