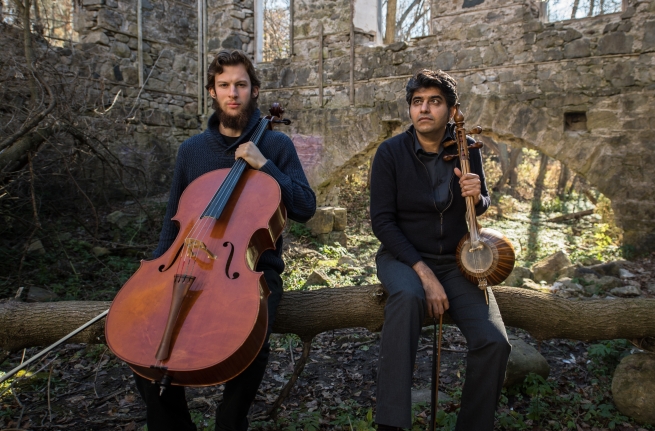 "Kamanche means little bow in Kurdish and Farsi," says Shahriyar Jamshidi, the kamanche player in Kamancello, his Toronto-based duo with cellist Raphael Weinroth-Browne. The pair marry rich lyricism and microtonal ornamentation, influenced by Iranian, classical, and metal musics, in fully improvised performances that feel their way forward from quiet drones to chugging, propulsive rhythms, and intricate counterpoint. Their first album, Kamancello, which gathers six such improvisations recorded in single takes at Toronto's Union Sound Company, came out in October 2017.
Though the kamanche, also known as a spike fiddle, is played like a cello, its tone and range are somewhat closer to that of the violin ("taut and nasal," says Jamshidi) given to trills, double stops, and drones. "The sound of the kamanche is similar to the human voice; in traditional music, it always accompanies the singer and repeats the melody that the vocalist is performing." Indeed, if you listen to great kamanche players like Habil Aliyev and Mojtaba Mirzadeh, what you hear above all is a classically restrained but insistent lyricism; spare accompaniment and frequent silences both punctuate the music's melancholy phrases and evoke wide open spaces, establishing a reflective, meditative mood.
Kamancello is a rather different beast. Jamshidi, for his part, insists that the duo's music is firmly in the Kurdish tradition: "In my opinion, these songs are rooted in Kurdish, my mother-tongue culture, and the Iranian musical system, which I studied at school."
Yet Kamancello's dynamic range is very different from that of traditional Kurdish and Persian music. The scales are identifiably Persian, but the way the pair repeats, trades, and builds upon riffs has just as much in common with the energy of metal, as does the way Weinroth-Browne builds thumping climaxes with low double-stopped eighth notes in pieces like "Confrontation." Indeed, Weinroth-Browne has collaborated with the Norwegian progressive metal band Leprous, and metal (or, more accurately, neofolk) influences are apparent in his other ensembles, The Visit, a duo with vocalist Heather Sita Black, and Musk Ox, a trio with founder and guitarist Nathanaël Larochette and violinist Evan Runge.
"The metal influence is subtle here, but I think that on the level of rhythm and syncopation, Middle Eastern music and extreme or heavy music have a lot in common. Since there is no percussion instrument in our group, I often use the cello to fill this role while still maintaining a melodic dimension."
Then there are pieces like "Solitude," which are almost cinematic in their organic looseness and moody ambience. In this piece, long tones and brief melodies emphasize the two instruments' very different timbres—sometimes scratchy kamanche inflections cut through resonant cello drones; other times, bubbling cello chords find some colour in restrained kamanche phrases. "What we have created live and in the studio feels very fresh to me, unlike traditional Persian music or other forms of classical or world music," says Weinroth-Browne.
In spite of that fusion, the duo developed out of the pair's shared love of Persian music. "I've been listening to Persian music since I was very young and always loved the kamanche," says Weinroth-Browne. "I was excited about the possibility of collaborating with someone who played the instrument." Weinroth-Browne contacted Jamshidi after hearing that he'd performed an entire improvised show on the kamanche, and they started playing together soon after.
The two musicians have obvious chemistry: their improvisations are nearly seamless. At another time, or in another genre, they may have been called instant compositions rather than improvisations: neither indulges in any solo flights, always hewing close to the established melody, pushing it this way and that, slowly and reciprocally, each following the other's lead. In "Ascent," for example, Jamshidi and Weinroth-Browne sketch out a contemplative, major-key territory early on, but it takes around five minutes of patient, tentative interplay before the kamanche starts to suggest what becomes the piece's main melody, a descending motif landing on the tonic that is subject to all manner of ornamentation and varied rhythmic emphases. It all unfolds naturally, patiently.
"A band's sound will draw influence from very specific places," says Weinroth-Browne, "but our music, being purely improvised, is primarily the result of our individual musical personalities and the way they interact together. I think that when you have to create music in real time, it directly reflects your musical identity."
---
Photo of Raphael Weinrtoh-Browne (left) and Shahriyar Jamshidi by: Victoria Polsoni.