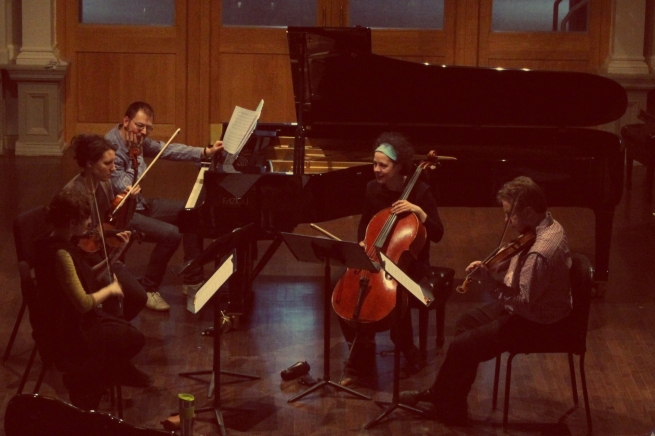 Quatuor Bozzini is poetry, sweat, talent, idealism, determination, love, survival, fate, and a wonderful wild dance with the spirits. For fifteen years, the Montreal ensemble has steadfastly explored the notion of what contemporary music means today. The players are irrepressible creators and innovators, whether working in the far lands of experimental sound art, the close weave of musical miniatures, or the collaborative dynamic of multi-arts projects.
Sitting around a large dining table with cellist Isabelle Bozzini, violist Stéphanie Bozzini, and violinist Clemens Merkel—the family and founding core—one immediately senses the shared pulse and fine-tuning of this intimate creative unit. Violinist Mira Benjamin, who joined in 2011, is filing scores downstairs in the combination archive-office-rehearsal-space of this ever-expanding, contemporary-music cottage industry. Sunlight slashes through a kitchen window, and the table is crowded with notes, scores, portable computers, and glasses of water. We take a breath, wait for the beat, and begin our conversational stroll.
"Do something you have never done before and never dared to do." This is a key directive the quartet gives undergraduate composers attending the annual Bozzini Lab at Simon Fraser University, which is organized in collaboration with Owen Underhill and Christopher Butterfield. It could just as easily be the mantra the players recite in the mirror each morning. It also reveals their dedication to cultivating new sources of creative stimulation in a blossoming network of collaborators. Provocation and industry fit together nicely for these new-music explorers. In the lab, Isabelle Bozzini notes, "You have ten people trying different things in a variety of directions." Crazy exercises and experiments become studies and departure points for future pieces the quartet might play in its annual Composer's Kitchen, created in 2005 to facilitate a hands-on approach to furthering the development of new string-quartet compositions. The Kitchen is the opposite of the master class, where established values and forms are the models; it is a space where, as British composer and 2013 Kitchen participant Seán Clancy observed, in an email to the quartet, "There is no such thing as a silly idea."
A determination to work outside the box and pursue a radical agenda is only part of what powers the players. Merkel is adamant about the inseparability of music and daily life. "Our radicalness is our position in a social context," he says. "I am trying to shape the milieu and society around us by questioning all aspects of my music, not just accepting that things are a certain way and you just have to sell your concert and play. Playing music for me is about shaping my society." This attitude expresses the very essence of how the music Merkel plays sounds to the listener. In an article discussing the history of the string quartet and its parallels with social evolution, published in the University of Montreal journal Circuit, Merkel notes that after 250 years little has changed in string quartets, unlike other musical formations and society in general. Collectively, the players focus on influencing the traditional model.
Radical or not, this level of engagement permeates everything the quartet does, and is another cog in the mechanics of its success. The members share rehearsal leadership roles and work collectively on programs and on developing ideas. Aesthetics and musical interpretation are discussed freely. They support, critique, and explore together, and this creates the quartet's unique sound. "We have invested a lot in a certain sound and approach," Isabelle Bozzini explains. "We are looking for a direct, raw quality affecting the music's flow and intentions." Some of this sensibility comes from the influence of Bozzini's work in early music—for example, basso continuo playing.
Stéphanie Bozzini calls the quartet's aesthetic "an uncompromising approach to sound—a hit-or-miss situation." The focus is always on the music, on making sound, and never on the romantic notion of the virtuoso musician. No one bows to the first violinist in this quartet. For Merkel, letting go of this custom has conscious social implications, and is one example of how daily life and music fuse.
"We can't fit everywhere . . . only in very particular places," explains Isabelle Bozzini. "There is no flexibility in our engagement with the flow of the music." This is evident the moment you see the quartet on stage.
Dim blue sidelights fade up and four string players appear in ghost-like disguises: powdered faces, barefoot, rumpled clothes, dishevelled hair, and skin marked with cuts, bruises, and dirt. The centres of their hollow eyes are glassy white, as if their eyeballs had flipped backwards to see within. This was the scene that opened the theatrical version of George Crumb's 2011 work Black Angels, just one of the quartet's plunges into the kind of cross-genre experimentation so prevalent in Montreal's contemporary arts scene. Une idée sinon vraie, which had its world première in 2012, was created by dancer-choreographer Marc Boivin in collaboration with composer Ana Sokolović and the quartet. In various scenes from these two hybrid creations, the violist is carried across stage by a dancer, violins are played upside down, and the cellist is carted around on a mobile platform. The music remains intense, precise, evocative, and imperatively immediate.
The quartet has also been exploring sound and image through several video–music projects. In Les petites portes (2011), a series of short films exploring the interaction between music and video projection, twenty-four tiny doors open like an Advent calendar to reveal playful sound and visual worlds. In 2014, the ensemble plans to create a "tri-alogue" in collaboration with video artist Nathalie Bujold and Canadian composer and Kitchen participant Taylor Wood, deriving sound from images and vice versa.
Make yourself available as a human being. Idealism paired with a do-it-yourself approach make Quatuor Bozzini both contemporary and traditional. The players ask, "What do we need now?" and then search for answers. The array of seasonal, recurring workshop projects for which they are recognized bears witness to this process: the Composer's Kitchen, the Bozzini Lab, and the new Performer's Kitchen (launched December 2013).
Ever since it began, the Composer's Kitchen has attracted international attention, and it recently spawned a three-year collaboration with the Huddersfield Contemporary Music Festival. Mentors Michael Oesterle from Montreal and Laurence Crane from London are coleading the 2013–2014 Kitchen. In Crane's humorous daily "menus," contemporary composers were introduced as chefs: Philip Glass prepares melon sorbet served with fluted hazelnut Twizzles; Sir Harrison Birtwistle, a boiled egg. But what happens in the kitchen day-to-day is even bolder. "There is no head-chef–sous-chef relationship. We are all explorers working towards the same end result, to create the best possible music we can create," Séan Clancy asserts. "As composers we can continually ask, 'Can I borrow a shirt?' and the quartet will always reply, 'Yes.' "
"We don't know what will happen or how it will work, but we are inviting musicians into our world," Merkel says of the ensemble's newest Kitchen, which shifts the focus to performance, shaking up the string quartet formation and encouraging young musicians to take risks. Montreal guitarist Marc Olivier Lamontagne participated in the first edition, which involved two weeks of exploratory workshops that included improvisation and sound exploration beyond scored notation, followed by a series of performances at La Sala Rossa.
Whether you call the quartet's development model "sustainable," "organic," or "cottage industry," it holds few mysteries. Philosophical musings on how to keep a contemporary string quartet vital are coupled with conscious planning and incessant labour. Everything ticks, thanks to rigorous discipline, dedication, endurance, flexibility, vision, and talent. Now entering its fifteenth anniversary year, the quartet exhibits the maturity of a singular identity.
Montreal composer Nicole Lizée, winner of the 2014 Jules Léger prize, is composing a new work for the quartet. She told me the ensemble "brings a commitment to depth and transcendence that goes beyond the 'notes on the page.' To work with them is to engage with a cohesive, passionate, and adventurous entity that is greater than the sum of its considerable parts."
All rooms connect in the Bozzini musical home. Music simmers in the kitchen and lab. The 2013–14 season of their annual curated Montreal concert series, Salon, included new work by some of Quebec's most talented young composers: for starters, Simon Martin's homage to painter Jean-Paul Riopelle Icebergs et soleil de minuit—quatuor en blanc, and the première of a new quartet by Maxime McKinley.
Critical commentary and recognition for the ensemble accumulates, but this is secondary to the day's rehearsal, renovating new office and rehearsal space on the second floor of their building, or waiting for confirmation of a tour of Japan and Korea in the autumn of 2014. Still, the modernist caveat of "make it new" continually inspires their efforts. A conservative tradition in performance doesn't question things, Merkel says; it's as if "the truth comes from higher up." Perhaps for Quatuor Bozzini the truth comes from inside the circle rather than elsewhere. Merkel's intention is for the music to flourish creatively, by taking the liberty and responsibility of consciously opposing some common- sense notions. "In some ways it is old-fashioned . . . the power and audacity to take decisions on your own, instead of just repeating what other people have told you." It seems ironic and noteworthy that inspiration for renewal is so often found in the past.
Our conversation is suspended but not finished. They must break and rehearse for the Huddersfield Festival soon. Someone is sanding a wall downstairs, and the sound of renovation hastens the end of our conversation. This discussion of their work triggers waves of musical references, names, texts, and images, plus a flood of forwarded documents, links, recordings, and videos. The November sunlight has softened and shifted through the house. Everyone bustles off to tasks that must be done before rehearsal: phone calls, emails, scores to verify. The intricate human machine clicks forward. Soon, in the downstairs practice space, Quartuo Bozzini will tune, discuss the day's practice, open scores, and shape, explore, and play.
FYI
:
Quatuor Bozzini
performed
Neue Kraft
Fühlend
by 2013 Composer's Kitchen participant Séan Clancy at the Huddersfield Contemporary Music Festival in November 2013; Nicole Lizée's new work 
Phonographenlieder
for the quartet has its premiere performance on May 23 2014 at the Montreal Fine Art Museum's Carte Blanche; in 2014, the quartet collaborates with Super Musique on a large-ensemble creation by composer Isaiah Ceccarelli.
---
Audio: Salt Spring Improvisation #10 (2012). Composed by Quatuor Bozzini in collaboration with Taylor Brook and Nathalie Bujold. Performed by Quatuor Bozzini. Image: Quatuor Bozzini and pianist Philip Thomas rehearse in Chapelle historique du Bon-Pasteur, Montreal, during the April sessions of the 2013 Composer's Kitchen. Image by: Lianne Finnie. MW home page slider image: Quatuor Bozzini cellist Isabelle Bozzini pulls a gun on violinist Clemens Merkel as part of a performance of Jennifer Walshe's string quartet Marlowe S. at the Huddersfield Contemporary Music Festival in November 2010. MW home page slider image by: Brian Slater.