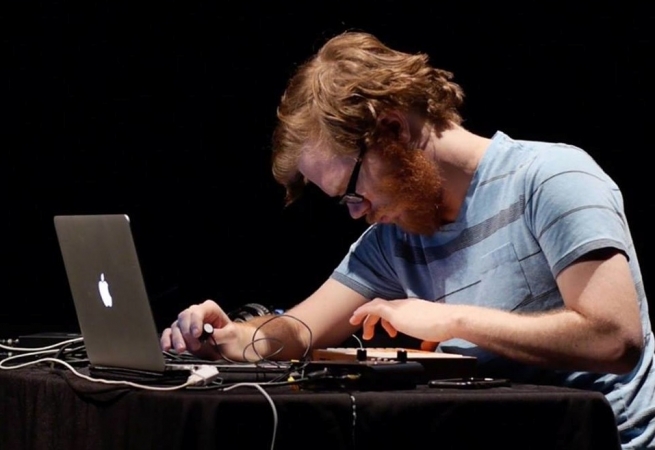 Tate Carson is a composer and upright bassist from New Orleans, Louisiana. Before, I wandered as a diversion (2016), for clarinet and live electronics, won second prize in Musicworks' 2016 electronic music composition contest. Listen to the full piece, streaming on this page.
Here's what Carson has to say about this beautiful composition:
"This piece is based on the environmental sounds of New Orleans. The sounds of cicadas, riverboats, crickets, rain and thunder are familiar and intrinsic to growing up and living in New Orleans. Using these sounds as the basis for the piece is meant to give an impression of being there for a time, happening upon any of these sound objects randomly, as one would by taking a walk around town. It can be thought of as a sort of augmented field recording."
He studied jazz composition and performance at both Loyola University New Orleans and the University of New Orleans under the direction of award-winning composers and jazz performers James Walsh and Edward Petersen. Carson was active in the New Orleans jazz improvisation scene from 2009 until 2015 when he moved to Oakland, California. In 2017 he was pursuing a MFA in electronic music at Mills College.
Living and working in New Orleans, where traditional jazz remains culturally predominant, gave Carson an appreciation for rhythm as a guiding force in his compositions. He began experimenting with electronic music after feeling hindered by the timbral limitations of acoustic instruments. As a result, many of his electronic compositions utilize both acoustic and electronic instruments, creating dynamic sound environments. He often draws from his interests in self-similarity, the rough geometry of nature, and generative processes.
Carson has written for large open ensembles, improvisers, and nonimprovisers; acousmatic fixed media; and film and advertising. He has also experimented with sonification that incorporates visualization. He developed the laptop performance instrument Sw͚a̎r̍m̸, for electro-acoustic live processing, which he premiered during two performances at Mills College with violin and pipa players.