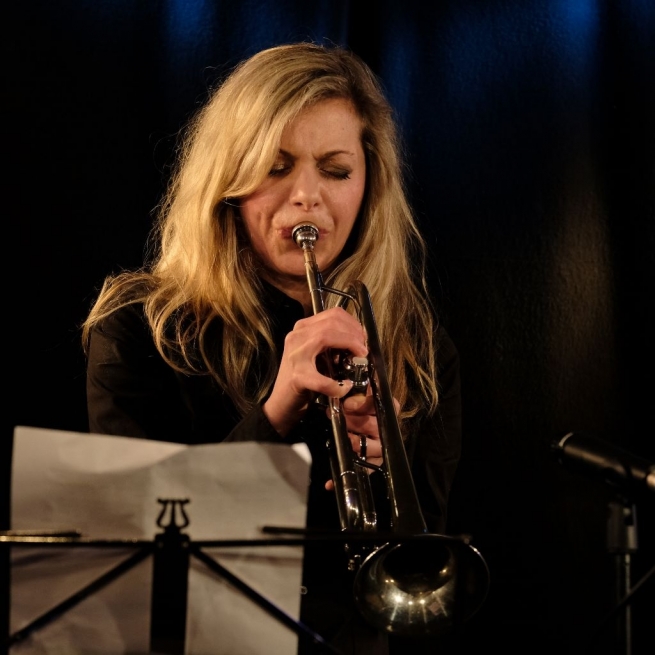 If Toronto's avant-jazz and free-improv community has a living room, it's the Southern Cross Lounge, the front room of the Tranzac Club—a cluttered bandstand with an ancient upright, a friendly bar in the back corner, a familiar audience—where drummer Nick Fraser books bands from the creative edges. Lina Allemano plays here regularly when she's in Toronto, whether as leader of one of her two groups—the Lina Allemano Four and Titanium Riot—or as a charter member of overlapping groups, such as bassist Rob Clutton's Cluttertones.
On a warm night in late spring, it's Titanium Riot, a free-improvising quartet with Fraser and significant electronic components courtesy of Ryan Driver's vintage synth and the sonic heft of Clutton's Fender bass. Allemano, a slight figure standing centre and slightly front, has a way of focusing the music's diverse energies, attaching them to a straight line of sound from the bell of her trumpet, a sound that can change subtly or transform radically with a combination of mutes and extended techniques. There's a certain delicate play of sound as Allemano explores a Harmon mute. It's the metal-buzz mute that Miles Davis made famous sixty years ago, a building block of cool jazz; but Allemano is using it like a plunger, moving it back and forth, in and out of the trumpet's bell, a vocal double, adding speech inflections to short, jagged trills.
As Fraser creates hyperkinetic, broken patterns, sounding at times as if two people are excited, something is developing between trumpet and synthesizer. It's some ancestral memory, the baroque pairing of organ and trumpet, something assembled from the ideas passing amongst the band's instruments, high-pitched electronics and trumpet disappearing into one another.
Then it's off on another tack: Allemano, briefly unaccompanied, is unscrewing the trumpet's valves, altering pitches incrementally and creating airy plosives. Next, she's using a cookie tin as a wah-wah mute, a tin-can homage to Louis Armstrong's New Orleans, with Driver demonstrating an uncanny ability to finish her phrases. Then the body of the group's sound is moving toward electronics and the thick roar of bass and percussion, an industrial swamp of sound in which the human essence persists in Allemano's splintering high notes. It's a constantly shifting flow of sound, making its own form.
From a casual perspective, Lina Allemano might seem like an artist divided. There are those two Toronto bands: the Lina Allemano Four, an acoustic band with a free-jazz heart, which plays her compositions, and the purely improvisatory Titanium Riot. She's also living in two cities now, splitting her time between Toronto and Berlin. Other activities range from the deeply traditioned to the cutting edge. She's been performing as guest soloist, exploring the classic Miles Davis and Gil Evans orchestral collaborations; at other points in the spectrum, she's played in a quartet called Bloop, with Mike Smith adding electronic signal processing to her trumpet, and worked with Nate Wooley in a realization of his gritty, explosive Seven-Storey Mountain for Berlin's A L'ARME Festival. Look closely, though, and seeming contradictions disappear: Allemano is rooted in a dynamic, creative tradition with an openness to the imminent possibilities of the musical moment.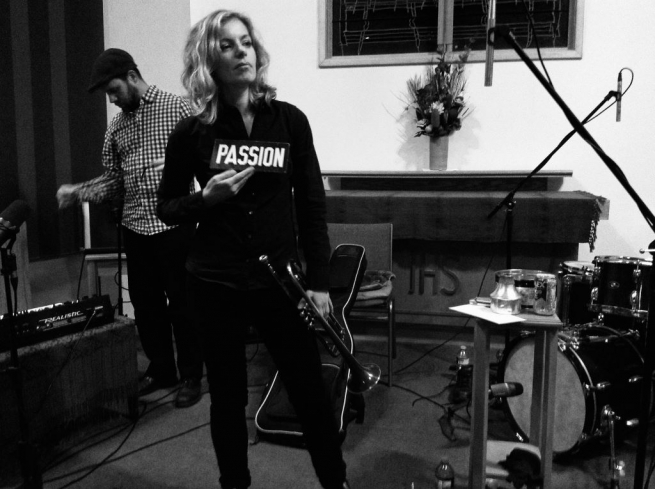 Allemano grew up in Edmonton, in a musical home. Her father was a French teacher by day and a musician by night; a working drummer in his younger days, he collected and played brass instruments. Trumpet, Allemano says, was an obvious and convenient choice. She started on her brother's hand-me-down trumpet. "I was drawn to the sound and the clarity of the instrument," she recalls. "I felt the power of it and related to the expressive potential of it. It always seemed natural for me to use the trumpet as my vehicle to express myself, and it was how I identified very early on, as a trumpet player."
Allemano's mother, a literary scholar and writer, was also an extremely important role model. "Art, music, literature, culture, and all kinds of creativity, as well as left-leaning social-awareness, were a big part of my childhood. And we had no TV, no computer, no video games. Popular culture was just not on my radar."            
Edmonton was a regular stop for many top modern jazz groups, and Allemano and her brother attended concerts regularly. This, along with the family record collection, also provided direction to the young musician. "I was pretty much inundated with jazz throughout my childhood and it wasn't hard to find cool trumpet players to listen to." She was soon memorizing and transcribing solos by her favourite trumpeters, Miles Davis and Freddie Hubbard, and stretching her musical purview toward saxophonists like Wayne Shorter and Ornette Coleman and the expressive possibilities of free jazz.
In 1999, Allemano was at the Banff school, working with Dave Douglas, and leaving a lasting impression. A few years later, when Douglas was starting the Festival of New Trumpet Music in New York, he included Allemano. In 2007, she was singled out as one of DownBeat's "25 Trumpeters for the Future." Reviewing Live at the Tranzac in 2013, the eminent British critic Brian Morton described her as one of the most exciting new voices of the last few years: "There's a delightfully dry, plainspoken quality to Allemano's brass playing. She isn't garrulous and isn't obsessively thirling the upper register, though she can squall with the best of them."
Rob Clutton, a regular collaborator, is just as enthusiastic: "Lina is the most dedicated artist I know. She has a passionate commitment that extends from her solo practice, through her bands and her Berlin projects, to the creative music community. My band The Cluttertones wouldn't exist if not for Lina's consistent encouragement and support. She has a continuum of expression that ranges from heartfelt lyricism to abstract sonic exploration. On "Hush" on Live at the Tranzac, she manifests deep emotion and phenomenal awareness at the same time."
Even during her typical jazz education, Allemano always sought her own path: "I started out as a jazz player with a capital J, but I always had a bit of a wilder, freer inclination deep down—something which could not be repressed by the confines of a rigid jazz-school approach. Instead of playing the changes in a formal way, I was always playing around the changes. I couldn't keep myself from jumping off the cliff—taking the round-about way of getting through things, but always eventually landing on my feet. A prominent jazz educator said to me when I was at school, 'You really have your own thing . . . it's great; keep doing what you're doing, but now you have to learn proper harmony and really learn the changes.' Well, I admit I never really did take to perfecting harmony in the jazz-school sense of it. I learned everything I was supposed to, but I still ended up veering off in a different direction.
"With rhythm, I also like to jump off the cliff and flail my arms around in the air a bit. The fun part is seeing how I land back on my feet. I truly love playing straight-ahead jazz, but that wasn't a direction I wanted to pursue for my projects as a band leader."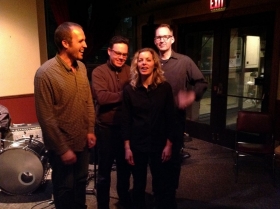 That quality soon found expression in her first band, the Lina Allemano Four, [left photo] and her own label, Lumo Records, which has served as a conduit for her music ever since. In its initial form, the Four matched Allemano's trumpet with David Occhipinti's guitar. That traditional horn-with-harmony approach soon metamorphosed into its present form, which pairs her lines with those of saxophonist Brodie West in a band that includes bassist Andrew Downing and Nick Fraser—a band whose musical communication recalls the classic free jazz of Ornette Coleman's early quartets: "I was just starting to experiment with more open, more improv-based concepts at that time, but it wasn't until the free-spirited Brodie West joined the band in 2005 that things really started to develop in that direction. In the past thirteen years, with the same personnel, we've made five albums. It was a long process that evolved organically over the years as we moved into more open territories, as you can hear if you check out our albums in sequence. Our first album with the current lineup (Pinkeye on Lumo) is really a bridge from an earlier aesthetic: it's more jazzy and less free."
Allemano calls West her true musical foil. "His sound makes my sound what it is in this band by supporting, contrasting, etc. Without him, I feel my voice loses something intrinsic to it. He understands me on a telepathic level; sometimes it's almost like he knows me better than I know myself. I can't explain how else we end up playing the things we do together. How did he know I would play that right then? I didn't even know I was going to. Maybe he leads me there without me realizing it. I guess it's a complex system of very subtle and nuanced abstract musical communication that you can't put into words. But of course, Brodie and I aren't playing in a bubble; the whole band is communicating on this level, which is something you can only develop after years of working together as an improvising unit."
Allemano also finds a similar musical telepathy when playing with Nick Fraser, a member of both the Four and Titanium Riot: "We know each other's phrasing, sound, and melodic and rhythmic sensibilities intimately, and have spent years developing a way of playing music together. Of course, Nick is a great drummer, but really he's much more than that. He's a great communicator and collaborator, and this goes far beyond just listening. He has an ability to balance creative initiation and creative support, knowing intuitively when and how to instigate, and when and how to support. He's a very dynamic and melodic drummer and he understands intrinsically my concept of form and space. He helps propel the music forward in a thoughtful, subtle, and open way. It's about how to let the music play itself instead of imposing on it. It's about creating music together and leaving space for the music to breathe. With Nick, the playing and the music are effortless and exciting."
Meanwhile, Allemano maintains her connections to the tradition with the Miles Davis and Gil Evans project in Guadalajara, Mexico, with Gil Cervantes' Jazz Orchestra: "We play a different album every time. We've done Porgy and Bess, Miles Ahead, and my favourite, Sketches of Spain. It's an amazing experience to learn that music and a total thrill to be able to play it as a soloist with a great orchestra. I struggled a bit at first with the enormous pressure of having to be Miles, but then I realized the only way I could play that music was to just be myself. Miles is deep in my blood anyway, so somehow I found a way to be comfortable with it and to let go of those expectations. It helped that Gil, a trumpet player himself, encouraged me to bring my own thing to it. The musicians are amazing and there is a kind of raw beauty to the sound of the orchestra—particularly with Sketches of Spain; it was an incredibly moving experience to play it. I had to take deep breaths during the concert to keep my emotions from overflowing."
While living and working in Berlin, Allemano has developed resources and her vision: "I went there briefly on tours from time to time, but the first time I spent a longer period of time was in 2013 when I had a grant to study with Axel Dörner. I learned to circular breathe and use extended techniques and introduce new aesthetics in my work. Studying with Axel completely changed the way I looked at playing the trumpet, at what I thought it meant to play trumpet, at the very narrow and specific idea of what I thought the trumpet sounded like or should sound like, at the seemingly unlimited possibilities there are to find and develop expressive ways to play the trumpet. It really opened my mind to explore, to push my own boundaries." At some point, lesson turned into collaboration, and now Allemano is working on a duo record with Dörner.
Berlin, now a long and regular stop on her schedule, feeds her creativity: "It's a great place to dip into a more international community in terms of cutting-edge improvisers and creative musicians and artists of all kinds doing crazy things. Toronto's music scene is in more of a bubble, which has created a really unique character to the music that has something to do with this relative isolation—having less regular input from other places. In Berlin, artists are coming and going from the scene constantly, and it's also easier to travel internationally from there. Toronto has a rich diversity of cultures, but somehow it doesn't seem to translate to the creative music scene as much as it does in Berlin. Toronto has a bit of a conservative slant in terms of music, so you have to look a lot harder to find the cutting-edge stuff here. There's just less of it, and it's not supported nearly as much as it is in Berlin. Most of everything I do in Toronto feels fairly underground."
The experience has shifted Allemano's view of her own musical identity: "I am now much more comfortable calling myself an improviser; before Berlin, I always felt some sense of having to apologize for playing so-called challenging, experimental music. Berlin has opened my eyes to a wider world of musical possibilities, and it's also encouraged me to be as freaky as I want to be, to continue to explore artistic possibilities."
In 2018, Allemano capped off her Toronto summer at the Tranzac, presenting the Four and Titanium Riot on a single bill. Then it was back to Berlin with a bevy of projects, including the duo recording with Axel Dörner, and Zodiacs—a trio with Els Vandeweyer on vibraphone and Ute Wassermann on voice and objects. Allemano is also working on a solo trumpet album for a 2019 release, and will be back in Toronto at the end of 2018 to begin work on a new Lina Allemano Four recording with a series of Berlin compositions.
"I'm planning to continue the crazy splitting of time between Toronto and Berlin until something else happens . . . anything is possible. Let's see how things develop."
Top photo by Christina Marx. Lina Passion and Lina Allemano Four photos courtesy of the artist.