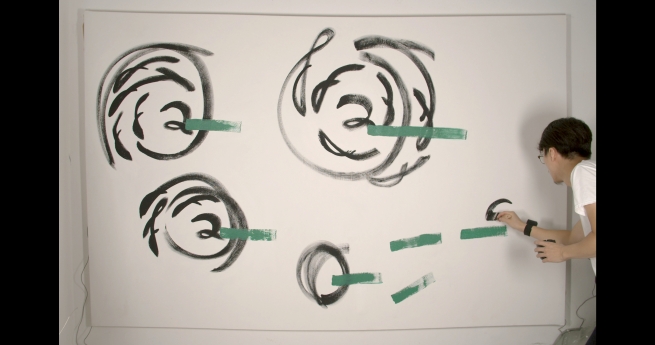 June Young (Will) Kim won second place in Musicworks' 2020 Electronic Music Composition Contest for Black, Emerald, the third piece in his series of works for amplified canvas. A commission by München Landeshauptstadt Musikstipendium, Kim completed the piece in September 2020 and premiered it in Munich on October 12, 2020 with Sakhile Humbane (flute), Adrian Sands (cello), and Robert Florian Daniel (piano).
"[I am] continuing my search for a synergistic relationship between the visual and musical domains of art, where the two domains influence each other at an equal level rather than one being the byproduct or mere trace of the other […] In this particular piece, I'm exploring how visual structure and deviance can be reflected musically."
He was inspired by the dichotomy of forms as depicted in the works of artists such as Adolph Gottlieb or Agnes Martin. Black, Emerald opens with its principle visual and rhythmic motif: a black gesture painted on an amplified canvas. This motif is repeated, with variations, to create what Kim calls a "compound shape." Then, taking a clean brush with emerald paint, Kim adds a single, straight line.
"This dichotomy between the curved and straight lines corresponds to the dichotomy between the two colors, emerald and black, and also that of the larger form: between each of the serrated compound shapes and the lone emerald straight line. In the musical domain, the canvas sounds from the black gestures are processed through filters and a tremolo effect with the motion sensor's velocity values controlling the tremolo speed, whereas the canvas sounds from the emerald gestures do not undergo a dynamic motion process effect but rather a static filter with slight granulation. The black gestures are made with constant changes in brushing speed, whereas the emerald gestures are instructed to be painted at a steady speed."
Kim chose the colors black and emerald in response to Hans Hofmann's Push and Pull theory, which describes how certain juxtapositions of shapes or colors can create depth and motion in still paintings.
"Warmer colors stand out amongst colder colors and draw a certain attention to them. To reflect this in the musical domain, a soft, bright and steady timbre is assigned to the instrumental ensemble whenever the emerald color motif is painted on."
Kim also explores Salvatore Sciarrin's concept of Little Bang, which describes our human tendency to impose cause and effect relationships between consecutive events—a Big Bang must be followed by a Little Bang.
"According to this concept, the musical sections corresponding to each of the black compound shapes are perceived as Big Bangs and the emerald musical gestures that follow as Little Bangs. This Big Bang–Little Bang sequence is repeated three times before the balance is overthrown. The fourth compound shape is not a true compound shape, since it consists only of one continuous gesture, and it is followed by four iterations of the emerald gesture in succession, creating a shift in the relationship established […]; the emerald begins to take the role of the Big Bang both visually and musically for this section. I then reinforce this newly established balance by painting the last emerald gesture before the final black compound shape."
---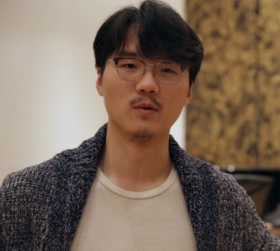 Composer and baritone June Young (Will) Kim was born in 1996 in South Korea and has lived in Canada, the United States, and Germany. His teachers in composition include Isabel Mundry, Chaya Czernowin, Michael Beil, Salvatore Sciarrino, and others. His teachers in electronic music include John Gibson and Jeffrey Hass. His music has been performed by ensembles such as Quartetto Prometeo, members of the Berlin Philharmonic, members of the International Ensemble Modern Academy and Ensemble Paramirabo.
He received his Bachelor in Composition from the Jacobs School of Music, Indiana University Bloomington in 2018 and his Masters in Composition from the Hochschule Für Musik und Theater München funded by the DAAD scholarship, studying with Isabel Mundry. He will be staying in Munich to pursue a Konzertexamen degree in composition.
As a lyric baritone, he studied voice performance (double major) under Professor Peter Volpe at Indiana University and, at the time of the Musicworks' 2020 contest, was studying under Harmut Elbert in Munich. He has been an active performer premiering works by student composers and is currently a member of the Madrigal Chor München.