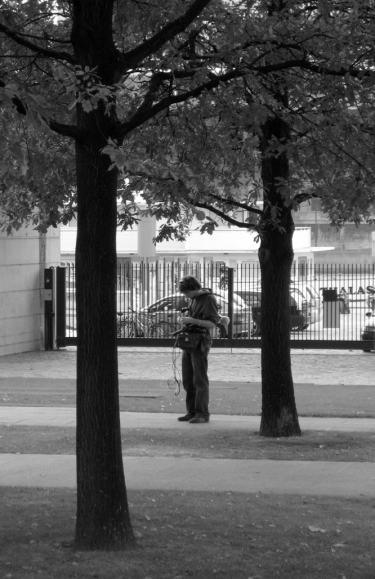 Simon Cacheux works as a musician, sound designer, and sound artist. He is interested in the texture of sounds, how they blend with each other, and in the microfictions that occur within the sounds themselves. His work leans towards minimalism—in particular drones, ambient, and noise music. His deep interest in technology has lead him explore the possibilities of analogue synthesizers, DIY devices, handmade sound-processing software, and field recordings.
When he is not working solo, he plays with the Cosmic Red Ape Orchestra, a jamming band exploring jazz and rock improvisation. His duo MÀD creates soundscapes and noise backgrounds as the foundation of saxophone-driven  free improvisations.
Cacheux is currently making urban field recordings and exploring the notion of silence in the environment—the tiny sounds that become accessible to the ear when humans are absent, revealing embryonic stories.
Born in 1984, Cacheux completed three years of study in the sound department of  the École Nationale Supérieure Louis Lumière. He  teaches sound-design at the École de Condé Art School in Paris, where he lives and works.
Simon Cacheux explains his ideas and the process behind InnerSelf, the second-place winner of Musicworks' 2014 Electronic Composition contest:
"In this piece, I propose a sonic interpretation of the forces that are at work in the mind and body of an actor when he or she is preparing for a show or a performance. How is the right alchemy achieved, what is the right mix to let the energy flow outwards. Except for very short melodic interventions, the whole composition is comprised of recordings of  discarded rushes of actors reading texts for a different project. The recordings were made used various classic microphones and also with contact microphones, giving a very large palette of sound textures.
"The discard rushes of breathing, rehearsals, errors, strokes, mouth artefacts, and so on were processed with techniques from granular synthesis. These techniques allowed me to keep a tonal control over the result, and to produce a very large quantity of sounds.
"The various elements were then edited and assembled to create tensions, moods, and micronarratives. The main goal was to recreate the back-and-forth flux between the inner world of the actor and the outside world (the other actors, the stage, the public, etc.). Thus, some sounds of the outside world infiltrate the mind and body of the actor, through his or her thoughts, fears, hopes, anxiety, stress, and pleasure. It eventually ends in an ambiguous form, open to interpretation.
"In a general sense, the piece is about our interactions with the world and the others: what we do and say, our body, our discussions, are an interface between ourselves and the world. We struggle all the time to tune the outside with the inside, and vice-versa, to define ourselves against the world without and the world within."
LISTEN to InnerSelf by playing the track under the headline of this article.
---
Image: Simon Cacheux at work in Paris.