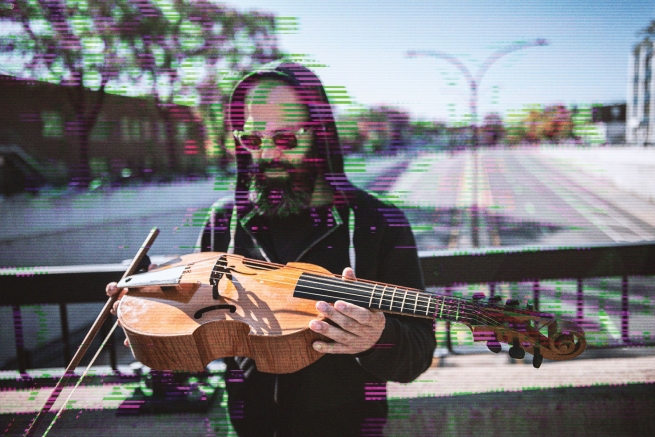 Few musical relationships are as difficult to parse as those between musicians and the instruments they play. It's a type of interaction that feels like it should be simple—something transactional, between human subject and sounding object—but in practice, objects, especially culturally situated ones, can come with as much baggage as their owners.
Often they have more.
In the case of period performance—the practice, typically, of playing medieval, baroque, and early classical music as it would have been heard in its day—the instruments and the techniques used to play them are centuries old. When period performance first entered the North American cultural consciousness, it did so via the early-music movement of the 1950s, with ensembles like New York-based Pro Musica Antiqua that advocated for the use of historical instruments to recover a lost kind of musical authenticity. Echoed in Canada in the late 1970s by groups like West Coast concert presenter Vancouver Society for Early Music (now called Early Music Vancouver), vocal ensemble Studio de musique ancienne de Montréal, and Toronto's Tafelmusik Baroque Orchestra, the movement positioned early music against conventional classical playing as a more accurate, research-driven type of music-making.
But when broken down into their sounding components—strings made from animal gut, wooden bodies that are slightly uncanny in their resonance—historical instruments are full of subtle anachronisms that make the work of early-music players as much about unearthing new ways of sounding as it is about recreating old ones: a kind of speculative sonic archaeology occurring in real time. And increasingly, these instruments are also being used for contemporary experimentation in both composed and improvised forms. In recent years, both Early Music Vancouver and Tafelmusik have hosted events and series titled "New Music for Old Instruments," featuring contemporary compositions played by their ensembles. New inventions like the Paetzold recorder—a large square recorder built from plywood, designed in the 1950s by German builder Joachim Paetzold to improve the accessibility of recorder music—have reintroduced early instruments to contemporary players in new forms. And experimental artists have begun to work with historical instruments in their practices, developing new techniques and sounds that both recall and depart from their instruments' origins.
Maybe music is something amorphous, but the tools used to make it are solidly of this world, with histories that shape our listening.
"After all," Montreal-based composer, improviser, and viola da gamba–player Pierre-Yves Martel says, "the instrument you use kind of dictates how you play—right?"
Pierre-Yves Martel can recall the moment he first picked up a historical instrument. "In my last year at the University of Ottawa, while studying jazz and double bass, I had the chance to borrow an instrument from the collection of the Canadian Museum of History—I borrowed a six-string viola da gamba and started playing it," he explains on the phone from Montreal. "A year later, I bought one. And a year after that, I sold my double bass."
Now, Martel works as a viola da gamba player in a number of contexts: with Hübsch Martel Zoubek, an improvising trio based in Cologne, with tubaist Carl Ludwig Hübsch and pianist Philip Zoubek; with The Rnst, a quartet with French clarinetist Xavier Charles, Canadian electric bassist Éric Normand, and Austrian double bassist Matija Schellander; and with another trio called tse, where his bandmates—Cyril Bondi on Indian harmonium and pitch pipes and Christoph Schiller on spinet—also improvise freely on historical instruments with complicated pasts. At home in Montreal, he plays with intercultural ensemble Constantinople, and builds his ongoing solo practice as a composer and improviser.
At the core of all these is Martel's experimentation with the viola da gamba—a fretted, bowed string instrument from the European Renaissance and Baroque, a cousin of the guitar and cello, and held between the legs. He has two: a bass viol, made in 1984 by Paris-based American luthier Judith Kraft, and a soprano viola da gamba (treble viol) made by Montreal luthier Francis Beaulieu. Both have been modified with additions to the fingerboards that extend the lower range of the instrument—a whole step lower (from A to G) on the bass, and a major third lower (from D to B-flat) on the soprano. Martel has also worked to augment the viola da gamba's sound in other ways: in past years, with preparations, feedback boxes, and other electronics; now, more often with pitch pipes and harmonica, expanding the harmonic and melodic range of the instrument by coupling it with the breath.
The double bass always felt too big and too complicated for the music Martel wanted to create. When he switched to the viola da gamba, it was an immediate fit. "That's kind of a recurring theme in my life: getting rid of things and trying to simplify. Being as focused as possible. And making more, with less means," he says. "I think maybe at first what I liked about doing early music was its simplicity. I liked applying that approach to my playing. Where I explore one sound but many different ways, over a long period of time."
You can hear what he means in his solo music. On his single-track 2016 album Estinto, frequent silences are punctuated by soprano viola da gamba and harmonica—quivering, gritty dissonances drawn out slowly from his instruments. It's spacious in a way that most solo playing is not: hard-edged layers of sound, made with an extreme conservatism of means.
For Martel, it's a process that began in 2014, with his solo album Continuum—his first using the harmonica as an extension of the viola da gamba.
"I had been carrying this little harmonica around in my preparation box for years. I never knew how to use it really. But then one day it just occurred to me," he says. "I don't know how it happened, but I played it at the same time as the gamba, and I realized that the timbre of the harmonica blended really well with the upper partials. So that's how it started."
Since then, viola da gamba and harmonica combinations have been a key element of his solo improvising. "To me now, they've become one thing," says Martel. "I can alternate breath and bow, so that there's never an inhale or an exhale or a bow change. So now, I can think of bow changes in a musical way—for a musical reason, to break the sound—and also incorporate the breath into the string sound. To me, it gives this whole other dimension to the instrument: it becomes living."
It's easy, too, to think of Martel's music that way—as a living, breathing practice, and a continuous revisiting of materials in slowly shifting contexts. "What I do is a constant kind of slow research," he explains. "I think, for me it's an ongoing process. And it's always kind of a documentation of where I'm at in that process, in collaboration with other musicians.
"Every album is kind of like a continuation of the last, in a way," he adds. "This concept that is very slowly evolving over time. My way of thinking about music and approach—it's expanding."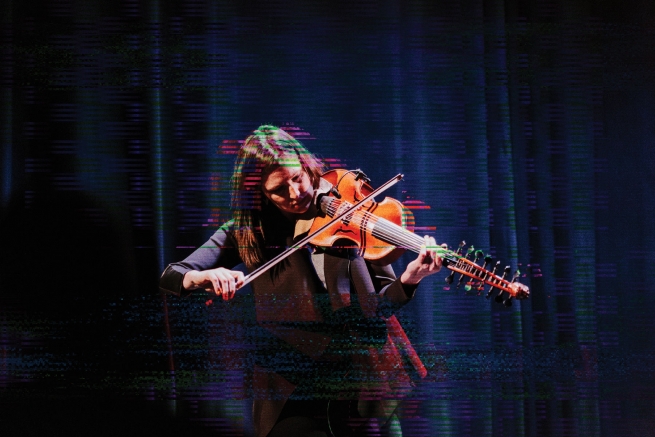 While Martel describes playing a period instrument as a process of simplification, viola and viola d'amore player Jennifer Thiessen has a very different view.
"It's something about its complexity," she explains, when asked what drew her to the viola d'amore. "They either have six or seven playing strings, and then the same number of sympathetic strings underneath. It's usually an open tuning, often a minor chord, often in D. There's something about this minor chord, open-tuned ringing—the character of it—that just really appealed to me."
Like the viola da gamba, the viola d'amore is an early string instrument, popular during the baroque era—in this case, bowed and played under the chin, like a violin or modern-day viola.
Originally from Austin, Manitoba, Thiessen discovered the instrument while completing her master's degree in modern viola at the University of Montreal. "I was just aiming straight ahead for classical music," she says. "But the school had a viola d'amore in their instrument bank. I'd heard a recording of it—this really beautiful recording. And then I found out that they had one." Thiessen borrowed the instrument while she was a student. After she graduated and no longer had the same access to the university's resources, she saved up. Ten years later in 2012, she bought a viola d'amore of her own.
Now, still based in Montreal, Thiessen splits her time between viola and viola d'amore, playing both composed and improvised music. Park Sounds, her duo with percussionist Ben Reimer, is rooted in contemporary chamber music, commissioning new works for percussion and viola or viola d'amore; Toninato/Thiessen, her improvising duo with saxophonist Ida Toninato, combines viola d'amore with baritone saxophone. She also plays by herself: as an improviser, as a contemporary music soloist, and in her songwriting project Daily Alice.
On "Magma / Suspension," from Toninato/Thiessen's 2018 release
The Space Between Us,
saxophone and viola d'amore play thick, swelling tones that cascade and break upon one another. Like Martel's solo playing, the tracks on
The Space Between Us
are deliberate and slow; but while Martel's music is built upon the suspension of blocks of sound in space, Toninato and Thiessen's music feels like a sound that has been captured and dragged through molasses. One can imagine that, in a live setting, the total volume of the room fills with their low, haunting keening.
Thiessen draws a clear distinction between this kind of improvising vocabulary where she feels at ease—"personal music," as she describes it—and contemporary classical works, where the aim is more often to embody a composer's vision with exactitude. However, it's in the push-and-pull tension between these two forms where she locates the core of her practice. "Improv I've really loved for the freedom of it," Thiessen explains. "It's the ultimate destabilizer. I can't plan ahead; I can only work on myself. I can only work on my own playing, my listening ability, my ability to stay in the moment. I can work on my own sounds.
"But what I've really liked is all the time that you spend in classical music, whether more traditional or contemporary music, working it out," she continues. "You have something that someone else has set out for you to do, and you have to figure it out and you have to get it. And in that process, you can develop a lot of technical skills that you wouldn't if you were only doing what came to you naturally."
When asked where early music fits in, she speaks about how early-music players tend to approach period performance as a type of sound-based research. There's a deep relationship with scholarship embedded in the early music field; it's part of why access to these instruments can be so challenging, and why so many of its performers are indebted in their practices to institutions and their resources. But it also speaks to a certain kind of academic rigour shared by early music players, and to a way of defining performance as a process of continuous, embodied discovery.
"I think what keeps me there is that I find baroque players really curious," she says of period performance and early music. "There's a desire to explore different sounds and research and figure things out.
"Baroque music is rhetorical music," she continues. "It's supposed to really communicate directly to the audience. With Romantic music and a little later, music became really composer-oriented. But baroque playing is really oriented on the affect or the emotion it's communicating. It reminds me a lot of improvisation in that way—or at least of what I value in improvisation or in new music, the communication element and the element of spontaneity."
"And I love the sounds and the tools," she adds, after a pause. "I love gut strings. I love the music."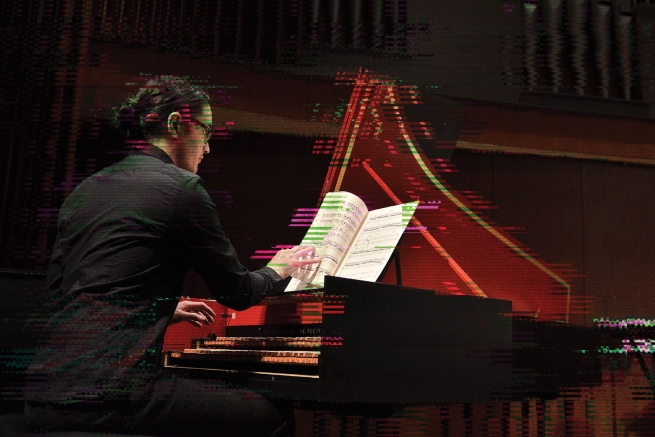 In György Ligeti's 1968 solo harpsichord piece Continuum, clustered streams of rapid-fire, warbling trills pile relentlessly on top of one another. It's the sound of a totally digital music—until you catch the noise of the creak and clunk of the mechanism and realize that the design of the instrument it's written for is hundreds of years old.
This piece was Toronto-based pianist and harpsichordist Wesley Shen's introduction to contemporary harpsichord playing. "Hearing a recording of Ligeti's Continuum was the point when I really became interested in playing the harpsichord," he recalls. "I then went backwards to try out early music—but my main goal was always to play more contemporary music on the instrument."
Born in Toronto, Shen began playing harpsichord during his piano studies at the University of Toronto, as a historical reference point for interpreting early classical music on the piano. Since then, he's pushed forward to develop a contemporary performance practice on both instruments. In fall 2019, he returned to Toronto after three years of graduate studies at the Conservatory of Amsterdam, specializing in contemporary harpsichord music. Now, he plays both harpsichord and piano in a variety of contexts: as a collaborative pianist and orchestral musician; in Amsterdam-based trio Ugly Pug (harpsichord, recorder, and viola da gamba), which specializes in new music for period instruments; and increasingly as a soloist, collaborating with composers to build up the presence of the harpsichord as a modern instrument.
The harpsichord, most commonly associated with Renaissance and baroque music, had a brief surge of popularity as a new-music instrument in the 1960s, around the years when Ligeti wrote Continuum, and experienced another brief revival in the '80s; since then, according to Shen, it has largely been relegated again to its role as a period instrument for early works.
Although the harpsichord is largely viewed as the predecessor of the modern piano, the instruments' sounding qualities are starkly different. "I think that both instruments express music in very distinct ways," says Shen. "Even down to the basic action of playing. They're both keyboard instruments, but the method of creating sound—by a hammer hitting the string with the piano, or with harpsichord where you're actually plucking the string with a little quill—is very different.
"I always find with the piano that I'm projecting more outwards," he adds, "whereas with the harpsichord there's a feeling of wanting to pull the ear inward. It's one of the things I find that I like about the harpsichord: this intimacy, and this honesty—and this sort of drawing inwards to the instrument."
At his last recital in Toronto, where he appeared as a soloist with new-music ensemble Continuum Contemporary Music as part of the Royal Conservatory's 21C Festival in January 2019, Shen played a program of solo and chamber music on both piano and harpsichord—including the premiere of Monica Pearce's new harpsichord work toile de jouy, which he commissioned.
Pearce's piece is one of three recent commissioning projects Shen has taken on, alongside other solo harpsichord works by Anna Höstman and George Katehis. He plans to play all three together in concert in 2020. The goal, he says, is to bring composers musically and physically close to the instrument, so that they write music that exposes what the harpsichord is good at: sounds that are smaller and quieter than those of the modern piano, but that have a much more immediate presence, with a sometimes very delicate, yet always mechanical, quality.
Linda Catlin Smith, another composer who has worked closely with the harpsichord as a contemporary instrument, veers in the total opposite direction from Ligeti: where Ligeti's harpsichord music drives relentlessly forward, Smith's hangs suspended and clear, sparse chords strung together with fishing-line delicacy; in it, the harpsichord sounds at once fragile and expansive, like a totally different creature. "Linda's pieces really explore resonance and tone quality—which you don't associate with harpsichord but is very much a key element of the instrument's expressivity," says Shen. "Her pieces really give a voice to that side of the instrument."
Brocade, Smith's 2014 piece for harpsichord and piano, unravels slowly—first as staggered blocks of sound, and then as delicate arpeggiations. Despite the juxtaposition of the two instruments side by side, it doesn't feel like a parent-and-child instrument relationship, but more like reflections and refractions through glass: parallel worlds, each almost enveloping the other with its resonance. And running between them, a crackling thread of a sleek, modern, electric kind of beauty.
There's a moment in Pierre-Yves Martel's Estinto where the harmonica emits the same frequency again and again, pulsing dissonantly against the granular bowing of the soprano viola da gamba. Hearing it, it's impossible to decide whether the resultant sonic friction is something ancient, or completely electronic. In any case, the sound is totally inimitable.
"We're always comparing period instruments to the instruments we know. And we always compare them in the sense of What do the early instruments lack?" says Shen at the end of our conversation. "And I think for a lot of performers who are using these instruments, it was a point of changing their mindset from thinking about what the instruments lack to thinking more about what they offer. We take the limitations as a starting point: finding all the subtle nuances, and every little variation of expression."
Slowly, the harmonica and viola da gamba colours ease in and out of synch, revealing different details to the light.
"Sort of creating a world out of these tiny variations," he adds, "so that in that sense the limitations don't really exist. Because within every bit of that, you can find endless possibility."
---
Top photo of Pierre-Yves Martel by Robin Pineda Gould. Middle photo of Jennifer Thiessen by Catherine Arsenault.  botom photos of Wesley Shen by Nicola Betts. Homepage photo by Frances Beaulieu. All photos treatments by Musicworks art director Heshaka Jayawardena. 
Audio: toile de jouy composed by Monica Pearce, performed by Wesley Shen.  Concert performance recorded at Bernard Haitinkzaal, Conservatorium van Amsterdam, May 29, 2019.