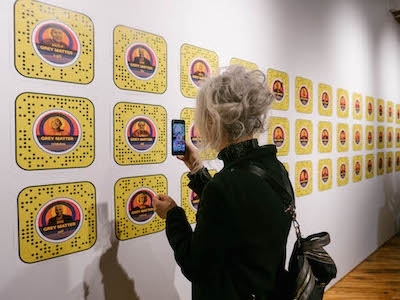 In 2019, David Psutka was approached by Karen Vanderborght to compose the soundtrack for her augmented reality documentary Grey Matter AR, which she had started developing a few years earlier. Vanderborght, who describes herself as an extended reality (XR) creative, had begun by filming interviews with ten Canadian seniors from different backgrounds. These subjects included Anne Cools, the first Black member of the Senate of Canada; Andrew Westley,  an Ojibwe leader who lived through the residential school system; and Alf Roberts, a church organist who publicly came out as gay at age eighty. Vanderborght then used snippets of the footage she'd shot to create fifty unique smartphone-powered Snapchat Lenses (the popular augmented-reality feature of the social-messaging and photo-sharing application) in Lens Studio, Snapchat's free development tool. A Snapchat user can search "Image Fatale" in Lens Explorer (a carousel for browsing lenses), choose one of the lenses to create a warped selfie, while listening to the elders' profound thoughts on aging, love, resilience, and other topics. "I had some more conventional score opportunities which were not that interesting, but this was definitely a challenge," Psutka says.
"To me, the great hook of the project was making this statement of anti-ageism or senior inclusivity or senior positivity on a social-media platform, and in particular Snapchat," he adds, referring to the app's youthful user base. "It's kind of a complex method and place to make that statement."
Working within Snapchat's time limit of around twelve seconds, the Toronto producer composed a hundred short pieces and chose fifty as miniscores for Vanderborght's lenses. "I tried to write in a really serendipitous, flowy way—it's the only way to write this number of sketches," explains Psutka. "I made sound-design decisions based on how I wanted the music to be experienced."
"We started with a lot of ideas and material, and then began sculpting them to bring them closer to their essence," adds Vanderborght.
The album version of Gray Matter AR, which consists of all one hundred of Psutka's pieces sequenced into five, mostly instrumental, tracks, was released on digital and vinyl formats in January 2021 on his label Halocline Trance. "It feels kind of ironic to make vinyl records out of Snapchat compositions," he says.
This free-form, frequently collaborative approach to making music has been a guiding philosophy throughout Psutka's prolific career. In the early 2010s, working under the Egyptrixx moniker, he put out a string of critically acclaimed, club-oriented records on labels on both sides of the Atlantic. Since then, Psutka has kept himself busy with joint projects, including his experimental folk duo ANAMAI (with Toronto musician Anna Mayberry) and LIMIT (his "crucially free collaboration" with British producer James Connolly), and also released hard-to-pin solo soundscapes as Ceramic TL and ACT! In recent years, he has also worked behind the scenes on albums by Jessy Lanza, Junior Boys, Bonjay, and Scott Hardware, among others. "I like being capable at all stages of the process," says Psutka. "I'm interested in the studio heavy-lifting; I'm interested in performance; and in everything else in between."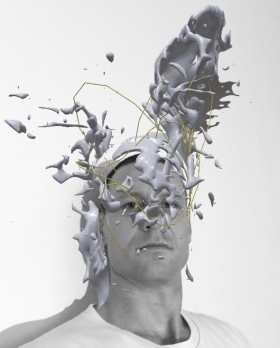 Although the producer started Halocline Trance in 2015 to put out his own records, the label has evolved into a home for boundary-pushing Canadian and international artists. "Early in my career I had the opportunity to work with some labels, but I found none of them really suited how I wanted to work and how I wanted to release music. So, out of necessity I created my own," he says. "I wanted it to be a functional tool that would also work for the [musicians] around me." It's not uncommon for many of these artists to intermingle on each others' albums, a testament to Psutka's vision of creating a space where collaboration is encouraged and can happen naturally.
He plans to release a dozen diverse recordings on Halocline Trance in 2021, including music from multi-instrumentalist Colin Fisher, composer-percussionist Germaine Liu, producer and singer Kat Duma, and electro-R&B singer R. Flex. "I do get people sending me finished albums as demos to see if I'm interested in releasing their music in the way a traditional record label would, but I'm not so interested in that," says Psutka, who notes that this busy schedule has kept him feeling positive during the COVID-19 pandemic. "I want to release music that comes through our community or comes through our network."
Grey Matter AR not only gave Psutka an opportunity to collaborate with a like-minded artist, it also allowed him a chance to reflect on his ten years in music. "I'm in my late thirties, but I don't feel like I've been in music for that long," he says. "Some of the people in the [Grey Matter AR] have dedicated sixty or seventy years of their lives to a career or a family."
Although Grey Matter AR was conceived and finished long before the pandemic, the artists say the project has taken on new, unexpected relevance over the past year. Nursing and retirement homes across Canada, like the ones Vanderborght visited while she was conducting her interviews, were among the places hardest hit by the coronavirus. "COVID-19 has raised hard questions about the importance of seniors in our society," says Psutka.
Vanderborght received grants from the Canada Council and the Ontario Arts Council to make Grey Matter AR, but some presenters were not open to its accessible format. "One of the reasons it's difficult to get this kind of work in the more established festivals is because it's not exclusive," says Vanderborght. "You don't need to go to the festival, or you don't need to buy the ticket to go there and see it."
Adds Psutka, "Presenting profound art in common spaces, such as Snapchat, will sometimes ruffle feathers: to me, it comes across as an anti-institution, anti-gallery statement."
Despite the few detractors, the pair are excited about the artistic prospects of the medium and other social-media platforms.
"I think we haven't explored all of the possibilities of Snapchat," says Vanderborght
, noting that the maintenance of the lenses is a time-consuming process, and she's had to occasionally appeal to the company to get some of them put back up after they were taken down without warning. Since
Grey Matter AR
launched, Snapchat has also been surpassed in popularity (and, arguably, relevance) by Instagram and TikTok, the latter of which today has nearly one billion users worldwide. "To work on a creative project for two and a half years, three years, is not an excessively long time, but that's already multiple generations of social-media realities," says Psutka. "Which is maybe one of the reasons why it's so focused on younger people and so ignorant of older generations. It's really this accelerated space."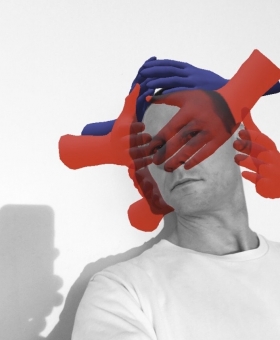 Psutka and Vanderborght would consider presenting the music and filters together in a live setting in the future. The producer, who spent a large part of his early career touring outside of Toronto, hopes that after the pandemic people continue to "consider the importance and the value of creative spaces and art in general." The Zoom dance party Club Quarantine was started by four Torontonians—including producer and composer Casey MQ, who released his debut album on Halocline Trance in 2020)—and it is one example, Psutka says, of how creative communities mobilized during the pandemic to help people in meaningful and tangible ways—by raising money for charities and spreading awareness about different social-justice issues.
"I cannot predict what will happen after this. All I know is it really should look different," says Psutka. "I don't think we can go through such a traumatic and altering experience and not have the cultural landscape reflect that. It would be disappointing if things kind of picked up where we left off."
PHOTOGRAPHY: Courtesy of David Psutka
FYI: In 2021, Halocline Trance label released LP recordings Myst Milano, Germaine Liu, and Eldritch Priest. Grey Matter AR was launched in March 2019 at Trinity Square Video in Toronto.
ON THE CD: Section 1 (1–20)  from  Grey Matter AR' Snapchat Compositions [100]