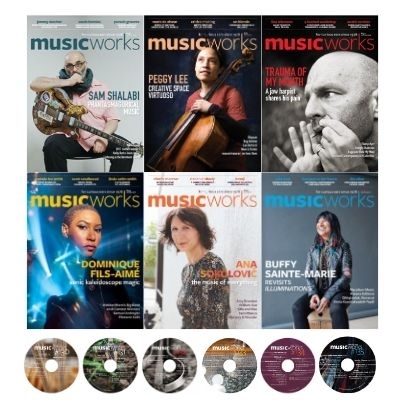 The Board of Directors of Musicworks acknowledges that the new and experimental music scenes covered in the magazine are built on a foundation of systemic racism, and that through our content we have facilitated and upheld that system. Musicworks is a long-standing publication dedicated to expanding the usual understandings of music by covering new and experimental music and sound art in Canada, and thus holds power as a disseminator of this art form and as documentation for future generations.
It is our responsibility to dismantle systemic racism in new and experimental music by fairly representing the experiences, ideas, and works of IBPOC artists, providing opportunities for IBPOC writers, photographers, and designers, and by creating collaborative and leadership opportunities for IBPOC editors to develop and direct the vision of the magazine. We recognize that fulfilling this pledge requires ongoing work, listening, and informed action to dismantle white supremacy and structural racism. We commit to doing this work within our own organization and to supporting the work of others throughout the music scenes we cover. We will be transparent and communicative with our readers in this work, sharing our progress as well as our challenges, and inviting our community to participate in meaningful ways to this ongoing work.
Our first step is to acknowledge that the board, as the leadership structure that supports the magazine, is majority white, and that our recruitment practices and lack of clear goals and policies for board diversity have enforced and upheld a culture of white supremacy within our leadership. We are now implementing new board recruitment policies in order to build equity in the organization. These policies will be made public on the Musicworks website, and will be used in our next round of board recruitment, launching September 2020. Additionally, we will provide anti-oppression and allyship training for current and future staff and board members.
We stand in solidarity with other arts and cultural communities in denouncing the institutionalized violence inflicted on Indigenous and Black communities both here in Canada and in the United States. We believe that Black Lives Matter. Many Musicworks readers, contributors, and featured artists have suffered from both the visible and invisible violence of structural racism and have dedicated time, energy, and resources to fight against white supremacy, police violence, and settler colonialism. Musicworks will continue to present their important work and continue our own work of self-reflection, education, and action.
As a tangible action in August 2020, the board of Musicworks made a financial contribution to the Black Legal Action Centre, a non-profit community legal clinic that provides free legal services for low or no income Black residents of Ontario.
Signed, on behalf of the board of directors,
Christopher Mayo,
President, Musicworks Board of Directors
---