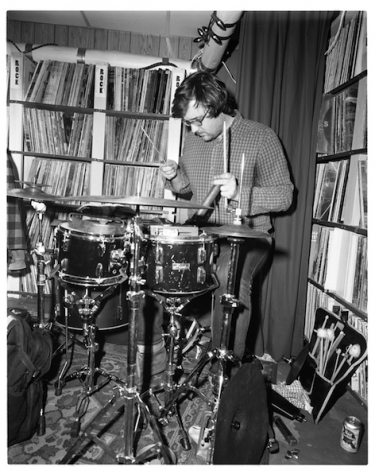 The world of free improvisation is like a parallel universe, a global underground community of nonidiomatic soundmakers, recording with each other in every imaginable permutation, connected via a proliferation of text- and link-heavy Web 1.0 sites, DIY venues, and CD-R labels, with a passionately devoted audience consisting of— in large part, if not exclusively—improvisers themselves, with encyclopedic memories for names and dates. Navigating this universe is not for the faint of heart.
Chris Dadge [LEFT], who runs the Calgary label Bug Incision, has a lot to say about all that. For Bug Incision's tenth anniversary in 2016, he wrote a twenty-eight-page zine detailing the history of the label and its associated concert series, delving into its inspiration in the classic avant-garde of Can, Captain Beefheart, Mike Patton, and European free-improv labels like FMP, stretching into '90s CD-R and mail-order culture and the canonical Wire magazine. The album descriptions on Bug Incision's Web site are equally thorough, with some amounting to minor discourses on the genre: "There are two schools of thought when it comes to groups and improvisation," begins the copy for Nilan Perera & Bent Spoon Duo's 2014 self-titled release (bim-70), before holding forth on the pros and cons of improvising in stable groups or in spontaneous ensembles. Back in Dadge's zine, his enthusiasm is palpable when he writes about Bug Incision's first release, Bent Spoon Trio's March 3, 2005 (bir-one), receiving a rave review in The Wire and future releases being taken up by the Squidco online shop.
Most of Bug Incision's early releases involved Dadge himself, mainly on drums but increasingly also using found objects and broken electronics as sound sources. He figures in the various Bent Spoon ensembles alongside Scott Munro on bass (of post-punk band Preoccupations), David Laing on saxophone (with whom Dadge also plays in the indie-rock band Lab Coast), and various collaborators—and on ad hoc recordings with a who's-who of Calgary improvisers. But both the label and the series have expanded to involve great musicians from across Canada and beyond, including Eric Chenaux, Josh Zubot, Peter Evans, and Eugene Chadbourne, among many, many others. Dadge points to
Calgary 2012
(bim-58) by The Unrepeatable Quartet (Philadelphia-based saxophonist Jack Wright and Montreal trumpeter Ellwood Epps alongside Dadge and Munro), a self-titled record by saxophonist Kyle Brenders and percussionist Brandon Valdivia (bim-50), and
Battlefield Medicine
(bim-09) by the Detroit duo of percussionist Ben Hall and violinist Mike Khoury as particularly strong releases from the catalogue, which is now almost 100 albums deep. Dadge has also taken his talents to more pop-oriented projects, working with Alvvays, Jean-Sebastien Audet (Un Blonde), and Chad VanGaalen, for example. "Things get cross-pollinated pretty quickly in Calgary. There really aren't many musicians I know who don't toe both sides of the line in this respect."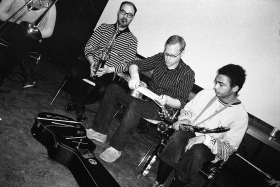 [LEFT TO RIGHT: Bug Incision regulars Whitney Ota, Cody Oliver, and Jean-Sebastien Audet circa 2014]  
After a hiatus of around two years, during which time Dadge toured with his band Lab Coast, as well as with VanGaalen, and started to run a studio out of his home, Bug Incision is releasing a slate of four new albums in 2018. The gap gave Dadge space to reconceive the label's mandate and bring it up to date—for instance, setting up a Bandcamp page. "But," adds Dadge, "having a physical copy available is important to me, not only as a collector, but also as someone who wants to imbue these releases with a little more care and dimensionality. Recently, I've moved all aspects of physical-copy production in house, so I'm able to fine tune and pick away at things, and hopefully present a slightly more robust physical object for those who are still interested. There's also been a slight change in the layout of the Bug Incision disc cover this time, again hoping to add to its in-hand enjoyment."
The impetus for the new spate of releases was the presence of the great American avant-garde jazz guitarist Joe Morris, who spent four months in 2017 as a visiting scholar at the University of Calgary. "He really enlivened everyone's spirits through weekly free classes and open sessions," recalls Dadge. "He was a blast to hang around with, and he played two shows and did two sessions with locals. The first took place at Lorrie Matheson's Arch Audio studio and was a duo consisting of Joe and bassist Rob Oxoby. Dancing With Penguins (bim-75) is the document of that stuff, and I think they sound damn fine together. The other trio was myself and [Jonathan] Wilcke and Joe—we played in early March at a Bug Incision show, then recorded at my home studio at the end of that month. It's a very dense and pointillistic playing style, actually my favourite mode of playing. I'm quite proud of this album [Rural Optimism, bim-77], a catalogue highlight for me."
As for the non-Morris albums, there's a new Bent Spoon Trio album, Nine Year Itch (bim-76), which represents the group's first performance as a trio in—fittingly—nine years, and one with Dadge and saxophonist Jonathon Wilcke called Three Live Pieces (bim-78). "It's not a super fluid-sounding group at times, and there are a lot of what I would characterize as awkward-sounding moments," Dadge notes, "but it accurately represents a subtly shifting dialogue we have going on.
"The label has always been mostly a one-person operation at its core," according to Dadge, but many others have been involved, too. These days, Wilcke helps out with running the concert series, and cofounders Munro and Laing still serve as board members, alongside Musicians Cody Oliver, Nate Waters, Samantha Savage-Smith, and writer Nikki Reimer.
Ultimately, for Dadge, it's the audience for both the label and the concert series that makes it all worth it. "When Jonathon Wilcke moved back here after a decade in Vancouver, he was awestruck by the audiences being made up of more than just other nerdy men musicians," remarks Dadge. "Fellow musicians do make up part of the audience, but even then, a portion of those musicians are not 'experimentally inclined' musicians, they're just curious friends and colleagues. We have a lot of nonplaying fans of the music, we have a large age diversity, and gender diversity is wider than I've seen in other cities' communities. It's a source of pride, and something we'd like to see develop even further."