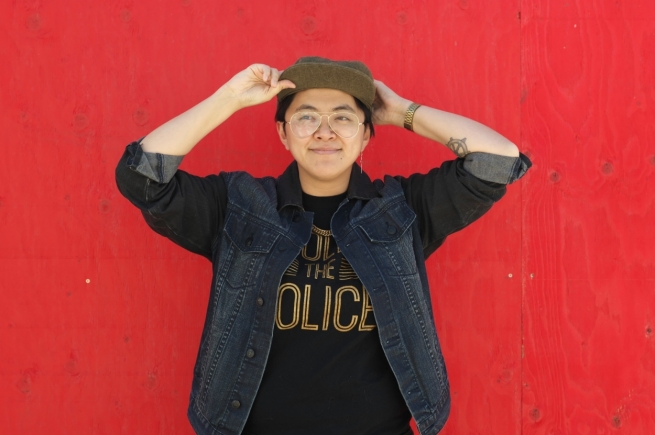 Most music fans in Winnipeg have seen plenty of Ashley Au playing bass in recent years in a wide range of idioms—Americana, hip-hop, jazz, and sludge metal. Pausing to tally current projects, Au counts in blinks before saying, "I'm in an open relationship with maybe seven or eight different ensembles right now, constantly negotiating the terms." The comment comes with a knowing laugh, a nod to the use of twenty-first-century parlance to describe the seemingly eternal demand of hustling to sustain a creative career.
Au is a true Winnipeg kid. She was born and raised in the city, only moving away to acquire a degree in jazz-bass performance at Brandon University, two-and-a-half hours west of Winnipeg. Upon graduation, Au moved back home to build a life playing bass. The career model Au sees rhythm-section musicians conditioned for in school is both simple and narrow: become a session player, because there will always be someone who needs you; maybe do some teaching on the side to augment your income. Clearly a dutiful student, Au did indeed dive into that end of the pool upon returning to Winnipeg.
Performance remains a busy and vital facet of Au's professional identity, as bass player for songwriters and bands such as John K. Samson, Chuck Copenace Group, Super Duty Tough Work, and Casimir Gruwel. Au has also dug into composition and sound work for Winnipeg's Contemporary Dancers (Canada's oldest continuously running modern-dance company) and multiple theatre companies. The past few years have also been marked by a shift toward ancillary jobs in the arts. Employment and board appointments with galleries, publishers, performance venues, and more have allowed Au to become a fixture across many pockets of the local arts scene.
Accordingly, it seemed a natural progression when Au was named director of the Cluster New Music and Integrated Arts Festival in March 2020; that same month, the early impact of the coronavirus pandemic made its mark on Manitoba. Cluster 2020 was cancelled and a call for submissions for a digital edition swiftly followed. Au's anticipated apprenticeship period looked nothing like what had been planned.
Even without the disruption of 2020, this first year running the festival was bound to be a major learning experience. "I'm still stretching out in the job," Au says, though thankfully with continued support from the festival founders and early directors. "[Composer] Eliot [Britton] is something of a legacy artistic director, in that he still kind of guides me through some processes, but he lives and teaches in Toronto. Mentorship is the key to everything though . . . also the key to life. Everyone has been mentored by somebody else, whether they care to admit it or not."
The job with Cluster fits a career plan that has been at least partly forged in response to those limited options that seemed the norm for a jazz-school graduate. "I spent a lot of time trying to build a career as only a player, hopping from gig to gig as much as I could, taking tours and the kinds of things I was trained to think were the only option," Au recalls. Eventually, an arts industry internship revealed a map with many more paths from which to choose. However, it was clear those paths would require the development of abilities less directly related to creating art.
For Au, those specialized administrative skills dovetail with an innate passion for community building. "I made a decision," Au confirms. "If I'm going to be doing work that isn't playing, it's going to be supporting other artists somehow. I realized—obviously—art is disseminated through various institutions. How do those work? Well, people have to work there." Figuring out how to better access such institutions has helped Au feel better equipped to serve as a mentor for younger musicians, either informally or in more structured settings such as Girls Rock Winnipeg, where Au has long served as both board member and instructor.
As someone with a boundary-hopping disposition, Au's internship created networking opportunities that yielded a lasting creative impact. "I always impress upon emerging artists that it is important to meet artists in other disciplines," says Au. "In meeting artists that do other things, you learn a new language or way of approaching creativity. As you try to explain your work to one another, you recontextualize your world for someone else. It's such a good way to become fluent in the ways that people speak or think about art."
Au's first exposure to Cluster was on assignment, reviewing a show for a local publication. "It was one of the coolest things I ever attended in Winnipeg. I was still just getting my legs being back in the city after school," recalls Au, whose most vivid memory from that year's festival is of an experimental audiovisual project of Sarah Jo Kirsch and Jaymez called The Gritty. "It was sonically wild, with strange occult imagery being projected everywhere. All I could think was, This is just the best, even if I don't understand what's happening." Later that night, a collaboration between Claire Morrison and Montreal's Ensemble Paramirabo cemented Au's appreciation for Cluster on artistic grounds.
Another immediately appealing element of the festival was that local artists were booked alongside international guests, emerging artists alongside established ones—and that much of the audience would not readily identify which was which. An admirer of the spirit that fosters such programs, Au was acquainted with the Cluster crew for some years before joining it. "The previous directorship took a lot of care in creating a community around the festival. That means opportunities for mentorship, exchanging energy and ideas, expanding networks. Even now that they've given me the keys, I don't plan to move away from anything about community building and artistic development."
Festival programming was a longtime aspiration for Au. A connector for years in the Winnipeg arts community, she wants to show artists that their work can reach a wider audience than they might bother seeking on their own. "I don't like going to festivals where everything on the bill is a safe bet," says Au. "You'd better at least bring in a couple of wild cards and then make them talk to each other! There's an energizing element that comes with having a festival back up an artist's wild idea. Things could go terribly and fail, but the possibility that things turn out spectacularly outweighs any concerns around failure."
Au argues that the promise of risk is only fulfilled if all parties embrace the possibility that things may not work out as expected. Performer, presenter, and audience come together for an event that is invigorated by the uncertainty of how to define its success. "It's important for any festival that presents work [as] inherently risk-taking to really stand behind the artists," Au says. "Let [artists] know, 'We've got your back: you just do your thing and we'll line up the resources so that it can be a success.'"
One can hardly overstate the ingenuity required to prepare for a festival that aims to facilitate artists' most daring dreams: in the morning, to find four grand pianos and figure out a way to get them into the same room as a shared vessel for Julius Eastman works; that night, do a promo interview while constantly remembering not to name an enigmatic drum'n'bass/grime duo that will debut at the festival; and in between all that, find time to coordinate Manitoba Yellow Pages, a logistically complex collaborative project involving thirty-five artists across the province. Given the public health situation, one must also be prepared to shift everything to some digital format on short notice.
All this takes a great deal of effort and planning, but Au is committed to getting it right for the next edition of Cluster (June 3–6, 2021), while continuing to learn the scope of work required to do so. "Any time I've put together shows in the past, I've always carried the memories of playing gigs where everything was disorganized," Au says. "Those are burned into my memory, things I never want to make happen to another musician. Some folks say you should have to work as a server before you're allowed to go to a restaurant," and Au clearly recommends an analogous process for artistic directors: that they play in festivals before running one.
One timely and important lesson is already in Au's pocket after producing a 2020 Pride Winnipeg festival aimed at a digital audience. "I won't have artists recording themselves from home. A lot of people don't have access to the right technology, or they don't have the right skill set. It doesn't mean they are bad musicians: they focus on other parts of the craft because not everybody needs to be a sound engineer."
That is true, but Ashley Au certainly won't discourage anyone who needs a reminder that the art world needs sound engineers. A city accustomed to seeing people move away, Winnipeg is fortunate to have a homegrown collaborator with such aptitude, commitment, and eagerness to facilitate the blurring of disciplinary lines.
---
Photography: Robert Szkolnicki
FYI: Ashley Au's upcoming creative projects include scoring dance works for Weather Parade Dance Theatre and Sam Penner, as well as composing an opera with a libretto by Christine Browne that will debut in 2022.