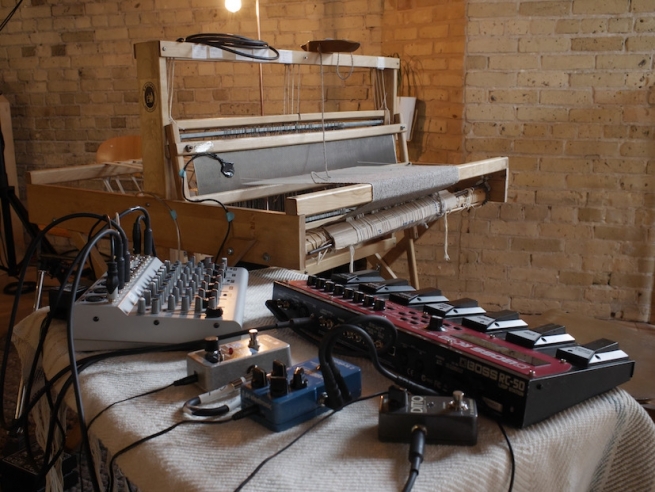 In the history of musical instruments, the questions asked are pretty standard: Who played it? What did they play? How did it evolve? Kelly Ruth's instrument, the weaving loom, carries an entirely different kind of history. It brings to mind mythology, solitary artisans, beautiful textiles, and the dangers and exploitations of mass production in "dark, satanic mills." It's the loom itself, and the astonishing visual and sonic results of a human working it, that feature most in the mind when witnessing a Kelly Ruth performance. Equally, there is confirmation of her statement that her work is "primarily concerned with the interplay between class, economics, and ecology."
Raised in Winnipeg, now living in Edmonton, Ruth has a fascinating background in both music and textile arts. The first hints of musicality came when, as a preteen, she drew a keyboard on paper and practised on it. In high school she played brass instruments, then sang and played bass and trumpet in local bands. Her main influence has been industrial music, in particular Skinny Puppy, Laibach and Militia.
For many years, textile and musical arts were parallel activities: "I've always been a garment worker, and started to make my living when I was sixteen, sewing, and later working at the Royal Winnipeg Ballet as a textile dyer and sewer. When I was around thirty I set up my own studio and did dye work for theatre and film companies across Canada."
There was no sudden epiphany in which the two parts of her life connected. Instead, their eventual melding came as a logical outcome of years of doing both. Learning to weave was the key. As Ruth recalls, "I began weaving in about 2010. It wasn't a crazy jump to think that the loom is a percussive instrument. As soon as I started, I noticed there's a natural cadence in the process of weaving, and of course there are all these mechanics. Plus, I'd been going to experimental sound performances forever, so I knew about contact microphones. I just put it all together that way."
So just how can a loom become an instrument? And how has Kelly Ruth made it her own? Most of us have probably found ourselves transfixed by the noises of machines—clocks, windshield wipers, dishwashers—but those machines are automated and not "played." For Ruth, making music with a loom is fundamentally human, not mechanical. "I just love how tactile everything is. I also like that there's a visual element. People can then connect—'Oh, something's happening . . . so that sound is coming from that action.' It's something that I can offer that's a little bit of a different experience for the audience."
Ruth owns several looms, each of them unique in some way. Even when at rest, they are intriguing and beautiful objects to look at. As tools for making textiles and sound, they are phenomenally compelling. Her floor loom is a large, complex piece of equipment—not surprising when you think about it being able to take fibres and turn them into prairie-proof clothing!
"It has pedals attached to harnesses and the harnesses go up and down to form a shed [the vertical space between two strands of the warp that allows the weft to pass through]. When you depress a pedal you get sort of a KA-CHUNK! as everything flies up. And then when you release your pedal, it KA-CHUNKs back down. That's one sound that's consistent. Then there's this thing called a beater. It slides back and forth, and depending on how much gain I put on my microphone I can catch the sound of the yarns in there. So sometimes I have a lot of breathy noises because the reed is dragging against the yarns. The loom is predominantly made of wood, so that has a certain resonance and pitch, which is beautiful, but there's also a lot of metal parts on there as well, so I'll use my tools and my hands and manipulate them to get pings and pitches; plus there's lots of squeaks: if I move things right, I can make it squeak and get pitches out of that action."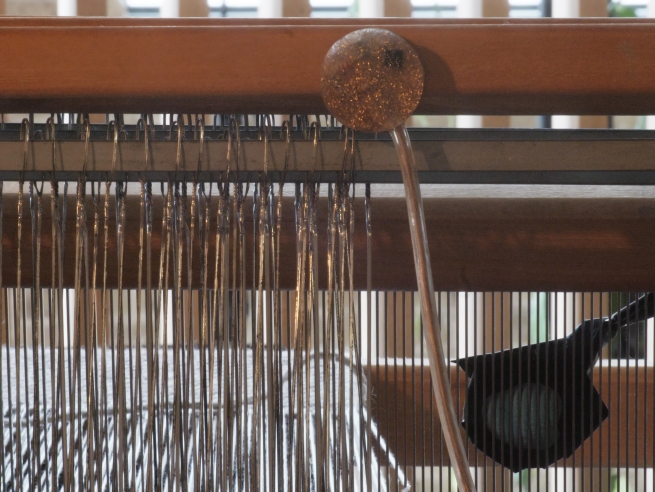 Contact microphones are another element of craft: Ruth makes hers herself and has developed an intense understanding of what different effects come from different placements on the looms. The mikes lead to looping, reverb, and delay units, all controlled by a mixing board. Six years in, she feels her practice is still in its infancy. The continually changing combinations of looms, microphones, and electronics mean the sonic output is always evolving and unlikely to ever become static. As she says, "I feel like a baby artist learning how to run. I keep adding more pedals, more electronics, building different kinds of microphones."
The floor loom lives in Winnipeg still. It waits quietly for Ruth, who periodically returns for rehearsals with Civvie, an improv trio featuring Ruth, cellist Natanielle Felicitas, and bassoonist Alex Eastley. Around the time Ruth met Felicitas, she was making her initial discoveries about the loom's sonic potential. The two formed a loom-and-cello duo, which not long after played Winnipeg's Cluster Festival. Later, bassoonist Eastley joined the group. The trio has performed regularly, completed an album, and is currently planning another album and a tour.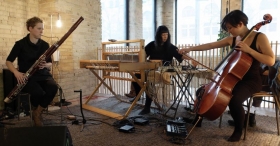 Meanwhile, in her new home base, Edmonton, Kelly Ruth—deploying a table-sized loom—has quickly entered the city's burgeoning improvisation scene. She recently played in Mile Zero Dance's SubArctic Improv series and next season will be featured in New Music Edmonton's Now Hear This Festival. The table loom uses the same mechanism as the floor loom, except that the harnesses are moved by a lever instead of pedals. Working with this machine has brought even more new elements into her performances: "It's an old, rickety loom, and I know where it's going to grab, and I can anticipate there's going to be a squeak. There's a whole bunch of pitches in that movement that are predictable, but not guaranteed. I've got a bunch of other tools and I'm really excited about this. I've got all these old antique tools for working with yarn, that I can put out on the table, and they are producing even more sounds, but still in keeping with the theme of fibre."
Ruth is currently working on a solo recording, and Boreal Eclipse (included on the Musicworks 130 CD) is the first completed track. While working with Civvie, Ruth and her partners carefully craft and protect the kind of space needed in order for each individual voice to be heard clearly within a carefully blended group. With solo work, Ruth can go wherever she wants. "Boreal Eclipse is the only recording I have of the solo loom, outside of recordings I've made for my installation work," she says. "My goal in recording is to keep the energy of live improvised performance through recording a series of 'one takes.' I enjoy the nature of improvised work, in that it is a set of quick decisions responding to the sounds in the moment, rather than labouring over the decisions while composing work in the studio."
Kelly Ruth is also an important emerging installation artist, with numerous works exhibited, most recently pH: Measurement of Success, copresented by Winnipeg's Video Pool and the Send + Receive festival. Textiles and sound materials are prominent in this work, as with Ruth's live work, but programmed lights are also used, together with gallery walls and headphone stations. Her installations require a long period of research before building. "There are a lot of diagrams and designs that have to happen before I build. So it's a very different process from improvisation. pH: Measurement of Success references the pH levels of the ocean. The piece is a representation of a dying coral reef. With the installations I'm doing now, I'm interested in an equal balance of representation of fibre and sound. I see myself working in both of those media for a very long time."
In the installations the interplay between class, economics, and ecology remains, connecting as it does, all of her activities. The loom remains central to these concerns. It holds a uniquely symbolic and technical place in the creative world of Kelly Ruth: "I love the loom so much—conceptually it ties everything together. I feel like when I'm performing the sound as the weaver it's as if I'm folding time and space. I'm connecting weavers across history and giving this anthropomorphized voice to the loom itself, and that it's travelling through history and time."
---
Audio:  Boreal Eclipse (2018) Improvised performance by Kelly Ruth (weaving loom and tools, electronics). Previously unreleased,  available on the Musicworks 130 CD.
Photos of Kelly Ruth's amplified loom, in performance with her trio Civvie (l-r: Alex Eastley, Ruth, Natanielle Felicitas) at Forth in Winnipeg (March 2017).
All photos by Robert A. Szkolnicki.