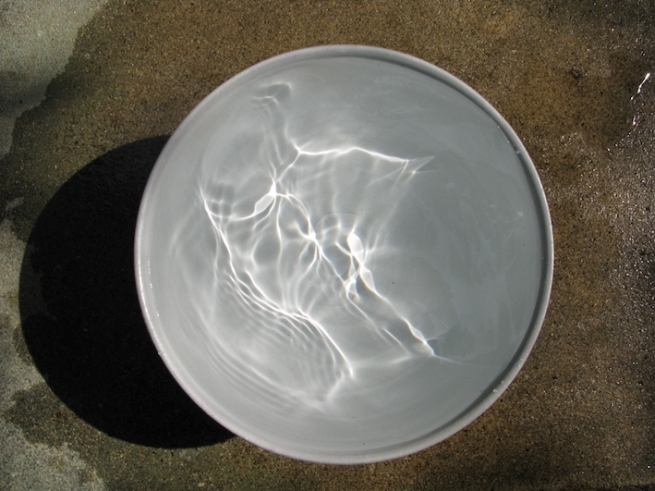 Delicate clusters of tones sound and resonate. An orchestration of chimes and drips, they mix to form a potent brew of sullen melodies and serene reverberation. Adrift, immersed, submerged—there are many metaphors one might use to describe a close listening of Clepsydra, the opening track on Tomoko Sauvage's latest album, Musique Hydromantique, and most of them are soaked through. Over the last twelve years, the Paris-based musician has carved out a singular space for herself through her sustained investigation of a most ethereal musical instrument: water.
"In the beginning, it was really the sound, the tingle, the texture," says Sauvage over Skype. "It was the total opposite of the piano, because it's so easy to make notes with that instrument." Educated as a jazz pianist at The New School in New York City, Sauvage cites Alice Coltrane and Terry Riley as enduring influences on her art. A keen interest in American minimalism led to further studies in Paris of Indian music and methods of improvisation in Hindustani music. In 2006, Sauvage found her calling at a concert by Anayampatti Ganesan, a virtuoso of the jalatharangam—bowls tuned with water. "I was struck by the simplicity of the device. I immediately started hitting bowls in my kitchen and did some exercises from Hindustani music with my left hand playing a Hammond organ and my right striking bowls . . . I felt this was interesting, so I bought a hydrophone (underwater microphone). When I first put it in the water, it changed my life."
Twelve years later, Sauvage remains inspired. She has performed her waterbowls around the world, and her recent album is a showcase of the rich sonic palette she coaxes out of them. In her kit's current iteration, five porcelain bowls (custom-made at the European Ceramics Centre in Limoges) ranging from seventeen to forty-five millimetres in diameter are arranged in a semicircle—each bowl tuned to a different frequency. In sequence, she submerges her hands down the length of the array, treating the water like a viscous membrane to be pressed softly, as opposed to a drum skin that is tapped or struck; these delicate modulations trigger subaquatic feedback that underscores the mix with a wavering hum and occasionally builds in intensity and dominates it. Other manipulations—pouring water from a glass, the arrhythmic dripping from suspended melting ice—further explore the elemental medium. In performance, Sauvage sculpts and spatializes her mix with equalizers and panning, and a looper and delay pedal are used to capture and sustain swirling ambience.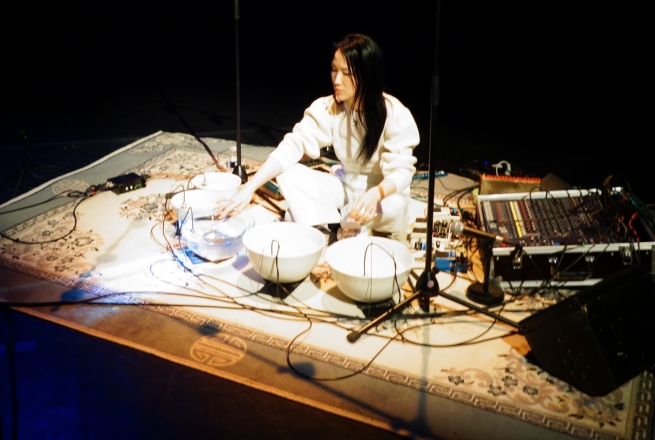 It is a point of pride for Sauvage that those pedals were unused in Musique Hydromantique, the recording of which was completed without any effects or editing. Released on the eclectic Shelter Press publishing and curatorial platform in fall 2017, the album was mastered by renowned engineer Rashad Becker at Berlin's Dubplates & Mastering. Sauvage's devotion to clarity and purity are further reflected in her description of her waterbowls as a natural synthesizer, an analogy that nicely gels with both the tone-shaping possibilities of the electronic instrument's granular interface—and its sensitivity. "The waterbowls are really affected by varying humidity and temperature; and minerals or impurities in the water can stick to the surface of the bowls and attenuate the sound." Beyond the performance-versus-recording distinction, Sauvage reformulated her process for another context: the white cube. In the fall of 2010 she presented A Rainbow in Curved Water, which deployed miked waterbowls and suspended melting ice around a gallery in Berlin's Grimmuseum as a durational performance. Inspired by Terry Riley's landmark 1969 piece A Rainbow in Curved Air, the installation has been staged in Europe, Asia, and North America. "I'm fed up, though," Sauvage confides. "With performance there is always a risk, always something new, things to try out. Installations are just repetition—at a certain point, anyways."      
Sauvage recalls another prescient experience, one that occurred while she was floating in the ocean near Okinawa, blissfully appreciating an idyllic coral reef. "The water was moving with the waves like the wind flows through the forest . . . it was the most fantastic sensation I had had in my life. I thought, 'I want to make music exactly like this.'" By her description, that moment sounds almost baptismal. At the very least, it speaks to the rewards of total immersion.