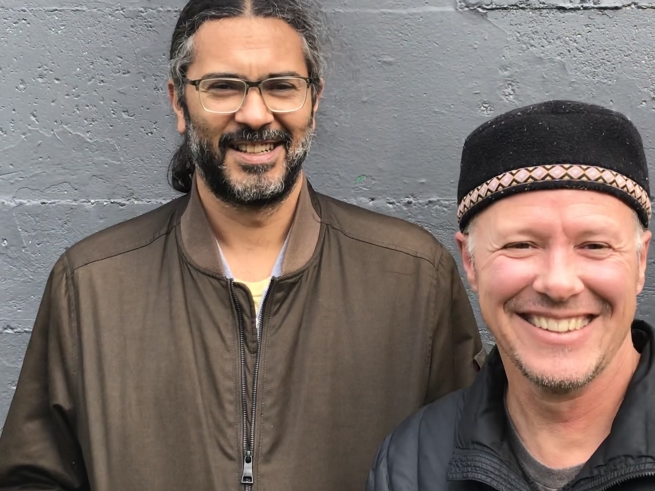 Trust. Vulnerability. Flexibility. Holistic listening. Non-hierarchical cooperation. Embrace of the unknown. Sense of adventure. These are some of the themes that arise when considering improvised music. If you have ever attended a concert of free-improvised music, you might have experienced that terrifying and exhilarating feeling of unpredictability and risk that stems from listening to music being conjured before your very eyes . . . and ears. That distinct feeling of what-if-ness—of not knowing what's going to happen, of making a connection with someone to create something new and exciting—is what improvisers seek from encounter to encounter.
Firmly rooted in the improvisation hotspot of Halifax, Nova Scotia, Suddenly Listen Music has for twenty years been a strong voice in the national conversation of free improvisation. Bolstered by its symbiotic relationships with improvisers based in Canadian locales such as Rimouski, Guelph, Calgary, and Victoria, the presenter of exploratory, improvised, multidisciplinary chamber music recently reached its twenty-year milestone. The characteristics of free improvisation have particularly helped Suddenly Listen in current times in adapting its programming to pandemic-related parameters, which have included launching a new video series, a podcast, and, as regulations have allowed, socially distanced concerts. When I place a call to Suddenly Listen artistic director Norman Adams, the 902 area code pops up on my phone in Texas and I feel homesick for my East Coast roots, the pandemic-related border restrictions making it nearly impossible to visit Prince Edward Island. Adams gets it: he played a lot of Canadian music to alleviate his homesickness while pursuing his music degrees in the United States.
"How did you become the artist you are today?" is a running theme of Suddenly Listen's New Musings in New Music, the regular podcast that Adams and Halifax-based pianist Barbara Pritchard began during the pandemic. In the case of Adams, who grew up in a small town in the province of New Brunswick, a rigorous conservatory-style training in cello led to an orchestra job—his initial goal— and he joined Symphony Nova Scotia in 1991. Six years later, as part of the Open Waters Festival, the orchestra collaborated on a performance with the Upstream Music Association, the Halifax-based improv/experimental/nujazz/conduction ensemble; the experience was a turning point for Adams in his journey towards improvisation.
"I thought, I need to be around this more," he recalls. "That kind of laughter, the sense of relaxation, the permission for the music not to be perfect—it really set me in another direction."
Founded in 2000 as a quintet, Suddenly Listen soon began evolving into a flexible configuration with a recurring cast of characters—Adams, pianist Tim Crofts, double bassist Lukas Pearse—and notable international guests—Pauline Oliveros, Eddie Prévost—with new performers every week (anyone and everyone who has an interest in improvising). Co-artistic director Crofts recalls the group's early improvisation workshops, known as the Monday Sessions, which started in an abandoned storefront, where he was also living at the time: "I literally had to take that Durofoam stuff and fill every hole, and I remember in the winter, we couldn't get the temperature above about fifteen degrees." The workshops united an array of local and new-to-town musicians, touring musicians, students, retirees, and anyone else with an interest. The premise was, "if you like to improvise, regardless of whatever level you're at, just come and play," says Crofts, sketching out the framework. "Why don't you four play, and then you four people—and then at the end we would all play. It built a lot of relationships."
Fear of the unknown looms large in the hearts of would-be improvisers, so creating the open conditions for improvisation is essential. "Ideal conditions for good improvisation are found in commitment to, and deep trust in the music that comes from listening and collaboration," explains Adams, who mentions the late Pauline Oliveros as a guiding influence. "We improvisers make micro communities that negotiate all kinds of musically complex characters, textures, and timbres, as well as complex personalities without words. We let the listening lead the way, and through the speed-of-light decision-making we are good at, the music emerges!"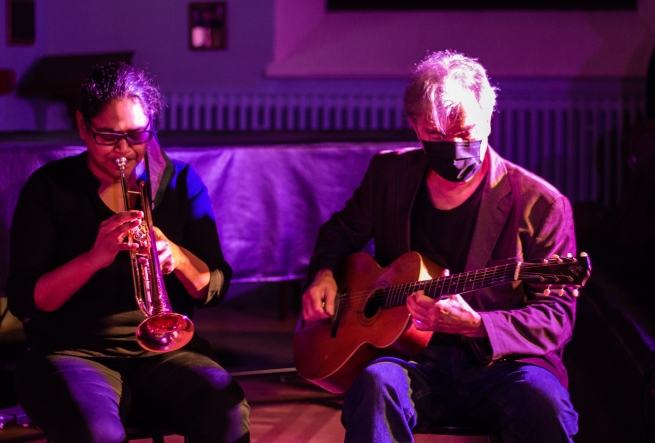 In March 2020, Suddenly Listen launched its inaugural Artist-in-Residence program, and invited Montreal-based violist and viola d'amore player Jennifer Thiessen. "The only way to prepare is to work on yourself," Thiessen says. "I love to follow what I find in the sound without having planned it. You play a note and there's a little scratch in the sound and you follow that scratch in the sound . . ." During the residency, Thiessen had one-on-one sessions with Halifax musicians Steven Naylor, Andrew MacKelvie, Geordie Haley, and Adams. Her final solo show, which took place on March 13, 2020, was also—at the time of our conversation in September 2020—her last live show. Thiessen describes that day as a race to the finish line with, looming over everything, the question of whether they were going to be able to do the show that night. "That afternoon, while wrapping things up in my work space and preparing to perform the music I had been developing for the previous ten days, I was also watching months of upcoming projects disappear down the drain one by one," Thiessen writes in her ten-day blog of the residency. On the other hand, she describes how preparing for the show kept her from getting too wrapped up in the news, and she turned her focus on creating a kind of space "that was valuable at the time, a beautiful, calm place that was separate from the chaos."
At the beginning of the pandemic, cancellations were both incoming and outgoing, affecting Adams's work as both a musician and a presenter. He was meant to begin a tour with Crofts and clarinetist François Houle. "My first thought was to settle with all the musicians [whose performances] we had to cancel and give them money and stuff to do," Adams explains. This led to the commissioning of Isolation Videos, a series of videos spanning a wide range of styles, approaches and aesthetics, and featuring East Coast players both solo and in collaboration. These included Adams himself; guitarist Arthur Bull; flutist Sibylle Marquardt; sound artist Brandon Auger and saxophonist Michael Foster in their duo ccCcc; saxophonist Andrew MacKelvie; Isaiah Ceccarelli (percussion), Katelyn Clarke (organetto), Nadia Francavilla (violin), and Adams (cello); double bassist Andrew Reed Miller; guitarist Geordie Haley; cellist India Gailey; and trumpeter Nicole Rampersaud. An interesting element throughout the series is the way the improvisers approach the use of video: Miller, for example, essentially improvises with a delayed image of himself transparently overlaid with the original; Rampersaud improvises over footage of a glimmering body of water.
The second initiative launched during quarantine was the aforementioned New Musings in New Music podcast, in which Adams and Barbara Pritchard converse with guests from the world of contemporary art music in order to demystify new music for listeners less familiar with contemporary composed music. Pianist Simon Docking, conductor Daniel Bartholomew-Poyser, composer Linda Catlin Smith, and composer James Rolfe are some of the guests who have shared their journeys in contemporary music, and the atmosphere created by the rapport between Pritchard and Adams is decidedly convivial and approachable. At times philosophical and reflective, the podcast investigates new music through the personal histories of its hosts and guests. Episode Four, in which conductor Daniel Bartholomew-Poyser discusses systemic racism and colonialism in Canada, plus how to manage as a black musician in a post-George Floyd world, is particularly compelling.
Suddenly Listen is also developing long-term projects, including one that introduces experimental music to youth (the project had an initial pilot version at the Halifax North Memorial Public Library), which is being designed to be sustainable, accessible, and aligned with the community. "COVID-19 created a situation where we actually have time," says Crofts, explaining that they want to create the opportunity for experiencing experimental music without assuming they know the angle these particular youth will engage with. "It takes time to build trust, so that they want to be able to express themselves."
Halifax's experimental music scene encompasses a wide range of players; the word vibrant comes up again and again when I ask people how to describe it. There is a lot of diverse music, from indie rock (EVERYSEEKER, previously known as OBEY Convention, is a leader for genre-bending experimental music) to jazz (Halifax Jazz Festival) and classical (Symphony Nova Scotia, Scotia Festival of Music). Within that mix there is a broad range of improvisation. Says Crofts, "This is a fringe type of music, and it's about people who are really committed to moving it forward in a lot of ways." Like any fringe music, it may be a challenge to find and keep a robust audience, but the impact it has on the individuals who listen, perform, and collaborate with Suddenly Listen has a ripple affect, collectively adding to the sense of adventure of the artistic community.
---
---
Top photo: Tim Crofts and Norman Adams of Suddenly Listen, Halifax (photographer Sue Sayle).
Lower photo: Nicole Rampersaud (left) and Arthur Bull performing at Suddenly Listen, November 2020 (photographer Kevin MacCormick).
Audio: A concert recording of 2017 guest artist Susan Alcorn (pedal steel guitar), with Tim Crofts (piano) and Norman Adams (cello). Presented by suddenlyLISTEN. Recorded in 2017, released January 2019. An excerpt of this concert appears on the Musicworks 138 CD.