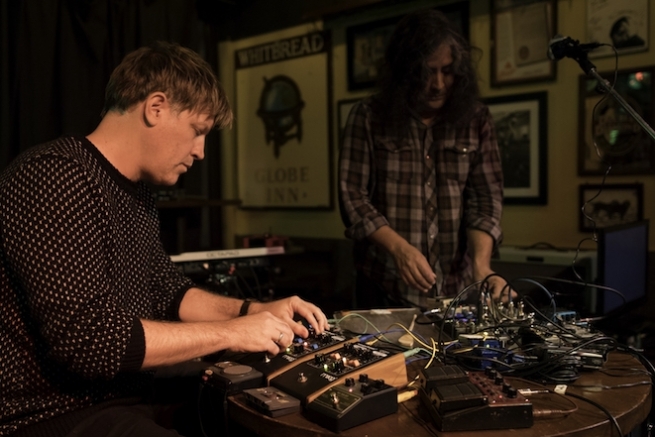 "I loved the Beatles so much that I totally exhausted listening to their music. I wanted more." For Raven Chacon, the answer was easy. "I recorded all of their albums on cassette, then took the tape out of the shell and flipped it so I could have all the albums in reverse. So I had thirteen new albums to listen to."
Chacon is a classically trained composer, a self-taught electronics musician, a sculptor, and an installation artist. Like many, much of his learning came after his formal education. "Eventually, I learned more about John Cage and composers like James Tenney and Alvin Lucier, and started coming back to the other experiments I was doing with recording and processes and collaboration, where it wasn't a single composer, it was something more communal, something more process-driven, where the outcome was going to be unknown."
His stunningly varied output is endlessly inventive and profoundly thought-provoking: a collection of ideas beautifully executed. The online Chacon catalogue separates two decades of projects into "Compositions" and "Works." Materials in the latter category include text instructions, ice floes, electrical pylons, and, in one case, guns, so that one could easily think the plethora of ideas might have come from different artists.
Field Notes is his earliest acknowledged creation. Seeking out the quietest locations he could find, at the quietest times of day, Chacon made a series of recordings for the express purpose of amplifying them to an extreme with gallery earphones. "Things got so loud there was no rhythm or tonality or atonality, there was only loudness."
More recently, as a member of the interdisciplinary arts collective Postcommodity, Chacon took part in The Ears Between Worlds Are Always Speaking (Athens, Greece, 2017), which saw the group purchase and repurpose LRADs (Long Range Acoustic Devices) of the kind notoriously, and dangerously, deployed by the police at Standing Rock. For one hundred days, from surrounding rooftops, the LRADS directed a program of songs with texts by refugees and migrants onto the ruins of Aristotle's Lyceum.
Chacon's chamber music scores, freely available on his Web site, offer myriad iterations of the ongoing use of Western instruments in unconventional ways. His technical demands are practical and meaningful, part of an intense yet harmonious language that happily bypasses pitch-based harmony or traditional form.
The Journey of the Horizontal People suggests a group journey from west to east in which, "throughout the journey, in their own passage of time, this group became the very people they were seeking." The score includes the note, "It is preferred that the quartet performing this work contains a female player. This player will be the guide when all others are lost."
Not long after the publication of this issue, Raven Chacon will be moving to Toronto. He'll arrive with some ongoing projects in tow, while looking forward to new works. These include an opera and a set of miniatures written in honour of Zitkala-Sa, a composer and activist, and one of the first known Indigenous composers. He's also looking forward to new collaborations in Toronto. "I'm excited to be able to be up there amongst collaborators. I know there's some amazing musicians in Toronto. I'm constantly inspired by the visual art of artists that originate there."
---
The Ravon Chacon Mini-Festival takes place April 12 to 14, 2019, at The Music Gallery, copresented with Arraymusic and Native Women in the Arts.
Top photo: Raven Chacon (right) and composer Alex Waterman at the release party of the LP of in memoriam . . . 
Photo by Conor McNally.