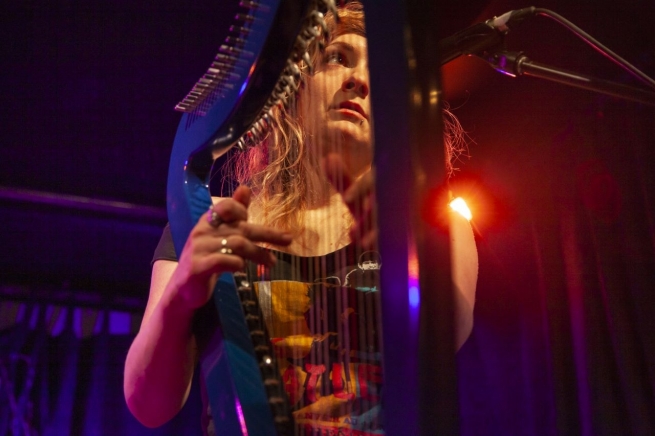 Music always comes from somewhere—some particular where. And the most particular place is identity. The name that Bea Labikova and Kayla Milmine chose for their newly founded festival, Women from Space, simultaneously denotes the first place and the furthest: woman, space—the one where we come from, the other where we go.
The festival's four nights of woman-centred programming was two-armfuls broad: nonidiomatic improvisation, electropop, New Music composition, contemporary iterations of traditional disciplines, singer-songwriter—all were represented boldly. Beautiful melodies and soaring resolutions shared the stage with bird screeches and chomping-machinery percussion. Nonetheless, it was apparent that this festival is pushing back the walls of the small amount of room afforded women in music, and also that, even here, the forces arrayed against women's musical expression—and that of queer, trans, cis, or nonbinary folks—were inserting their presence.
Opening night at the Burdock was dedicated to solo performances, starting with Vancouver's Elisa Thorn, singing and playing a multimovement, unnamed sonata on her processed and plucked harp. She journeyed through raindrops, shimmering cries, and electric-guitar aggression, coordinating nondiatonic harmonies that required the continual flipping of levers.
Halifax-based Amy Brandon
, on classical guitar with laptop processing, was the second soloist, playing pieces from her latest release,
Scavenger
. Brandon's philosophical chord melodies nested within an eerie backdrop of tearing fabric, desperate insects, popping gramophone, and squelching liquid, all generated via her nylon-string guitar. Interspersed with some geological catastrophe, she created dark sounds of an alien-heart's grapplings.
Up next was Yunjin Claire Lee, whose solo set showed off compositions using the processor-generated instrumentation of her latest album, Voluntary Response. Her layering of sounds felt like inspired cooking. She'd sample and taste—knowing the recipe but allowing for inspiration. As unmeasured but highly cyclical rhythmic jaws locked onto their mouthful of groove, she had us eating out of her hand.
The final act of the night was Susan Alcorn, in from Baltimore for the festival. A veteran composer, improviser, and pedal-steel guitarist, she made no introductory comments, and seemed not to stop playing at the end of a piece but when it occurred to her to say something . Her music exploited the intertonal discomforts and warm, nostalgic blues associations of the pedal steel with equally thoughtful placement. She left no room for applause, but then, we mostly forgot to clap, such was the inevitability of her web-spinning between pillars of word and sound. 
The 918 Bathurst Centre for Culture, Arts, Media and Education was the much larger venue for the closing night's performances, and a respectable-sized crowd assembled before the raised stage. The first performance was a collaboration between Montreal-born Elizabeth Lima on voice, clarinet, processing, and tape, and Megan Cheng, who created visuals responsively and simultaneously, in a piece called "Lyre Bird Motel." The liquid lower range and frenetic upper register of the clarinet set up a gradual evolution through spoken text about the Lyre bird, vocal melody and bird mimesis, all the while accompanied by the delicate thrashings of lines and shapes on an adjacent screen.
Dancer Sahara Morimoto then improvised movement with percussionist and drummer Raphael Roter, who also works in movement. Morimoto's primary strength is her charismatic, sculptural motionlessness. Her ability to frame a moment, and Roter's dance-sensitized practice as a percussionist, came together in a piece that felt somewhat extended between moments of real contact.
Trombonist, vocalist, and composer Heather Saumer was commissioned by Women from Space to write music for herself and an ensemble consisting of Robin Dann, Felicity Williams, Alex Samaras, and Thom Gill. All of them sang and accompanied, with Thom Gill doing the lion's share of underpinning. The series of unnamed pieces was liltingly euphonious, full of lovely harmony and tender, contemplative lyrics.
In a turn towards the uncompromisingly nonidiomatic, percussionist
Germaine Liu,
double bassist
William Parker
, and saxophonist (and festival cofounder)
Bea Labikova
improvised together. William Parker is an improvising giant, but so are Liu and Labikova. Liu's intuiting of unborn possibility and Labikova's agility and highly developed sensitivity are truly remarkable; I was struck by their sculpting of space and fluctuation, notable in contrast to Parker's seeming determination to play at all times, and for as long as possible.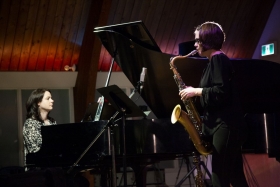 New York-based saxophonist Ingrid Laubrock and pianist Kris Davis, the festival's closing act, played pieces from their forthcoming album, Blood Moon. Their pieces were spare, precise, honed to a point. Their notes fell in rapid angular melodic unison, going straight to the purpose. Improvisations blended seamlessly, obscuring the contours of the form but revealing the emotional content of each composition.
These woman-led ensembles were full of vision and ambition, skill and risk-taking and joyful creation. But with the exception of the most experienced performers, all presented themselves with a self-deprecating anticipation of the audience's skepticism. It's your stage, I remember thinking. No one belongs here any more than you do. And they did ultimately perform like the consummate artists they are, driven to create and to share in spite of seemingly having been taught to ask permission to be great. Women from Space is more than a festival; it is also the Toronto chapter of a movement that is much larger and gaining momentum, a movement that is pushing out from each woman's, trans', nonbinary person's allotted place, into the farthest reaches of society. There will be more. I can't wait.
---
Photos by Bea Labikova.
Photo top and bottom: Elisa Thorn; Kris Davis and Ingrid Laubrock.