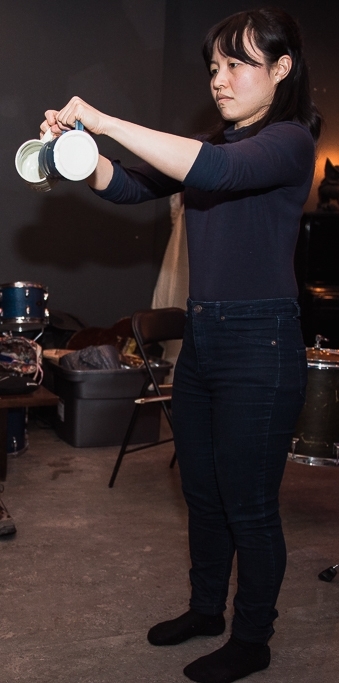 When percussionist Germaine Liu performs, there's more to her approach than simply striking a snare drum with a wooden stick.
Liu seeks a deeper intimacy with her instruments, exploring all the sounds they might produce by closely examining each part. This is the key to the Toronto composer's music, and an approach she developed while studying applied music with percussionist Jesse Stewart at the University of Guelph. "He gave me an interesting task: to focus on each part of the drum set and find its sonic potential," she says. "That was the seed [from which] my technique developed. And I composed a collection of pieces dedicated to each part of the drum set." Liu began to look at her own body as a musical element, which led to a continuing focus on touch and movement in her work. "It only made sense that I also explored my own physical potential and pushed myself to see what could come out of the repetition of movement and the surface of the object I'm working with."
In performances of her piece The Cymbal Speaks, Liu uses a drum, a drumstick, a bow, and a cymbal. She starts by bowing the cymbal, first slowly, then frantically, creating high-pitched metallic tones, and then slows down, getting deep, booming tones from rubbing the edge of the cymbal on the drum. Eventually, she plays the cymbal with a mallet, while moving the edge of he cymbal against the drum membrane and into contact with the drum's metal rim, resulting in an astonishing range of sounds and a mesmerizing experience.
Liu studied piano as a child and taught herself percussion in high school, playing drums in several bands, but she didn't take it seriously ("I was cocky and didn't really practise!" she admits with a laugh) until university, where she discovered improvisation. "It was a door to another way of music-making that was refreshing and exciting," she says. "Improvising gave me an outlet for creating music without being restricted to the role of keeping time. In that context, I could do whatever I wanted, within certain constraints and respecting the other people. I found I could be vulnerable and open."
After moving from Guelph to Toronto to study composition at York University, Liu began improvising with dancers. Before long she was asked to provide accompaniment at Toronto's Dovercourt House for the Contact Dance Jam, which facilitates weekly drop-in sessions for people interested in learning and practising improvised collective dance with physical contact. "I was so inspired," she says. "The movement was always dependent on the other person, because they were in contact the whole time. So they're leading, following, negotiating, balancing. There's a lot of trust and vulnerability involved—and support, because if someone decides to lean on you, you have to be there.
"The pieces I made for my thesis at York were inspired by watching contact dancers. I wanted to develop what I call a friendly exchange between me and the instrument, so I'm not always doing things to it: it's more of an interplay. In my scores, I made sure I was using reciprocating words—instead of 'hitting' or 'banging' on the drum, I was 'coming into contact with it' or 'letting the sticks bounce off it' or 'rubbing my hand against it.' I was really aware of that relationship. I think sometimes we forget that a performance is not just the performer; it's the instrument too."
Liu finds inspiration from attending performances, as opposed to listening to recordings: "In order to get the full experience, I have to touch it. It has to be tangible."
Another source of inspiration was the photography book Still: Oceanscapes by Debra Bloomfield. "[Bloomfield] spent years going to the ocean and taking pictures from the same spot, but there are all these changes that occur because she's being still," Liu says. "I tried repeating a physical movement for an extended period of time until I was exhausted, and seeing how my body reacted and where it took me next and what the sonic results would be. I didn't have any particular sounds in mind, it was more like trying to push my full potential in order to bring out the full potential of the instrument. That was how I developed a lot of my pieces. That method is inspired by being still: doing the same thing and witnessing the sonic changes."
Writings by the noted British land artist Richard Long, whose work focuses on shapes he finds on long nature walks, have also sparked Liu's creative thinking. "A lot of my pieces are done just through friction and contact," she says. "Contours in Nine Movements is composed for two mugs made by a potter named Chiho Tokita. I'm exploring the contours of the mugs in nine spots, so as I rub them, they create this constant sound, and when I change the surface area a bit, the sound changes."
Liu's work with dancers led to her involvement in Capacitance, an interdisciplinary improvisational series directed by dancer and massage therapist Lynette Segal, which launched at the 2015 Guelph Jazz Festival. The series offers artists an opportunity to leave their comfort zones. As Segal explains, "For any technically trained artist, patterns are formed and habits are manifested. Improvisation offers an opportunity to subvert familiarity and expectations and turn off our analytical surveillance, allowing for a portal beyond ourselves."
The series' first event featured two dancers and three musicians, including Liu, in a spontaneous improvised performance. "It's easy to think about physical movement with percussion, because when you're using all your limbs, it's like dancing," Liu says. "A few years ago, I was partnered with Lynette in a workshop. I just had a snare drum and some marbles, and I was inspired by her movement. I was rolling the drum across the floor and it kind of resonated and I started playing the floor with my hands. It was really hot, so my hands were moist, and when I rubbed the floor it created these squeaking sounds."           
While Liu plays in a number of ensembles—with her husband, fellow percussionist Mark Zurawinski; with Alison Cameron and Nicole Rampersaud; with Picastro—as well as accompanying dance groups, she is focusing more on writing music. "I want to compose ensemble percussion pieces using the ideas of games—thinking of it as a game and giving the musicians a scenario where decisions can be made within a structure," she says.
Liu is making time to curate a concert for Toronto's The Music Gallery, as part of its Emergents series. Entitled Collideoscope, the concert will feature an ensemble of four musicians and two dancers. "I want them to explore similar themes, but the result is not storytelling or narrative," she explains. "The musicians will compose a piece exploring tempo, and the dancers will choreograph a piece about tempo, but they're not going to rehearse together, so it'll be a surprise not only for the audience but for themselves, to see how they interact. I'm excited to see that."
FYI: 
Collideoscope, a concert curated by Germaine Liu, will showcase new works choreographed, composed, and performed by David Baldry (trumpet), Aline Homzy (violin), Chris Pruden (piano), Raphael Roter (percussion), and Nicholas Rusica (dance), wherein composition and movement work together without hierarchy. The performance takes place on Dec. 10, 2015, at the Music Gallery in Toronto. Read up on the Music Gallery concert and watch a performance of Liu's
The Cymbal Speaks.
---
Photo of Germaine Liu by Kevin Jones.