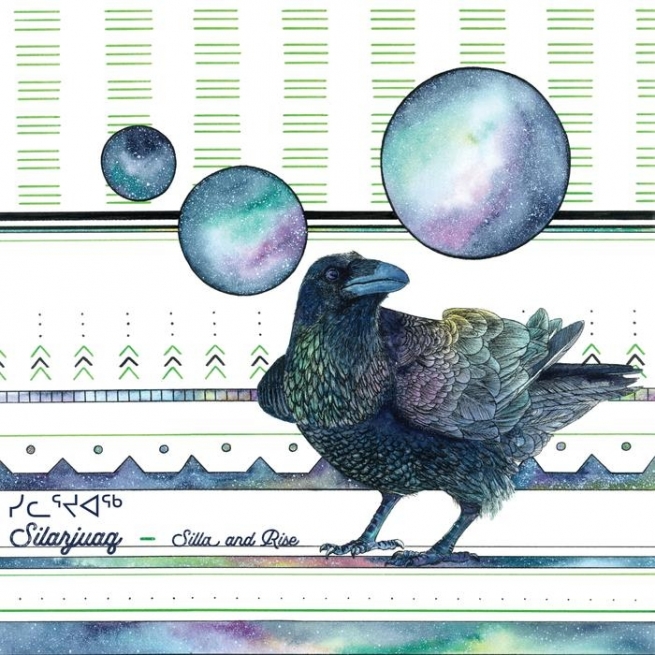 In 2017, the trio Silla and Rise released a self-titled debut that merged Inuit throat-singing duo Silla (Charlotte Qamaniq and Cynthia Pitsiulak) and the electronic beats of DJ Rise Ashen. They sounded like nobody else. In 2019, Galactic Gala proved that the innovative trio was crafting an undeniably distinct soundscape. Now, they return with Silarjuaq, a thrilling, rhythmic album that continues to lead the way for dance and Indigenous music.
Although made during the throes of the pandemic, Silarjuaq is celebratory—built for speakers and dance floors. Themes of gratitude, love, and community marry dynamic beats that draw inspiration from Mother Nature to a mother's love. On "Supijuq" (featuring Risten Anine), the shifting vocals mirror the flow of rivers, while glitchy "Boogity" (featuring Theland Kicknosway) ends with laughter and throat singing between Qamaniq and her mother, Asita Uvinik Qamaniq. Tanya Tagaq is featured on stunning tracks like the spoken word–led "How Lucky We Are" or "Ijiraq (Hide and Seek)," in a call-and-response interplay between Tagaq and Pitsiulak. But it is Tagaq's dark and illuminating presence on the gorgeous opener "Nutarannut (For the Children)" that is the album showstopper. Sung in honour of the children and youth who've lost their lives in the residential school system, "Nutarannut" sounds like a garden of flowers blooming at night—power and beauty flourishing from beyond.
Silarjuaq is meaningful and danceable, a rare feat that feels natural in the hands of this trio.
---