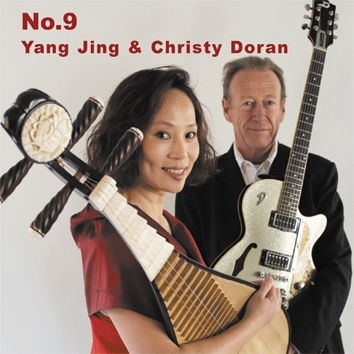 One of the more striking recent developments in improvised music has been the entry of several musicians trained in Chinese traditional music. There's Min Xiaofen, a pipa player and singer residing in New York, who worked with the late Derek Bailey (the usually adversarial guitarist sounded just like a pipa for the occasion) and John Zorn; Vancouver resident Mei Han, a zheng player who has recorded with Paul Plimley; and Xu Fengxia, who plays the guzheng and sings and lives in Germany, and who has played with Peter Kowald and Roger Turner.
Yang Jing is another of these remarkable women. She spent twelve years in China's National Orchestra of Traditional Music; but since settling in Switzerland, this pipa player has collaborated more and more frequently with Western improvisers. She has now recorded a series of duets with the Irish émigré guitarist Christy Doran. The results are stunning, perhaps because Doran is as inspired by electric blues as by jazz and free improvisation, and there's a special affinity based on pentatonic scales. It's further enhanced by Yang Jing's adoption of subtle amplification, highlighting the hanging resonance of their strings and the special frictions that arise between tonal systems.
The rhythmic force and string bends that Yang Jing brings to her "Salü Abend" can suggest roots in the Mississippi Delta, while Doran implies multiple musical languages in the shifting tracery that he applies to Yang's melody on "Birnenblüten." The results are so lyrical that one might forget there's anything the least bit unusual or strange about the collaboration or the spatial and temporal distances that usually separate the instruments.