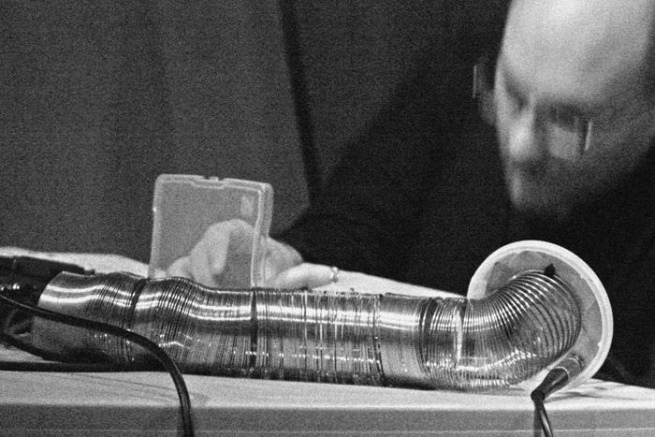 Musicologists love to remind us how utterly primal and universal their subject has proven to be. They point to bone flutes and other instruments turned up at the earliest proto-human excavation sites and to the failure among anthropologists to find a single culture, present or past, bereft of music. They use brain science to explain how the capacity in humans to create and process music is even more deep-seated than the circuitry for spoken language. Yet evolutionary squatting rights have done little to stop or explain a professionalization of music in modern culture that's given rise to separate classes of performers and listeners.
Peculiar, then, how one of the most potent forces returning primal blur to the professional–amateur line today is not a bone-flute renaissance, but the explosion of futuristic-style experimental and electronic music by and for the masses. Nerdy audio tinkerers and electronic soundsmiths are realizing their numbers, giving up some basement time, and jamming together in clubs with each other and—increasingly—alongside the pros in festival settings.
Exhibit A here could be the recently-concluded Sonic Circuits Festival of Experimental Music in Washington, D.C., with a confluence of home-spun and famous acts sustained over the course of a week and nearly fifty shows—fully half of which featured local talent. Here is where urban experimentalists with year-round dedication to local consortia like the Electric Possible, <electricpossible.org>, and District of Noise, <districtofnoise.org>, shared festival billing with the likes of veteran composer-guitarist Elliott Sharp, avant saxophonist Evan Parker, multi-instrumentalist Ned Rothenberg, Helsinki legend Pekka Airaksinen, Lou Reed collaborator Ulrich Krieger, and founding Kraut rock band Faust.
The interplay benefitted everyone. A Washington, D.C., musician named Zach Mason, performing as Soft Pieces, belied his sobriquet the minute he fitted his hard metal Slinky with a contact mike and dove into the audience, thrilling everyone with thunderous crashes of coil that seemed to blast from the P.A. and everywhere else. Guitarist Anthony Pirog, with his sweetheart cello-guitar duo Janel and Anthony, and guesting with drummer and fellow local Jason Mullinax, edged remarkably close to Nels Cline ingenuity, and proved he could easily become famous tomorrow. Meanwhile the Nine Strings duo of double bass and cello made its incidental, restrained improvisations seem perfectly at home on the stage of the renowned Kennedy Center for the Performing Arts.
Preserving the hybrid of local and international talent is all the more noble given the Sonic Circuits Festival's vitals as a steadily growing institution. Begun in 2002 by the Washington, D.C., chapter of the American Composer's Forum, each annual Sonic Circuits Festival has sported a growing sponsor list and a broader set of venues, this year including the conventional (small local bars), the cavernous (the famed Black Cat nightclub), the stately (Embassy of Switzerland), and the historic (the Kennedy Center).
The shows delivered reliable and frequent thrills, nowhere more than with the headliners on the festival's final night. Los Angeles art-punk quartet Health played a scintillating set of fast industrial loops overarched by slowly cascading minor chords. Singer Jacob Duzsik kept a primal tom-tom and mallet nearby to occasionally help drummer Benjamin Miller stir up sweat lodge pheromones. In his best vocal moments, Duzsik managed to deliver dreamy, dissociative lyrics in the languid sprit of Mazzy Star, despite the band's penchant for incredibly fast tempos. Even an interlude of sixteenth notes sounded slow compared to the rest of the hummingbird-fast "We Are Water," from the band's latest album Get Color. Remarkably, Health does not sacrifice precision, even at breakneck speeds; and the cleanly executed bass and synthesizer notes were all the more impressive in the absence of an onstage laptop, a frequent crutch to lesser bands hoping to maintain Health's level of accuracy amid the speed.
Despite their scourge status among live-music purists, laptops remain a staple of modern electronic-music performance; and they figured in many of the Sonic Circuits Festival acts, including the final night's set by Pekka Airaksinen. Even this veteran experimentalist—mastermind of the 1960's psychedelic noise group The Sperm and frequent collaborator of Nurse With Wound—ceded some space to a Macintosh alongside his keyboard. Predictably, it proved impossible to tell how he was employing the machine, prompting one nearby concertgoer to advocate—only half jokingly—for bylaws mandating public projections of laptop screens just to see what the hell the musicians are doing with them. Whatever his process, Airaksinen generated a strange brew of rinky-dink toy piano tone and ghost-in-the-attic knocking sounds, tied together with majestic chords that—given Airaksinen's tenure—he either borrowed from or lent to a young Keith Emerson.
Legendary German iconoclasts Faust delivered the finishing blow as the festival's final act. With big beats and heady prog-rock concepts as mortar, Faust erected a wily sonic wall, at once majestic and ridiculous: a trumpet weezed; coins spilled from a jar to punctuate a dirge; bandmates fiddled with each other's effects pedals; a saxophone's dive bomb wail stirred North by Northwest crop-duster peril. As confederates to the mayhem, the 1969 founders Jean-Herve Peron and Werner "Zappi" Diermaier enlisted three newer members, including musician and painter Geraldine Swayne. She provided a spellbinding, ADHD-ravaged parlor recital of sorts: here she's singing, now she's reading ominously from a book, on to the guitar, then a monologue with Helen Mirren mimesis, now she's taking a few minutes to paint a distended human form on a large canvas.
The audience gobbled it up, and Faust—true to the Sonic Circuits' barrier-busting spirit—spent ample time after the show mingling with concertgoers. The coziness, and the band's resourcefulness, even extended to the street outside the club, where Swayne managed to sell that onstage painting of hers to an audience member for $300.
---
Image
: Soft Pieces (Zach Mason) fitted a slinky with a contact mike.
Image by
: Chester Hawkins.