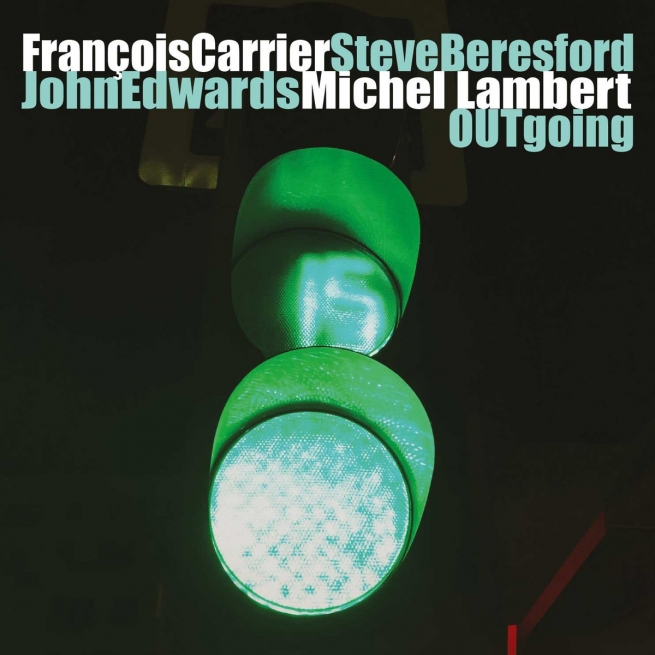 Like a peripatetic Old West gunslinger, Montreal alto saxophonist François Carrier roams extensively to challenge himself alongside the planet's best improvisers, and so far has gone head-to-head with players from Poland, Russia, France, and the United States. Now it's the United Kingdom's turn. This seventy-minute CD captures five friendly dustups involving Carrier, Montreal percussionist Michel Lambert (invariably the Robin to Carrier's Batman) and two maverick London-based players: bassist John Edwards, with whom the two Canadians have partnered before, and, on three tracks, pianist Steve Beresford.
No Gunfight at the O.K. Corral, this is more like a Justice League summit in which each improviser is confident in his role, but willing to push it further with new challenges. Initially, the trio of saxophonist, bassist, and drummer devise sympathetic initiatives that work into a pulsating groove by brokering choked reed smears, amiable percussion rumbles, and bass-string resonance that slide from staccato defiance to melodic melancholy. More revealing are the quartet tracks. Beresford's keyboard smarts reorient the game plan, since his playing is as likely to slide into Dave Brubeck as Cecil Taylor territory. What that means is that, despite waterfall-like note spurts from the pianist and a flurry of split tones from Carrier on a tune like "Gillett Square," the two swiftly reach a responsive rapprochement on the level of Paul Desmond and Brubeck's 40-year partnership, but with infinitely more bite. Integrating oscillating bowing from Edwards and backbeat pummels from Lambert, intense communication characterizes the final track, "Stoke Newington." Emphasizing Carrier's sharpened warbles and Beresford's kinetic dynamics that in turn touch on atonality, pseudo-bop, and jerky stride, the piece is both dramatic and humorous.
More than just a foreign jaunt, Carrier's and Lambert's improvising in this cooperative context is decidedly outgoing.