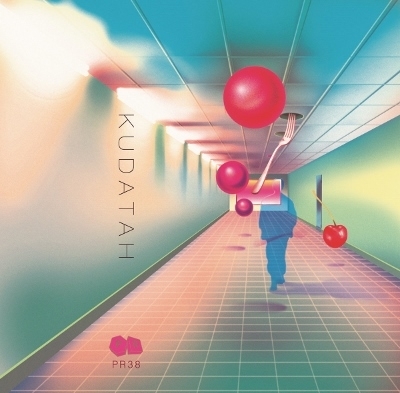 Electronic dance music has always been notorious for its overly rarefied stylistic niches. Within the past few years, the cartoonish overabundance of incomprehensible genre designations has folded in on itself, producing a vast polymorphous body of peculiar and self-aware work. Record labels like 1080p, Orange Milk, Los Discos Enfantasmes, PC Music, and Noumenal Loom have all championed hyper-mediated yet weirdly earnest strains of new electronic music. This sprawling seventeen-track issue from newly minted Edmonton label Kudatah embodies the label's mission statement and shares both some ethos and personnel with a few of those labels.
Tendencies, a.k.a. Brandon Smith, is the curatorial mind behind the set. Alongside Carter Booth and Sven K, he's one of three co-owners of the imprint. His lustrous vapour-house sensibilities are reflected in some of the selections (especially on Amherst's "Just A Little") but it's quite a varied survey, overall. Sorsari's "If You Cry" posits a druggy, airbrushed trap variant, while James Deen's gleefully analog-sounding "Teletubby House Music" would've been right at home on a 1990's Rephlex compilation (as would Trends' decidedly hardcore-inflected cut). The deeply swung rhythms of Sven K's standout "Block Play" suggest D'Eon's stellar Kallisti project in its fusion of footwork and two-step. Fans of Dan White's misty house nostalgia might be surprised by his deployment of crypto-junglist breakbeats, and Jock Club's "Dubplate Madness" suggests a similar musical genealogy.
Japanese producer Foodman's pseudonymous appearance is a perplexing departure from the chirpy transparency of his recent Orange Milk LP. Instead, "Toho" is a thick stew of oozing, slowed-down beats, broad rumble and peripheral synth mutterings. Elsewhere, the listener is treated to other delightful hybrids, all cobbled together from debris found in recorded music history's remote corners.
It's refreshing to see an ostensibly dance-music-oriented label exhibiting a keen disregard for micro-genre politics. Up until recently, many artists and labels seemed preoccupied with colonizing territory within the beat-driven topography, but Kudatah seems to be embracing a different and less aggressive form of cohesion—one that draws aesthetic unity from communal and sonic features beyond tempo and configuration of the rhythmic grid.
It will be exciting to see what emerges from this diverse roster in the coming while. One hopes that this approach to listening and curation is contagious.