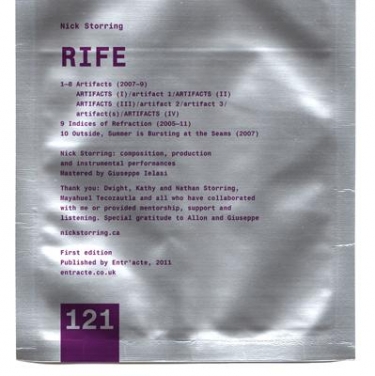 Remarkably, the sound for Artifacts, the first of three compositions that make up Rife, is entirely sourced from a small, broken violin that was a childhood gift to Storring from his grandmother. From these initial sound samples, Storring builds a piece of music that is incredibly engaging and rich in detail. Equal parts virtuosic playing—the violin sounds like a range of stringed instruments, including the guzheng, the rebab, and the cello—and inventive processing, Artifacts is a beautiful assemblage of sounds and textures, moving from one distinct passage to another in a strikingly fluid and intuitive way.
The track Indices of Refraction follows, with a fourteen-minute digital interweave. In this piece, Storring samples a wider range of instruments and moves quickly between different qualities of sound. It is a slightly older composition than Artifacts and Storring is clearly both learning the tools and having fun here, cleverly allowing disparate elements to clatter against each other in a series of surprising turns.
The CD's last piece, Outside, Summer is Bursting at the Seams, returns to one sound source—his cello—treated with live electronics. The surges of sound move a bit towards the triumphalist, but based on Artifacts, there's a lot to be proud of, and Storring can be forgiven for celebrating a little too hard in the end zone.