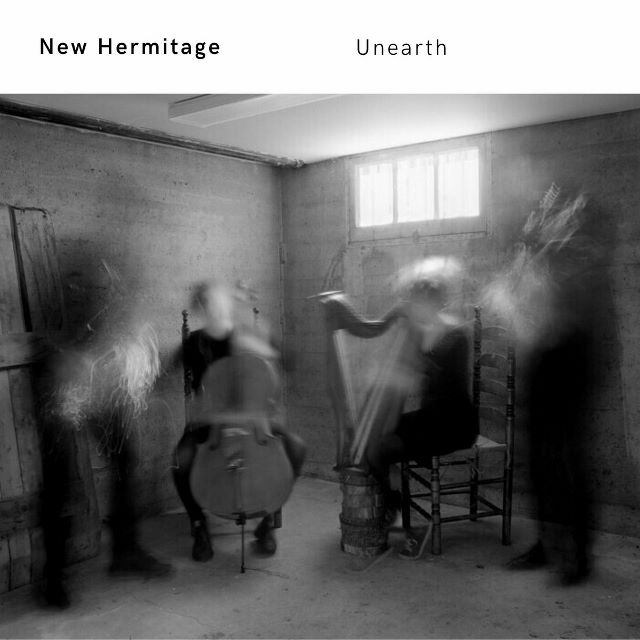 Unearth is a fitting title for the fifth full-length release from the Halifax- and Montreal-based improvisational quartet New Hermitage: spectral yet grounded, these recordings capture a group of musicians committed to the perception-shifting possibilities of close attention. The four players who make up New Hermitage—Andrew MacKelvie, India Gailey, Ross Burns, and Ellen Gibling—cite Pauline Oliveros's Deep Listening practice as an inspiration for their work together. Across Unearth, this bodily awareness makes itself heard in the proximity of the recordings—sounds of breath and touch abound—and the patient interplay between each instrument's presence.
Many of the sounds the group explores feel as tactile as their namesakes. The opener, "Boiling Off, Collecting Vapours," stars the energetic bubbling of MacKelvie's saxophone keys releasing their own sort of heat. On "Moss | Rust," the group grows to fill a creeping soundscape over the span of seven minutes. Elsewhere, New Hermitage burrows into slower drones: "Stalkers," which arrives near the end of the LP, brings a hiss and a weight that sits in contrast to the preceding, more buoyant cuts; just after, on "Desertification," Gailey's cello erodes a bed of warbling wind.
If the group's name asks us to consider a remote place, Unearth can be imagined as a document of these new landscapes: familiar materials blown into new shapes. On Unearth, New Hermitage's improvisations remain revelatory, cast in shadowed relief by the fading light of a moment of ecological reckoning.