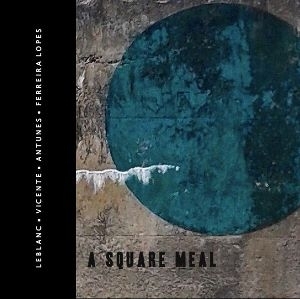 Portugal has a vibrant free-jazz scene with prolific record labels like Clean Feed, prominent festivals like Jazz Em Agosto, and a plethora of world-class performers. This CD brings together two such musicians from Lisbon, trumpeter Luís Vicente and double bassist Hugo Antunes, with the Montreal duo of pianist Karoline Leblanc and drummer Paulo J Ferreira Lopes, the latter born in Lisbon. As frequent visitors to Portugal, the Montrealers have previously played in various ensembles with both Vicente and Antunes. This familiarity is manifest within the grooves of this tight hour-long studio session, which was burned to CD in the original order and without any edits.
On first listen, this outing might pass as a lost gem from the mid '60s, perhaps a Cecil Taylor studio outtake. The music is not without more modern touches, however, like the occasional white-noise smears from Vicente. His mischievous yet melodic motifs run almost continuously throughout, like a kid who ignores the teacher's call to go back inside after recess. While Vicente's torrential outpourings are often equalled by those from Leblanc's piano, Ferreira Lopes and Antunes tend to quietly support, rarely taking centre stage but providing the essential propulsion necessary for this music to really cook.
The five tracks all feature tasty playing, and the expertly mastered recording ensures that each contribution occupies its own space, a dense but clear mix. As
A Square Meal
implies, this is a traditional but entirely satiating workout.